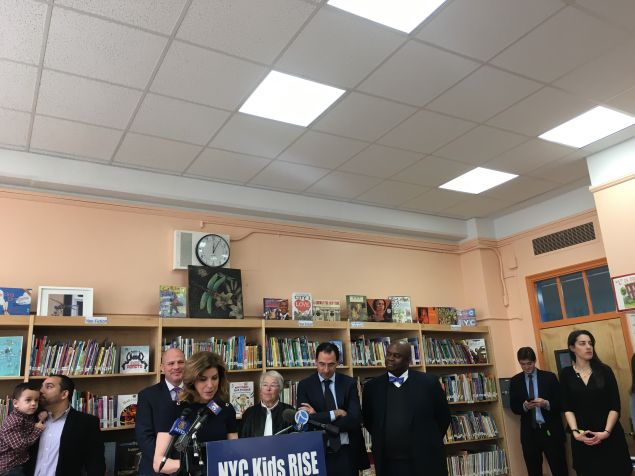 Three days after Gov. Andrew Cuomo unveiled his vision for free college tuition, a group of de Blasio administration commissioners debuted a separate college savings pilot program program they say will dovetail with the governor's agenda.
As part of the free program that Media and Entertainment Commissioner Julie Menin and Mayor Bill de Blasio announced in November, about 3,500 kindergarteners in School District 30 in Queens will will each have $100 allocated to their new NYC Child Savings Accounts in the fall of 2017, plus an additional $200 in matching funds during the program's first three years. About 10,000 children will be part of the initiative during the three-year period.
Menin said that, unlike the governor's proposed "Excelsior Scholarship," students can use the money in the savings accounts for non-tuition-related expenses and at public and private colleges alike, not just State University of New York and City University of New York institutions.
"One of the reasons studies show that some young people are not going to college, are not graduating from college are these additional incidental expenses for room and board, for computers, for books and so the great elements of this project are it can also be used for that funding, so we think it's incredibly complementary," she told the Observer at the official launch of the program at P.S. 171.
Menin also chairs the nonprofit NYC Kids Rise, which partnered with the city for the program.
Cuomo's proposal would make college tuition free for more than college age youth from households earning up to $125,000 per year. The new initiative will be phased in over three years, starting for New Yorkers making up to $100,000 a year in the fall of 2017, increasing to $110,000 in 2018 and reaching $125,000 in 2019. The mayor commended the proposal but said he wants more details about how the plan would be paid for as well as who would be paying for it.
Deputy Mayor of Strategic Initiatives Richard Buery, who oversaw the rollout of the mayor's universal prekindergarten initiative, noted that the costs of lodging and textbooks deter many young people from attending college. But he also argued that the Child Savings Accounts could encourage good habits even among students not pursuing a collegiate career.
"It's not just about the dollars in your account and your ability to spend that money when you're actually in college," Buery said. "It's about the behavior that having the account in your name when you are four years old and five years old and six years old, what impact it has on those family activities in elementary school, in middle school, in high school."
Fariña echoed Buery's sentiments, encouraging people to get their kids saving for school early.
"One of the things that I know many parents think about and grandparents and friends, 'What do I give a child for their birthday and the holidays?'" she said. "We all get things that we can't wait to put in a closet or throw away or something else. So my recommendation is give some money to put in a piggy bank to put towards the college savings."
If the test run is a success, the city will expand and provide a universal scholarship account to every child in the New York City public school system. NYC Kids Rise intends to kick off efforts to raise additional funds to finance the ongoing costs of the initiative and to look into opportunities to scale.
Buery and City Schools Chancellor Carmen Fariña both sit on NYC Kids Rise's board of directors.
The Gray Foundation, whose executive director also sits on that board, contributed some $10 million in seed funding. District 30 was selected to launch the three-year pilot program after a quantitative and qualitative assessment of New York City's 32 geographical school districts to pick a district that represented the public school population with respect to poverty levels, ethnicity, English language learners and students with disabilities as well as the infrastructure in place to sustain the pilot program.