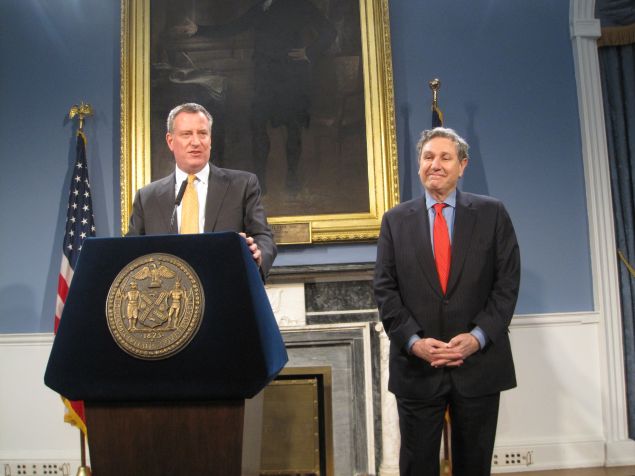 Carl Weisbrod, Mayor Bill de Blasio's chairman of the City Planning Commission, will exit his role overseeing the municipal zoning revisions at the heart of the administration's affordable housing agenda in February, the city announced late this afternoon.
Just weeks after Administration for Children's Services Commissioner Gladys Carrión resigned amid scandal, Weisbrod revealed he will abdicate his post to become chairman of the Trust for Governor's Island, a city-owned non-profit. Former Empire State Development Corporation President Marisa Lago will replace him at the head of the 13-member body, seven of whom are mayoral appointees, and the remainder picked by the borough presidents and Public Advocate.
"This is a bittersweet moment. Carl helped to build our administration and has been part of its bedrock. His contributions have earned him a place as one of our city's great civic leaders, and we are honored that he has agreed to take on the task of continuing Governors Island's incredible transformation," said de Blasio in a statement. "Marisa comes to our administration with unmatched experience building neighborhoods and planning for the future."
Weisbrod co-chaired the mayor's transition team in late 2013, and previously served as the founding president of the New York City Economic Development Corporation, the head of the Lower Manhattan Development Corporation and the founding president of the Alliance for Downtown New York, where he helped lead 9/11 recovery efforts. Under Weisbrod and de Blasio, the City Planning Commission has redrawn many of the patchwork, piecemeal maps delimiting density and residential development in different parts of the city—with the aim of encouraging private real estate construction, but requiring those new projects to include a percentage of units exclusively for below-market tenants.
The mild-mannered chairman had to face down protest over the administration's planned from community activists fearful of rising rents and the changing character of their neighborhoods.
"I am so proud of what we've achieve these past three years," said Weisbrod in the statement. "We are laying a foundation for truly affordable neighborhoods, world-class business districts and smart transit-oriented growth. It has been an incredible run, and I couldn't be more thankful to the mayor and to my talented colleagues at City Planning."
Lago served as general counsel to the NYCEDC during Weisbrod's tenure there in the Dinkins administration. In 2009, she was part of an exodus of top officials from the scandal-wracked administration of Gov. David Paterson. Most recently, she worked as assistant secretary for International Markets and Development at the U.S. Department of Treasury under President Barack Obama.
"It's a great honor to come home to the city I love and be given the chance to make it ever stronger and more equitable," said Marisa Lago. "Change is the one constant in New York, and it is never easy."