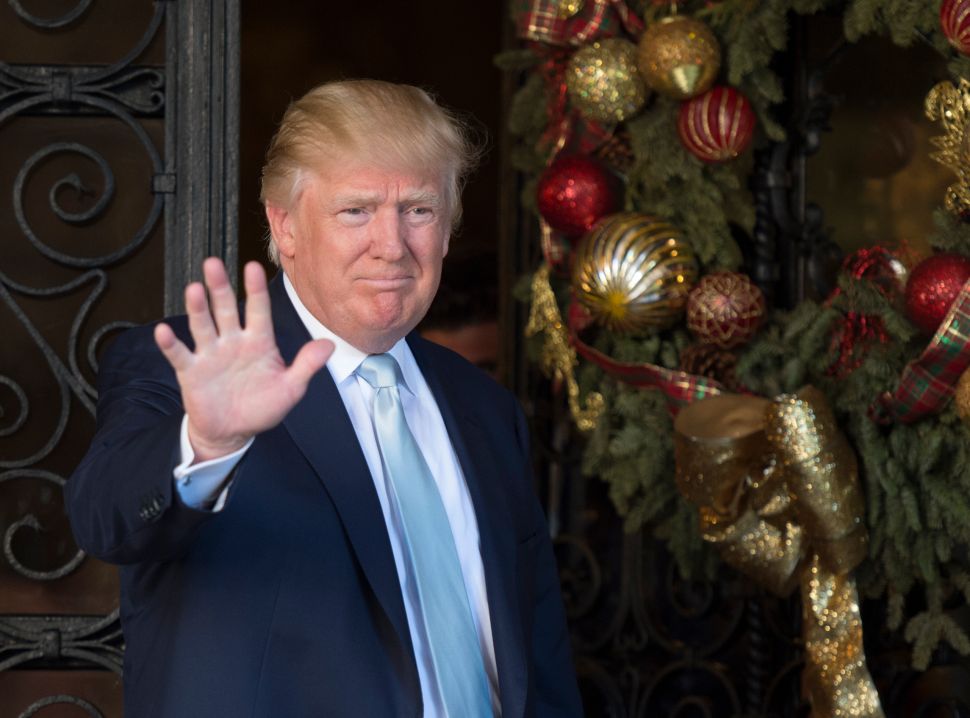 Today, while the rest of Manhattan was getting lunch, Donald Trump received an intelligence briefing from our nation's top spies. America's espionage leadership made the pilgrimage to Trump Tower to give the president-elect their collective assessment of what Russia did to our election last year. At 12:30, they sat down with the man who will be inaugurated our 45th president in exactly two weeks and delivered the most anticipated intelligence briefing in years.
It's not every day our spy bosses tag-team a presentation, but this was of course no ordinary intel brief. James Clapper, our Director of National Intelligence, led the effort, backed by Admiral Mike Rogers, the director of the National Security Agency and the head of U.S. Cyber Command, plus John Brennan and James Comey, the directors of the CIA and the FBI, respectively. In other words, this was the premier spy event of the season.
The briefing was highly classified—Top Secret-plus—so we don't know exactly what Clapper and the others had to say, but we can make an educated guess based on their testimony yesterday to the Senate Armed Services Committee. The leaders of our Intelligence Committee didn't mince words, even though their comments were at the unclassified level and therefore lacking much detail about how they know what they do about Kremlin spy-games in 2016.
The IC's joint statement to senators on cybersecurity left no doubt how our spy agencies look at what happened over the last year:
Russian cyber operations targeted government organizations, critical infrastructure, think tanks, universities, political organizations, and corporations often using spearphishing campaigns. In foreign countries, Russian actors conducted damaging and/or disruptive cyberattacks, including attacks on critical infrastructure networks. In some cases Russian intelligence actors have masqueraded as third parties, hiding behind false online personas designed to cause the victim to misattribute the source of the attack. We assess that only Russia's senior-most officials could have authorized the recent election-focused data thefts and disclosures, based on the scope and sensitivity of the targets. 
Clapper made it clear that our IC leadership shares the view that Vladimir Putin ordered his intelligence services to steal the emails of top American political figures, then weaponize them via Wikileaks, which functions as an appendage of the Kremlin. This was the Active Measure I've told you about in detail recently. This clandestine undertaking was not just "hacking" but a complex, multifaceted espionage operation. While our spies officially have no opinion regarding exactly what impact these Russian spy-games had in 2016, it's apparent that they were hardly good news for the Democrats.
IC bosses also pointedly took the president-elect to task for his repeated insulting and disparaging comments about our country's spy agencies, which he is soon to be the big boss of. "I do think public trust and confidence in the Intelligence Community is crucial," stated Clapper: "I've received many expressions of concern from foreign counterparts about the disparagement of the US Intelligence Community."
Clapper indicated that more Congressional testimony is coming next week on this issue, while he promised the imminent release of an unclassified version of the IC assessment regarding Russian Active Measures in 2016 against the United States, adding that he wanted to include as much information as possible, without compromising top secret intelligence sources and methods.
It's plain that the IC has very good intelligence here, given how sure they sound about attributing blame to Moscow. A hint of what the spies have in their possession came with a new NBC report, based on IC leaks—which the White House has pointedly denied came from anybody near President Obama—about top secret-plus signals intelligence from NSA which featured top Kremlin officials gloating about Trump's victory at the ballot box.
NSA intercepted other high-level Kremlin communications which plainly showed that Russian intelligence was behind the whole operation to cause pain to the Democrats and their presidential nominee last year. Indeed, an old NSA colleague of mine recently informed me that the agency has "reams of reports" on this, all highly classified, and he mentioned the highly unflattering term which Kremlin insiders use to describe the president-elect whom Moscow plainly views as "their guy."
Indeed, American spies have identified the specific individuals, all connected to Russian intelligence, who passed stolen Democratic emails to Wikileaks, contrary to the increasingly threadbare lies of Julian Assange, which Trump has backed. It is expected that some version of this story will be released to the public in the next few days, while the president-elect surely got the full story today.
This morning, before his important briefing, Trump denounced the examination of Russia's interference in our election as a "witch hunt," demanding a Congressional investigation into who leaked the NSA information reported yesterday by NBC. This led Rep. Adam Schiff, the senior Democrat on the House Intelligence Committee, to mockingly ask the president-elect, "Of all issues implicated by Russian active measures, this is what you want to investigate?"
Hearing what the IC had to say about the Kremlin may have caused Team Trump to back off a bit. After the briefing concluded, the president-elect issued a statement which was a good deal more open-minded than his previous utterances on this touchy issue. He praised the work and dedication of America's spies while admitting some malfeasance by Moscow:
While Russia, China, other countries, outside groups and people are consistently trying to break through the cyber infrastructure of our governmental institutions, businesses and organizations including the Democrat National Committee, there was absolutely no effect on the outcome of the election including the fact that there was no tampering whatsoever with voting machines.
Trump then promised to get tough on cybersecurity with an unnamed team of experts within 90 days of taking office. This is progress of a sort, though it's far from admitting the full extent of what Putin did last year, while the idea that Russian espionage and propaganda had "absolutely no effect on the outcome of the election" seems like wishful thinking.
Nevertheless, it is to be welcomed that the president-elect appears to have walked away, even if only slightly, from the awkward situation he was in only 24 hours ago, lined up with the Kremlin and Wikileaks against the entire U.S. Intelligence Community. This issue is far from over, and will get bigger in coming days as the IC releases some more of its findings about Russian malfeasance. Watch this space.
Disclosure: Donald Trump is the father-in-law of Jared Kushner, the publisher of Observer Media.
John Schindler is a security expert and former National Security Agency analyst and counterintelligence officer. A specialist in espionage and terrorism, he's also been a Navy officer and a War College professor. He's published four books and is on Twitter at @20committee.