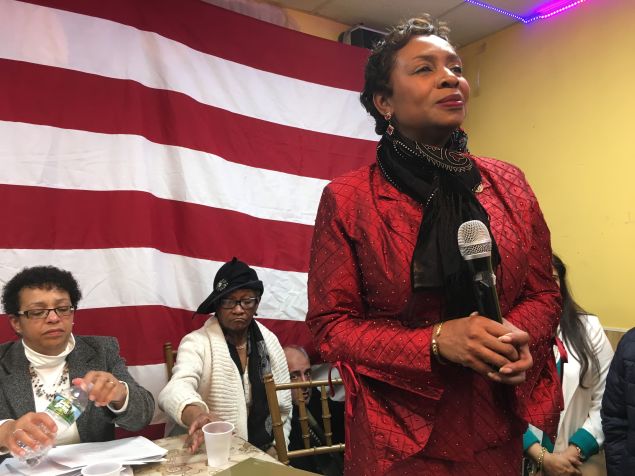 Brooklyn Congresswoman Yvette Clarke promised the Muslim community yesterday evening that she will "act up" when she returns to Washington, D.C. and fight to abolish President Donald Trump's executive order barring entry to refugees and citizens of seven Muslim-majority countries.
Clarke, part of the largely inert Democratic House minority, convened a #BrooklynResist emergency in response to the ban at the Makki Mosque in the 'Little Pakistan' section of Coney Island Avenue. The congresswoman—who skipped Trump's inauguration and participated in the 500,000-strong Women's March on Washington—is a co-sponsor of Queens Congresswoman Grace Meng's "No Funds for Unconstitutional Executive Orders Act," which would deny funding to any effort to enforce the White House fiat.
But, given the Democrats' virtually powerless position in the House, it is unclear whether that measure has any chance of passing.
"Imam, I ask that you pray for me. All leaders of faith in the room, I ask that you pray for me because I'm going back to Washington tomorrow and I'm going to act up," Clarke said. "For those of you who don't know me or don't know me very well, my parents are immigrants to the United States of America. My mother came from Jamaica, West Indies and so the terminology you just heard, that was Jamaican—we act up when we don't like what's going on!"
Brooklyn federal court judge Ann Donnelly and several other jurists issued temporary injunctions keeping the Trump administration from deporting or detaining people with paperwork approved under President Barack Obama. And yesterday afternoon, Trump's Department of Homeland Security said it would abide by the court rulings.
But the administration also said that it will move ahead with denying access and asylum to people from Syria, Sudan, Somalia, Iraq, Iran, Libya and Yemen who have not gotten a green card or visa yet.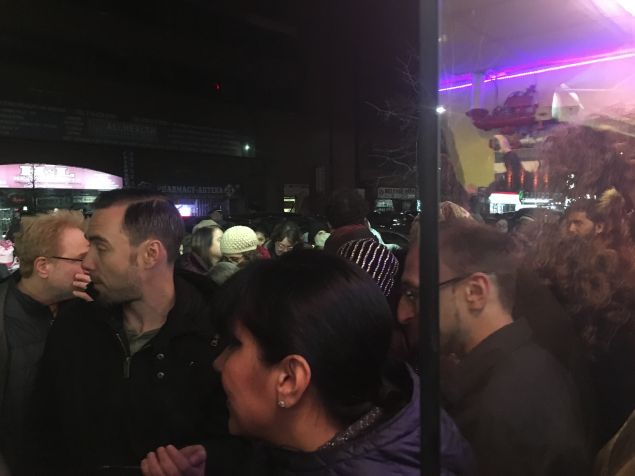 At least 500 individuals of different races, ethnicities and ages were seen in the room, which was packed to the point where a large crowd of individuals had to watch the meeting on a screen outside the mosque. Attendees cheered every time Clarke blasted the ban and Trump and at one point, she got the crowd to yell "Dump Trump." Councilman Jumaane Williams, who was one of the other elected officials in attendance, also encouraged attendees to chant, "No hate, no fear, Muslims are welcome here!"
Clarke said that her office will be holding a series of town hall meetings throughout the community as well as some telephone town halls. She also said that she would give speeches, writing letters, marching and insisted that the "one thing Congress can do is oversight and investigation."
"We're gonna find out how many families were impacted," Clarke said. "We're gonna find out state by state, airport by airport, who was turned around and sent back out of the country. We're gonna find out who has been detained. We're gonna ask every single question that needs to be asked about this episode, why it took place and who was affected."
She said that she could tell that airport employees did not want to turn people away but were being ordered to do so and said that Trump could expand the list of countries "if we don't organize and push back now."
Clarke also pointed out that Senate Minority Leader Charles Schumer has promised to vote against the nominations of Trump's Education Secretary-designate Betsy DeVos and his Attorney General-designate Jeff Sessions, the junior senator from Alabama. She also highlighted that Sen. Kirsten Gillibrand has voted against nearly all of Trump's nominees.
"I was with Senator Schumer about three days ago and he made a public statement that he's going to be against DeVos and against Sessions," she said. "However, what I've noticed about Senator Gillibrand is that she has voted 'no' on everybody, everybody so far. So we will continue that conversation when we head back to Washington tomorrow."
Councilman Mathieu Eugene, Councilman Jumaane Williams, Assemblywoman Diana Richardson, Assemblywoman Latrice Walker and Laurie Davidson, organizing director of the Mayor's Office of Immigrant Affairs, each briefly addressed the audience.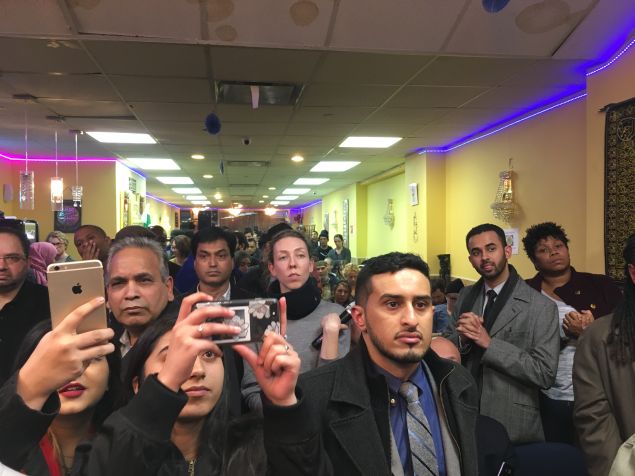 Gemma Solimene, Fordham University Clinical Associate Professor of Law, Immigration and Legal Aid, said that while the executive order does not speak to naturalization applications, they should put pressure on the government "to do what's right" if naturalization applications are being denied or not being processed. And she dismissed the claim that a small number of people have been affected by the executive order.
"I just encourage everyone to really look past that kind of information that is being given because even if it's technically accurate that the percentage is small with respect to the millions of people who come in every day, no number is too small given what's going on," Solimene said.
Muslim attorney Tanhanie Aboushi said that between Saturday and Sunday, Border and Customs Enforcement had detained 12 people—and that as of 5:15 p.m. Sunday, half had gotten released. She said that a doctoral student was placed on a flight in Ukraine after the order came out and that they "really had to cause a scene" to get the flight to come back to the gate and get her off—but that the student was subsequently detained.
"We were okay with that—like it got really bad that we were praying for people to be detained as long as they were getting off the flights that were going back to the departure countries," Aboushi said. "So one, it just depends on what flight you're talking about, what day, because usually if there's gonna be more than one international flight coming in, depending on what country, the number is just going to fluctuate."