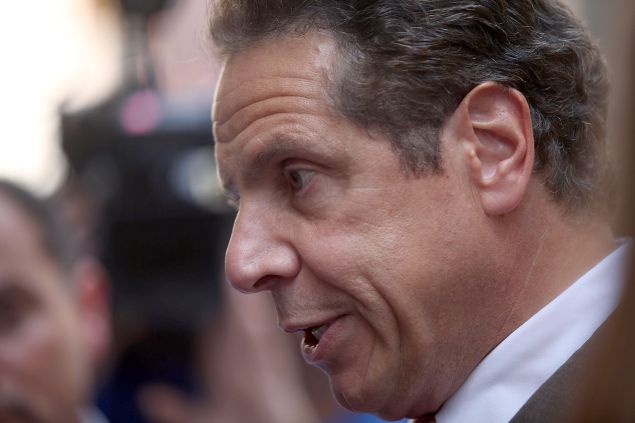 Gov. Andrew Cuomo used part of his budget address to the press last night to reveal a plan to prevent ethical improprieties involving companies seeking business with the state—months after a pair of his top lieutenants and several executives from companies that donated to his campaign got indicted on charges of bid-rigging and bribery.
The governor announced that he would seek an array of good government reforms from the State Legislature, a number of them familiar: preventing donors from circumventing contribution caps through the creation of shell limited liability corporations; enhancing personal financial disclosures; creating a public financing system; and instating constitutional amendments to establish term limits for Albany lawmakers (though not Cuomo and the current class of legislators), extend the legislative session from six months to year-round and ban outside income. He also called for legislation a "blackout period" that would prevent companies that have responded to a state request-for-proposal from donating to politicians, and the recipients of contracts from contributing to a campaign for half a year afterward.
This proposal appears to acknowledgment of the concerns raised after the arrest last September of top figures at two construction firms that both received hefty deals for economic redevelopment projects and also gave heavily to his re-election bid.
"Once an RFP goes out, a bidder to the RFP cannot make a political contribution. And the award winner cannot make a contribution for six months following," Cuomo said.
In September, Cuomo bitterly rejected the Observer's suggestion that he stop taking campaign money from state contractors. But in November 2016, he announced would impose a "blackout period" like the one he described yesterday on his own political operation and on the state Democratic Party, which he controls—and urged other elected leaders to do the same.
His remarks yesterday appear to be his first call to make that policy law.
The governor also called for granting the state inspector general's office oversight of nonprofit organizations under the control of the State University of New York and City University of New York systems. Such groups currently fall outside the IG's purview.
"The time has passed to expand the authority of the state inspector general who does SUNY and CUNY to the not-for-profits that are under SUNY and CUNY, which is where we've had a lot of issues. And the IG does not now have authority to those not-for-profits," Cuomo said.
By "a lot of issues" Cuomo seems to have meant the debacle unfolding from his signature economic development initiatives. The governor, who effectively controls the state's public college system through its board of trustees, ran his major upstate renewal programs—most importantly the massive "Buffalo Billion"—through SUNY Polytechnic Institute and its now-indicted president Alain Kaloyeros, who stepped down after his arrest last year.
Under the governor's direction, Kaloyeros established real estate nonprofits that bought up land and contracted with private companies to build new facilities on the property: the Fort Schuyler Management Corporation in Western New York and the Fuller Road Management Corporation in Albany. U.S. Attorney Preet Bharara has charged that Kaloyeros colluded with leaders of the firm LPCiminelli to rig construction contract bidding process at Fort Schuyler, while state Attorney General Eric Schneiderman has alleged the nanotechnology guru did the same Columbia Development through Fuller Road.
All involved have pleaded not guilty.
Both LPCiminelli and Columbia Development have given lavishly to the governor's campaigns. Cuomo's initial reaction to the fiasco was to transfer the operation of the Buffalo Billion program to the New York State Economic Development Corporation, another entity he controls. He has repeatedly denied any knowledge of wrongdoing in his notoriously micromanaged administration.
The governor and State Legislature colluded in 2011 to prevent State Comptroller Thomas DiNapoli from reviewing contracts given out through SUNY, asserting that the scrutiny would bog down the process.
In keeping with Cuomo's habit of consolidating power in his own branch of government, the state inspector general is not a truly independent overseer, unlike the state comptroller's office. Cuomo appointed IG Catherine Leahy Scott to her post in 2013, and she previously served under him while he was state attorney general.
The governor also called for an inspector general of the Port Authority of New York and New Jersey—the bi-state entity implicated in the Bridgegate scandal, which found two top aides to New Jersey Gov. Chris Christie convicted for conspiring to close lanes on the George Washington Bridge in an act of political retribution. Given the binary structure of the authority, however, the creation of such an ombudsman would likely require the support of officials in the Garden State—who Cuomo has recently dueled with over plans to raze and rebuild the Port Authority Bus Terminal and refurbish LaGuardia Airport.