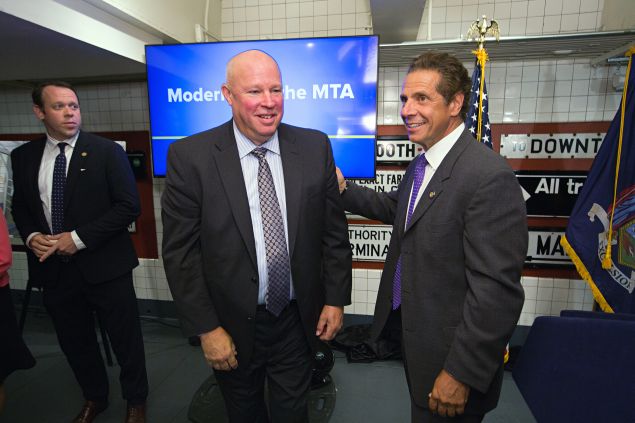 Gov. Andrew Cuomo assured an audience of upscale machers in Manhattan this afternoon that the Long Island Rail Road derailment at Atlantic Terminal that injured more than 100 commuters was a "minor accident," shortly before he debuted the latest piece of his sprawling infrastructure vision: remodeling John F. Kennedy Airport.
The governor stopped by the scene of the Metropolitan Transportation Authority smash-up before coming to the Association for a Better New York breakfast, and reported over social media that it was the result of a train failing to stop properly, and the incident caused little damage to passengers despite wrecking two train cars and part of the station. An investigation is ongoing.
[protected-iframe id="f03d3239a50476ccb0e04114a6f09a9b-35584880-66645959″ info="//platform.twitter.com/widgets.js" class="twitter-tweet"]
Cuomo, who controls the MTA, emphasized at the ABNY breakfast that the event was a small matter—before launching into a now-familiar pitch about how the public needs to trust government to revamp the state's transportation network.
"This morning we had a minor accident on the Long Island Rail Road, where there were several injuries," said Cuomo.
Assisted by his soon-to-retire MTA Chairman Thomas Prendergast and several advisers, Cuomo revealed a $10 billion plan to refurbish and streamline the terminals at JFK, redesign the nearby Jamaica train station and widen the Van Wyck Expressway and the Kew Gardens Interchange heading toward the airfield. Prendergast also reaffirmed the administration's ambition to extend the subway system to the airport.
This marks the second stop in the governor's statewide road tour unveiling his agenda for the coming year, which he is making in lieu of making a single speech to the State Legislature in Albany—to the chagrin of some lawmakers. Yesterday, he appeared in Queens with Vermont Sen. Bernie Sanders to propose free college tuition for middle-income students at State University of New York and City University of New York Colleges.
Cuomo's broader infrastructure agenda calls for adding another track to the LIRR, and completing the East Side Access project, which will bring the trains into Grand Central Station instead of Penn. He revealed plans to demolish and rebuild LaGuardia Airport in 2015.