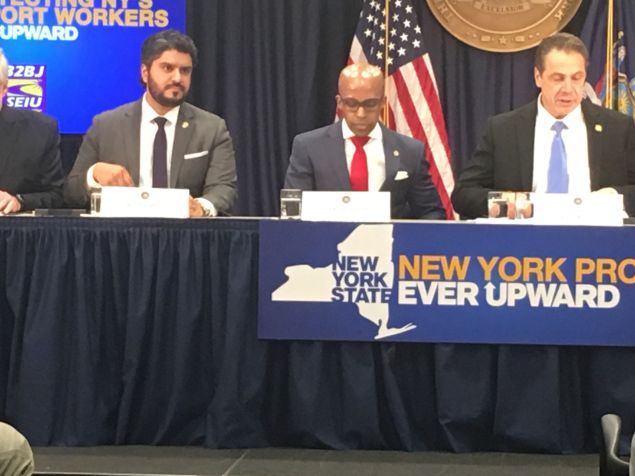 Gov. Andrew Cuomo announced a new hotline to for worried New Yorkers worried their loved ones might be in detention at an airport after President Donald Trump signed an executive order on Friday instituting a temporary ban on travel from seven majority-Muslim countries.
The governor convened Patrick Foye, his executive director of the Port Authority—which controls John F. Kennedy Airport, the site of detentions and massive protests yesterday—his chief counsel Alphonso Davis and union leader Hector Figueroa of 32BJ SEIU at his Manhattan office this afternoon. Cuomo condemned the Customs and Border Enforcement division's decision to hold people who were in transit at the time the executive order dropped on Friday.
Brooklyn federal court Judge Ann Donnelly and several other jurists issued temporary injunctions blocking the Trump administration from deporting or detaining individuals with paperwork approved under President Barack Obama.
"I know that there are a small handful, but it's not the numbers, it's the principle—about six people and those six are having their cases aggressively argued vis-a-vis the federal government," Cuomo said. "And I am cautiously optimistic that the federal government will recognize or the courts will recognize that these people should not be detained but will see as the day progresses."
This afternoon, Trump's Department of Homeland Security said that it would adhere to the court rulings. But the administration insisted that it will proceed with denying access and asylum to people from Syria, Somalia, Sudan, Iraq, Iran, Libya and Yemen who have not yet obtained a green card or visa.
The toll-free hotline, 1-888-769-7243, will run 24 hours a day, seven days a week and will offer translation services. This comes after Cuomo directed the Port Authority, the Department of State and Davis's office yesterday to jointly explore all legal options to help anyone detained at New York airports, and to ensure that the rights of refugees are protected under the law.
Mayor Bill de Blasio and state Attorney General Eric Schneiderman, who were not at the news conference, have made similar commitments.
Foye, for his part, said that it has been a "very fluid situation" and that the federal government has "put a chokehold" on a release of information with respect to the identity and number of detainees at JFK and other airports throughout the country. He also said that the detainees currently aren't allowed to communicate by federal law and regulation.
"The governor's created a hotline that gives family members and friends and colleagues an opportunity to report that a particular person was on a plane scheduled to arrive yesterday at JFK and has not gotten to his or her final destination," he said. "So I think the hotline will fill a very important information void."
At the press conference, Cuomo also announced that he will be advancing legislation to strengthen protections for all airport workers against assaults and ensure that they enjoy the same protections applied to the transit workers in the state. The bill, known as the Transportation Worker Protection Act, would consider an assault against an airport worker to be considered a Class D felony, punishable to a maximum of seven years in prison.
On Wednesday night, a Massachusetts man kicked Muslim JFK worker Rabeeya Khan—who was at Cuomo's press conference—told her that "Trump is here now" and said that the president would expel people of her faith.
Cuomo said that the bill will be introduced this week with the help of Assemblywoman Diana Richardson, who was also at the presser, and that he hopes they can get it passed on an "expeditious basis because of the severity of the situation."
"We had a chance to chat and Ms. Khan said that she was here even though it was hard and it was difficult to put herself out front and to relive and talk about the incident," he said. "She was doing it so other people didn't have to go through it, which is really the most beautiful motivation."
Figueroa, whose union represents Khan and other airport workers, said that the incident should alarm all New Yorkers and Americans.
"What happened to one of our members, Rabeeya Khan, is something that every New Yorker and every person in the country should stand up against," Figueroa said. "No one who works in the airport, no one who works serving the public in the way that our airport workers do—or any other worker for that matter—should be subject to an act like she was subject to."
Cuomo recently launched the formation of a New York State Hate Crime Task Force with members from the New York State Police and the New York State Division of Human Rights, as well as a hate crime hotline—both apparent responses to the surge in bias attacks that followed the president's election. The governor also announced earlier this month the creation of a new Interfaith Advisory Council led by Cardinal Timothy Dolan.