The big weekends in Las Vegas always feel like summer camp for New Yorkers on the Spectacle Circuit. I see more New York real estate moguls during Vegas fight weekends than I do when I visit Manhattan and Brooklyn for a week. The December 2010 Colin Cowie-produced multi-million-dollar grand opening of The Cosmopolitan was capped off by a New Year's Eve show headlined by Jay Z and Coldplay that brought Beyoncé and Kanye West on stage. It was a bender of a celebration that a slew of prominent New York media (holla, new Food & Wine editor Nilou Motamed; congratulations on the new Bloomberg gig, Kate Krader; keep rocking it for WSJ Magazine, Howie Kahn; cool new Eater column, Melanie Dunea) still remember as the #bestweekendever.
Things were a lot more low-key this past weekend. The development of mega-casinos has been stalled, and the big opening of the year was a 203-room Asian-themed boutique hotel that's tiny by Vegas standards but at least has a Bitcoin ATM. Instead of Jay Z swagger, The Weeknd is dominating the charts with his singular crooning about being a bad person who fucks other bad people but then actually worries about what happens next. Of course, the always of-the-moment Cosmopolitan had The Weeknd playing a spectacular, intimate set on Friday. For better and for worse, 2017 is no doubt a year in which a lot of people will think about bad decisions and consequences. But New Year's Eve weekend 2016 in Vegas still had that great summer camp vibe, because a lot of New Yorkers were in town to get work done.
There should be a nice amount of 212 numbers in the reservations books and iPads.
There was The Lambs Club's David Rabin and Attaboy's Sam Ross, proudly showing off The Dorsey, their gorgeous new cocktail lounge at The Venetian. We went to the opening party on Friday and enjoyed Ross' Penicillins (a drink he's famous for creating) and mojitos for two with an industry-heavy crowd. We ended up back there seven hours later for a Doyard grower champagne nightcap. This bar, an ideal spot for grownups who want cocktails and conversation, should be packed nonstop for CES this week.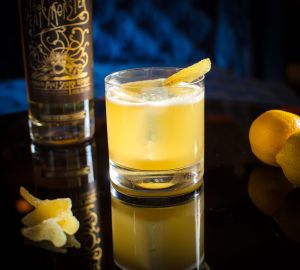 There are plenty of conversation starters on the lounge's drinks menu, but another good way to make friends is by bringing them to the fireplace in The Dorsey's library and sticking your hand inside. The virtual flame here doesn't burn. Have everyone around you see for themselves. Then feel free to play credit-card roulette when you order a punch bowl with your new pals. This isn't bottle-service pricing in an overheated night club, so $90 buys Creole punch with rum and pineapple that four to six people can share. Which is to say, there's a bright side to shit calming down a bit in Vegas.
Over at The Cosmopolitan, we went for dinner at José Andrés' China Poblano and found New York culinary power couple Christina Tosi and Will Guidara sitting at the counter. Tosi, of course, was in town to open Milk Bar at the Cosmopolitan, which started selling crack pies and cake truffles on Friday. (This new Milk Bar is adjacent to David Chang's Momofuku, which should open in January.) Guidara will be spending a lot more time in Vegas this year and next year as he works on the opening of The NoMad. The Vegas version of Guidara and chef Daniel Humm's NoMad, which now has a L.A. food truck, will be part of a Sydell Group development that will also include the Park MGM resort with an Eataly. (Roy Choi, who's partnered with Sydell on L.A.'s Line hotel was in Vegas last week, too, adding to the speculation that he might also have plans for the Strip.)
Anyway, the best thing we overheard during The Weeknd's show was a concert staffer exclaiming, "You know Christina Tosi from Milk Bar?! She's here!" Tosi, a judge on MasterChef, is a celebrity in her own right. She belongs here in Vegas, on the Spectacle Circuit.
Rabin, meanwhile, isn't leaving Vegas until after CES. He knows a lot of his friends will be coming to town this week. He knows that they'll be making the rounds and might want to drink at his bar before or after hitting Carbone or the Jean-Georges steakhouse at Aria or one of Mario Batali's restaurants at the Venetian or one of Noah Tepperberg and Jason Strauss's nightclubs. There should be a nice amount of 212 numbers in the reservations books and iPads. A lot of New Yorkers will be coming to party, so it's time for a lot of New Yorkers to get to work.