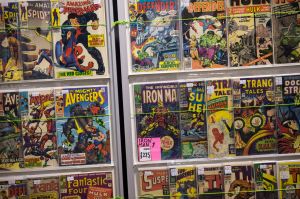 DC Comics announced today that it will increase the cover price on 16 of its titles from $2.99 to $3.99. In exchange, consumers will get a free copy of the digital version of the same comic he or she just bought, which can be redeemed at DC's website.
Translation: in exchange for a 33 percent price increase, comics fans will get something that cost the publisher effectively nothing.
We've reached out to the company for clarification, but it seems like a safe bet that offering a free digital comic has a marginal cost at or very, very near zero for the company (that is, the cost to make an additional copy—for example, a movie may cost $100 million to make, but it costs nearly nothing to project that $100 million product onto a screen).
Marvel Comics, meanwhile, announced last week that buyers of certain titles will get free copies of digital back issues (out of print comics) with each print book. Marvel had also offered free digital copies with its print issues since 2011, according to Newsarama.
Each deal cost its publisher nothing or close to it. One gives fans more content, more chances to get interested in additional characters. Another lets them… enjoy reruns? Which sounds better?
SEE ALSO: Who will create the Netflix of digital comics?
In fairness to DC, Marvel sells titles largely at $3.99 these days, according to Previews. Since launching Rebirth, DC set paper copies at $2.99, according to We Got This Covered. DC may have found that lowering its price to $2.99 didn't lead to a large enough increase in sales to justify continuing to compete on price.
The good old days are over.
The median cover price of all paper comics today is $3.99 apiece, according to Comichron. This figure does not account for the page count reductions in the typical floppy comic. If prices had only increased with inflation since 1990 (when the median price was $1.75), the price would be $3.21 today.
If there's a bright side to this story, it's this: both companies' moves imply that digital comics ought to cost around one dollar each.
That sounds about right.