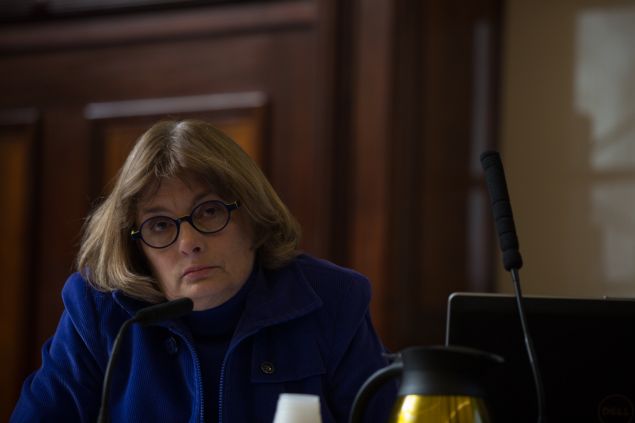 One of the core architects of Mayor Bill de Blasio's affordable housing plan announced her intention to step down from city government today—making her the third top city administrator do so since December.
Vicki Been, commissioner of the Department of Housing Preservation and Development, will return to her old post at New York University's Furman Center on February 6. This news comes just days after City Planning Commission Chairman Carl Weisbrod revealed he, too, would abdicate his post—and a little more than a month after the resignation of Gladys Carrión, de Blasio's commissioner of the Administration for Children's Services.
"It has been an honor and privilege to lead HPD, and to be part of the mayor's all-star housing team. We came in with a bold agenda to change the paradigm for how we grow as a city," Been said in a statement. "We promised to produce and preserve more affordable housing than ever achieved, to reach New Yorkers at a broad range of incomes, and to work with communities to ensure neighborhoods are diverse, inclusive, and rich in opportunity."
Been and Weisbrod designed the mayor's massive rezoning of New York City, which loosened building rules in order to boost below-market housing construction. They also crafted individual neighborhood plans to increase the low-cost apartment stock by nixing restrictions on residential development along commercial and industrial corridors.
Both changes, which allowed for greater density and greater market-rate development, faced protest from residents and activists.
Maria Torres-Springer, the president of the de Blasio-controlled New York City Economic Development Corporation, will take Been's place atop HPD. James Patchett, chief of staff to Deputy Mayor for Housing and Economic Development Alicia Glen, will replace Torres-Springer at the NYCEDC.
Torres-Springer cited to her own childhood in federally-subsidized Section 8 housing as one of the many experiences she would bring to her new role.
"I know first-hand that the work we do is a lifeline to hundreds of thousands of families. Housing is the top expense for New Yorkers, and for far too many rising rents threaten their ability to stay in the city they love," she said in a statement. "Vicki leaves big shoes to fill, but I'm honored to have a chance to keep up the record-breaking progress she's achieved."
The moves come as de Blasio seeks re-election this fall, amid a welter of scandals surrounding his political fundraising.