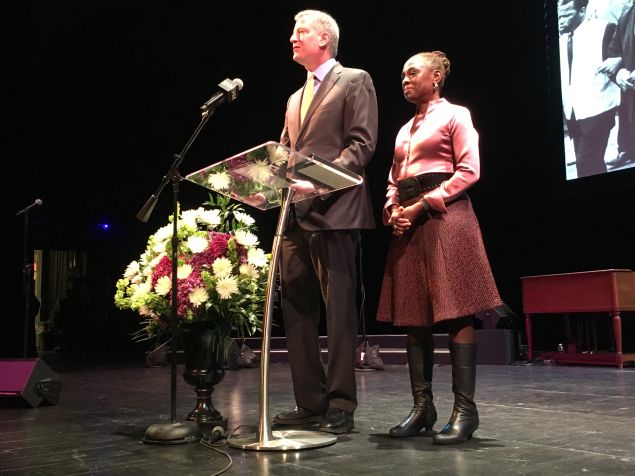 Mayor Bill de Blasio declared this morning that President-elect Donald Trump's imminent inauguration "takes us back sharply" to the struggles of the man for whom Dr. Martin Luther King Day was named.
Speaking at a Martin Luther King Day celebration at the Brooklyn Academy of Music this morning, de Blasio—flanked by his wife, First Lady Chirlane McCray—noted that the MLK gathering takes on a different meaning each year depending on the time in history. The liberal Democratic mayor seemed to allude to Trump's proposed policies that would target undocumented immigrants and Muslim Americans.
"Doesn't it feel in some way that this year's gathering takes us back sharply to the time of Dr. King?" de Blasio asked the nearly 2,500-strong audience. "The struggles he faced. It's a sad statement on one level that we might be able to have a small window into some of the challenges he faced. Some of the magnitude of the problem he challenged."
And though he admitted that Dr. King was dealing with more substantial challenges at the time, he said that in the aftermath of the presidential election, the United States has gotten a taste of what Dr. King was feeling as he fought for civil rights for the black community.
"Nowhere near as much as what Dr. King faced but maybe in these last few weeks, we've been given a glimpse," de Blasio continued. "But that should inspire us, it should inspire us to borrow from his example, learn from his ways and the ways that his movement, how to comport ourselves in this time."
The mayor's comments came just as Trump was meeting with Martin Luther King III at Trump Tower today. The meeting came only days after Trump attacked Congressman John Lewis of Georgia—who was named one of the "Big Six" leaders of the civil rights movement by 1963—in response to the congressman's claims that he is not a "legitimate president."
King III called the meeting "constructive" but would not say whether he was displeased with Trump's comments about Lewis, though he touted Lewis' civil rights record. He said that his father would be worried about the large number of Americans living in poverty and that Trump assured him he'll represent everyone—and that he will continue to assess the Trump administration.
De Blasio also pointed out that right up to the day before he died in April 1968, Dr. King was supporting sanitation workers in Memphis, Tenn. and building his movement to become larger and more inclusive of all people as well as working people.
Dr. King, he said, believed that the civil rights movement was just getting started as opposed to winding down and that civil rights had to be looked at through the prisms of economic rights and ending the Vietnam War.
"He was telling us to get ready for larger fights but fights that would reach so many more people and make us a even better society," he said. "He was pointing us on a path but remember, it was never in his view about what he would do as a great leader. It was about what we would do."
And de Blasio appealed to New Yorkers to "remember the good" President Barack Obama has done for the country—and to join him at a pre-inauguration rally on January 19 at 6 p.m. at the Trump International Hotel & Tower near Columbus Circle. Rev. Al Sharpton and celebrities will be in attendance as well. The protest aims to send a message to Trump and Congress that New York City will protect residents' rights and continue to make progress on key issues such as healthcare, climate change, social justice and immigrant rights.
"I wanna urge you all, this Thursday night, [the] last night of the Obama administration and let us remember the good that Barack Obama did for this country every day," he told the audience.
And he told Trump to keep Georgia Congressman John Lewis' role in the civil rights movement in mind.
"I say this respectfully because today should be filled with respect and high-mindedness," he said. "What I hope the president-elect remembers is that 50 years before he ever got involved in public life, John Lewis was already an American hero."
De Blasio—who is not attending the inauguration—reiterated promises he made during an address he made at Cooper Union in November: that the city won't comply with a Muslim registry, that it won't bring back the stop-and-frisk policing method and that it won't allow its policy officers to be turned into immigration enforcers.
"He would be 88 years old and he would still be in the struggle today if he was with us," de Blasio said. "But he would also tell us that this setback is one we can surely overcome because he did it time and time again."
McCray encouraged people to sign up for the Affordable Care Act to stave off Republicans' repeal effort, noted the importance of eliminating the stigma associated with mental health issues and that the fight continues to protect civil rights.
"We cannot sit back, wait it out, suffer in silence because there's so many freedoms to fight for and many soldiers are needed to fight for affordable housing, a living wage, financial security," she said. "You know, it's been over 50 years and Congressman John Lewis is still fighting."
Brooklyn Borough President Eric Adams said that in 2008, people in Middle America were traumatized when Obama won the presidential election but took their pain "and turned it to purpose," organizing on the ground. He said the MLK celebration today is "our North Star moment"—a symbol toward freedom.
"We did not elect a dictator, we elected a person that only has a four-year run, baby. We must decide who is gonna do it after the four years," Adams said.