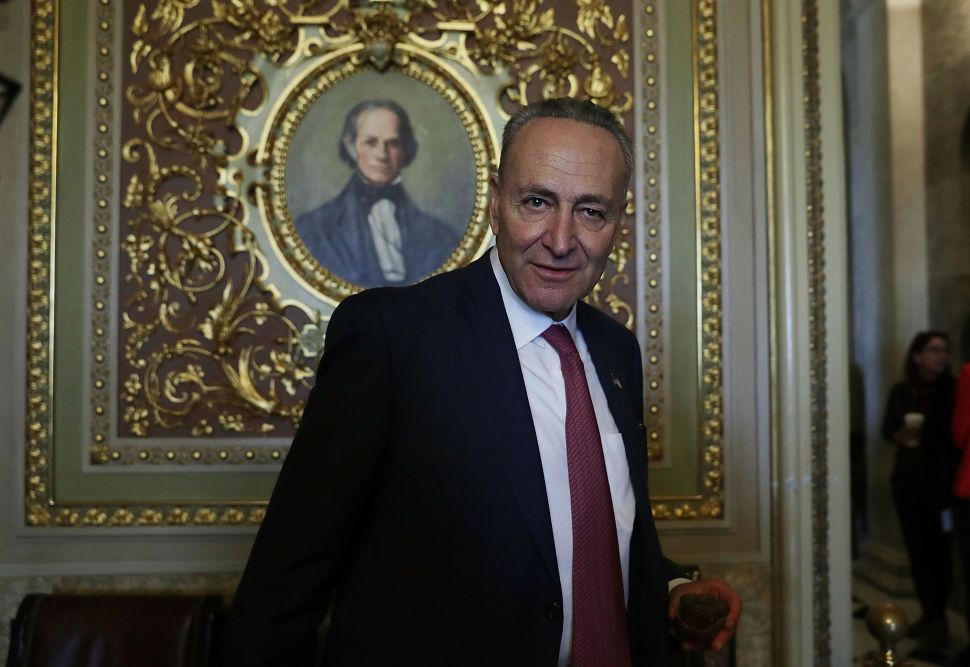 In the history of human existence, we know that three things are indisputably true:
You cannot avoid death or taxes,
Love is the greatest gift that you can offer someone, and
The most dangerous place on earth is between U.S. Senator Charles Schumer and a television camera.
Sen. Chuck Schumer, the senior senator from New York, has ascended to the job he has always wanted, Senate Democratic Leader. Although he truly believed that in 2017 he would be Senate Majority Leader, not Senate Minority Leader, he is behaving like the dog who caught the car.
Sen. Schumer is a cagey political player.
He demonstrated this by outfoxing (his Capitol Hill roommate) Senate Minority Whip Dick Durbin, who really should have succeeded the recently retired Senate Democratic Leader Harry Reid. But Schumer somehow leapfrogged over Durbin for the top Senate Democratic job, selling his ability to serve as a messenger for the party and raise huge amounts of money for himself, his party, and his colleagues.
It's a solemn reminder that winners write the history.
I worked as a Press Secretary to two U.S. Senators from 2005 to 2009, including for one Senator who was fourth in the Senate GOP leadership.
On a policy level, the widely-held (bipartisan) view is that Sen. Schumer is basically a non-entity. He has no new ideas. He has no major bipartisan legislative accomplishments. He is not a national leader on any one policy issue. He is an expert on nothing substantively.
He's a spokesman at his core—a Pez dispenser of talking points. No one in politics cares more about media coverage than Chuck Schumer. This is an established fact.
The best training that a Democratic professional communicator can get is to work in the Schumer press shop, because it is outstanding training. It is also borderline un-survivable, as he goes through flacks rapidly.
Part of the reason it's so demanding is that Schumer's standard operating procedure in New York is to hold weekly Sunday press conferences. While his colleagues and their staff members are with their families, in bed, or at church, Schumer is earning media this Sunday, next Sunday, and every Sunday after that for eternity.
He drives the news in New York. He drives the news nationally. He sets the agenda for the week.
But the job of Senate Democratic Leader is not a press job. That is just a small part of what the job requires, but it is far more comprehensive than that. You are your conference's leader, and you are responsible for legislative strategy and outcomes. You want to grow your majority. You must heed the base, but also protect vulnerable members. You must find unity, wherever you can. In short, you must deliver.
With the results of the 2016 election behind us, Democrats have 48 Senators in their conference, more than enough to throw their weight around.
When the 60-vote Senate legislative threshold is needed, the Trump administration and the Senate GOP majority are going to need eight Democratic votes, and I believe that will be difficult in the early months.
However, Schumer has already made two significant mistakes:
He stood by former Senate Minority Leader Reid's unwise and shortsighted use of the "nuclear option," which reduced the threshold for nominees and all judges (except the Supreme Court) from 60 votes to 51. I predict that this decision singlehandedly will result in confirmation of the entire Trump cabinet and in confirmation of the next generation of conservative judicial stars (or future Supreme Court nominees).
His complete lack of knowledge of how the Senate works was on display as the confirmation hearing timetable for Cabinet nominees was announced. Did he forget that the Majority sets the schedule? Senate Majority Leader McConnell outfoxed Schumer by loading up nominees on the same days, to divide and conquer Trump administration opponents and their media allies.
The Senate minority will keep trying to slow things down, but as the clock ticks, the ten Democratic incumbents up for reelection in states that Trump won will feel the heat.
Will they stick by a Democratic conference led by a press hound with no strategy? Or will they protect their own careers?
Matt Mackowiak is the president of Potomac Strategy Group, a Republican consultant, a Bush administration and Bush-Cheney re-election campaign veteran, and former press secretary to two U.S. senators. He is the host of a new national politics podcast, "Mack on Politics," produced in partnership with The Washington Times. His podcast may be found at washingtontimes.com/mackonpolitics.