There are some interesting décor choices throughout.
CORE
Just a peek at the floral wallpaper.
CORE
Posen previously resided in Soho.
CORE
There's a massive wraparound terrace.
CORE
We wonder how Posen will decorate the place.
CORE
The kitchen, with dining alcove.
CORE
Zac Posen just bought this Upper East Side co-op.
CORE
Note the painted ceiling.
CORE
Fashion designer Zac Posen is making the move from downtown all the way to the Upper East Side.
The New York native, whose creations are seen on the likes of Emily Ratajkowski, Claire Danes and Katie Holmes, grew up in Soho, and per public record, he recently was living in a rental building in the neighborhood, at 53 Howard.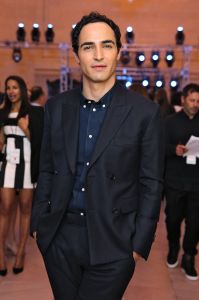 Until now, that is. The Project Runway judge just bought a two-bedroom, 2.5-bath penthouse in a traditional co-op at 210 East 73rd Street.
He paid $3.5 million for his new uptown abode, which the sellers, Richard and Valerie Doll,  most recently listed for nearly $4 million.
The duplex includes hand-painted beamed ceilings and a curved iron staircase, which leads to the lower-level bedroom areas. The living room has 11-foot ceilings, as well as floor-to-ceiling glass doors and a wood-burning fireplace with a marble mantel.
A formal dining room is "ideal for hosting large dinner parties," says the listing held by CORE broker Jeffrey Smith, and also has floor-to-ceiling glass doors, leading to the 1,800-square-foot wraparound terrace. The kitchen is set up with solid rosewood cabinets and stainless steel appliances, with a separate dining alcove.
He will have a far more convenient commute to his uptown office space now—in 2014, Posen signed a nine-year lease for 15,200 square feet at 3 East 54th Street.
We assume the always stylish Posen will embark on a design overhaul of the place—the current interior aesthetic is heavy on patterned wallpaper, including a pink-tinged floral in the kitchen with a birdcage design, as well as pink and white plaid curtains. The rest of the apartment is decorated in a similarly traditional fashion, including a jewel-toned green wallpaper near the staircase and a lots of gilded mirrors.
It is a big year for the designer—he's releasing his first cookbook in fall 2017, and he's designing the uniforms for Delta Air Lines staff members, so why not top it off with a new apartment?