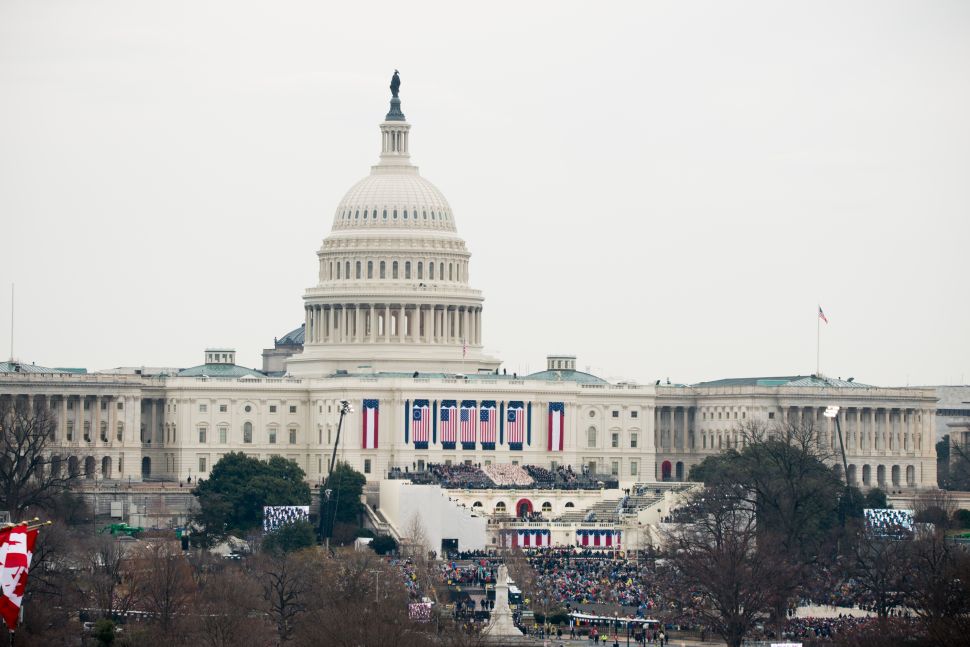 Today, Donald Trump became the 45th President of the United States.
Lots of sites have been covering the inauguration. NPR has continued to do its moment by moment fact checking that served it well throughout the election. Reuters has run a similar stream. Buzzfeed put up a countdown clock to the next inauguration.
READ ALSO: 15 Hilarious Inauguration Memes That Will Make You Feel Better If You Hate Trump
We kept an eye on one chatty corner of the internet itself, Twitter, which collaborated with PBS to stream the events live, accompanied by observations from Twitter's global community. Three of us watched the stream of tweets alongside the broadcast, looking for the more factual commentary. We added in supplementary information from other sources to round out the perspectives.
10:36 AM. Just before the inauguration events started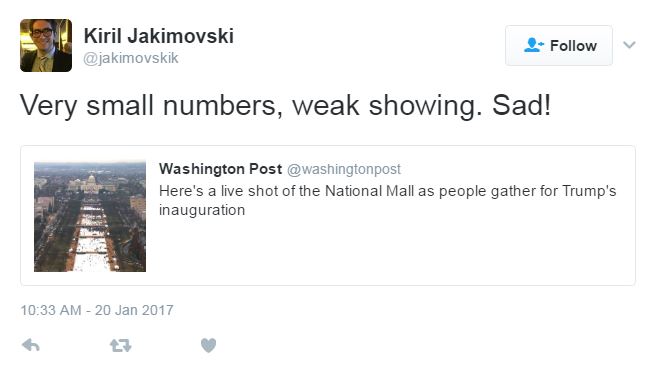 Karil Jakimovski suggested that turnout was weak for today's inauguration.
No one was posting estimated attendance at the time, but last night Cosmopolitan shared comparison photos from the night before parties for both President Obama's first inauguration and Donald Trump's, last night.
It's hard to tell the difference until you get to the ground level shots of the Washington Monument. It doesn't look like Trump's crowd reached back that far.
Hundreds were lined up before 7 AM this morning.
PBS reported that 1.8 million people attended President Obama's first inauguration. Brady Dale
10:45 AM. Protests take place at Franklin Square
A reporter running Facebook Live for the Washington Post, T.J. Ortenzi, reported tear gas canisters via Twitter. A spokesperson for the police did not confirm for The Hill that tear gas had been used. Patrick Madden, a reporter for WAMU, also reported tear gas and vandalism by protesters.
Franklin Square is just northeast of the White House. Brady Dale
10:52 AM. As the president-elect and the president head to the swearing in
Georgy Paul shared a photo from CNN as the outgoing president escorted Donald Trump to the swearing in. Eight years ago, Obama famously had to be sworn in twice, after Chief Justice John Roberts slightly whiffed the official oath before the parade. Brady Dale
11:00 AM. Just as the PBS livestream of the swearing in began
What's going to happen to Donald Trump's tweeting phone, Mashable asked in a tweet this morning? The site reports that Trump had to give up the Samsung phone he tweets with. The President-elect had to replace his Android phone with a "secure, encrypted device approved by the Secret Service." Trump uses a Samsung Galaxy phone, and it's likely possible to distinguish tweets sent by Trump himself (as opposed to those sent by his team) by checking which are sent from an Android phone.
No details are available on the new secure phone, apart from the fact that it comes with a new number. However, Gizmodo notes that Barack Obama was unable to tweet from his secure phone.
Trump, who is very active on Twitter, recently said he would continue tweeting on his personal account instead of the official @POTUS account.  John Bonazzo
11:02 AM. Dignitaries assemble for the swearing in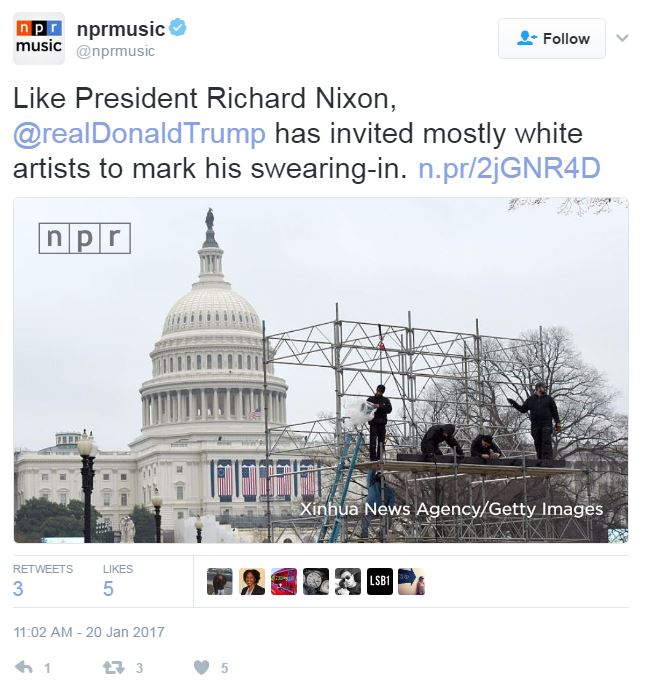 NPR Music tweeted about the diversity of Trump's performers. Trump has famously had a hard time signing up acts for the day's events. Even the performers who stated they would not perform did not come from that many backgrounds, based on the accounting from Sky News.
We don't know everyone the new president's team asked to perform, but African-American singer and actress Jennifer Holliday had agreed to perform in pre-inauguration events, but she backed out after receiving death threats and backlash from LGBT fans, according to CNN. Brady Dale
11:12 AM. Bill and Hillary Clinton at the inauguration
Good Morning America is in hot water for this tweet referring to former senator, Secretary of State and Democratic presidential candidate Hillary Clinton (who won the popular vote in 2016) solely as Bill Clinton's wife. Commenters are calling the tweet "awful" and urging GMA to "delete your account." John Bonazzo
11:20 AM. Former holders of the nation's highest public office arrive.
Four of the five living former presidents are in attendance. None of them voted for Donald Trump. Sage Lazzaro
11:22 AM. Dignitaries filing in to the swearing in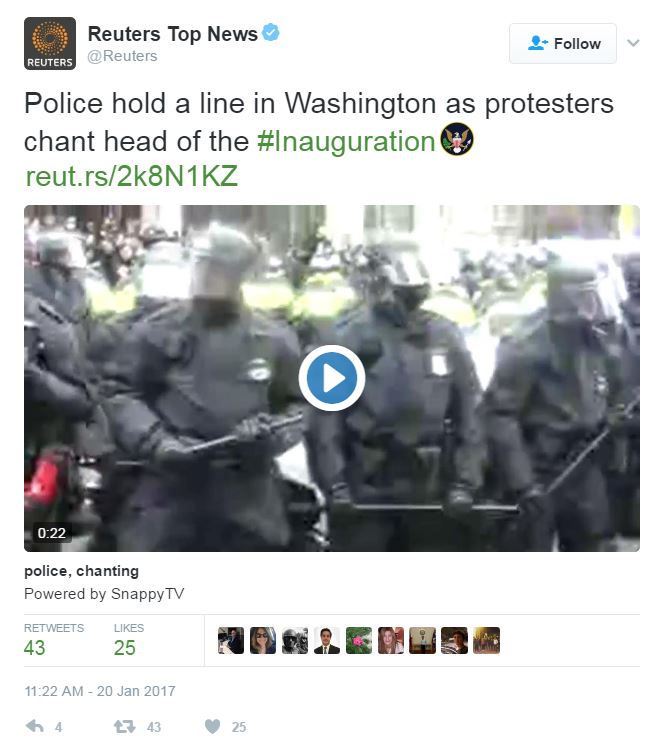 Reuters shares additional photos of police containing protests. Derek Carney shared on Reuters live blog that some protesters carried signs saying "Make Racists Afraid Again," adding that some protesters broke windows at McDonald's and Bank of America buildings. Salon revisited the famous protests against the World Trade Organization, 1999's "Battle in Seattle," in advance of today's inauguration, reminding readers that a later ACLU investigation condemned police action against protesters over actions by the protesters themselves.
Daily Kos cited evidence that some supporters of the new president may have been recruiting provocateurs to incite violence or vandalism in order to discredit demonstrations. Brady Dale
11:28 AM. Donald Trump arrives at the inauguration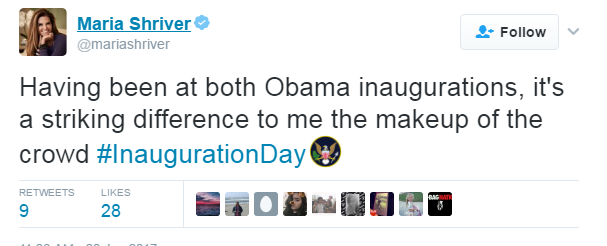 Former First Lady of California Maria Shriver notes that the crowd at Trump's inauguration seems to be much less diverse than at the two Obama inaugurations. Another journalist on the scene made the same observation. John Bonazzo
11:31 AM. Senator Roy Blunt, chairman of the inauguration committee, opens the inauguration
Caitlin Espinoza commented on the weather in DC today. It's 45 degrees as the senator began speaking, with rain likely. The average temperation in Washington on January 20 is 43 degrees, with a historic high of 70 and low of -2, according to the Weather Channel. Brady Dale
11:34 AM. Just as Mike Pence arrives to be sworn in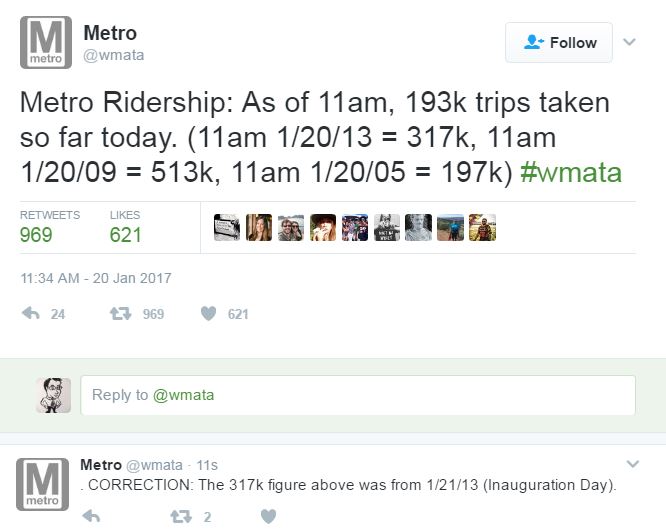 The Washington D.C. mass transit system offered some figures on subway riders, based on the morning's ridership, comparing it to the prior two first inaugurations. This morning fell well behind Obama's first, roughly on par with Bush's first. According to the Washington Post, mass transit funding may be a point of contention between the new president and his party.
Politifact scored Trump's predecessor poorly for his promises on transportation. Brady Dale
11:39 AM. Religious leaders offer invocations in advance of the official transfer of power
Watching from Scotland, Berecca questioned the appropriateness of prayers at the swearing in of a new president; Alex Hayes was glad to see the invocations. Americans United for the Separation of Church and State has an FAQ about religious displays at public events. Broadly speaking, the Constitution's Establishment Clause does not forbid any religious activity by government officials, but forbids the state specifically endorsing or mandating a particular religion.
For example, the Supreme Court has upheld prayers at the start of legislative sessions, within certain guidelines. Prayers at the inauguration are a tradition that go back to at least 1937, according to Wikipedia. Brady Dale.
11:53 AM. Just before the actual swearing in of the president, just after Pence is sworn in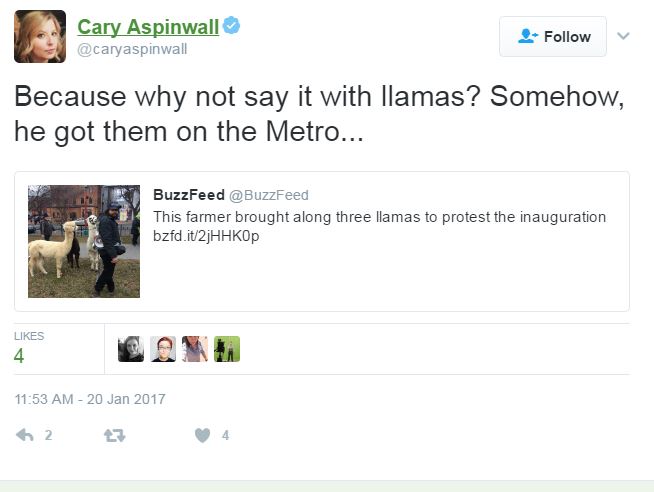 Writer Cary Aspinwall shared a Buzzfeed photo of a farmer protesting with llamas in D.C. The llamas could not be reached for comment. Brady Dale
12:00 PM. Donald Trump sworn in as President
As Dayne Carter noted, Google has made it official: Donald Trump is president of the United States. John Bonazzo
12:08 PM. Donald Trump giving his first speech as president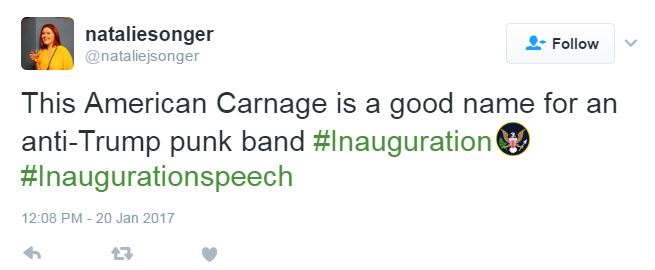 After President Trump commented that he would end crime here, saying that "this American carnage stops right here and stops right now," Natalie Jonger commented that the phrase would make for a good band name. Too late—kind of. Heavy metal gods Slayer and Megadeth did a joint tour called The American Carnage tour in 2010.  Brady Dale   
12:11 PM. Donald Trump promises an administration focused on domestic priorities
HuffPost quoted the key promise from Trump's first speech as president. Foreign Policy has offered an extensive analysis of what Trump means when he talks about putting America first, based on his past statements. BradyDale
12:45 PM. The Obamas prepare to leave Washington via helicopter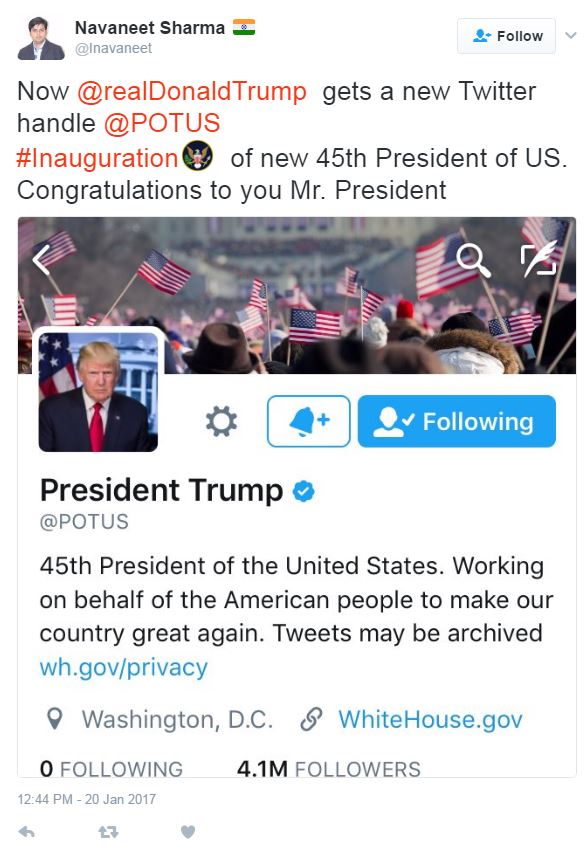 Navaneet Sharma noticed that the official account for the head of the White House has switched ownership. The account now has zero tweets listed. Twitter confirmed that the official administration accounts have switched over, via email this afternoon (including those of the First Lady, the VP and others). The main account, @POTUS has 3,832,716 followers as of this writing. The former president's tweets are now kept at @POTUS44, with just shy of 14 million followers. Brady Dale