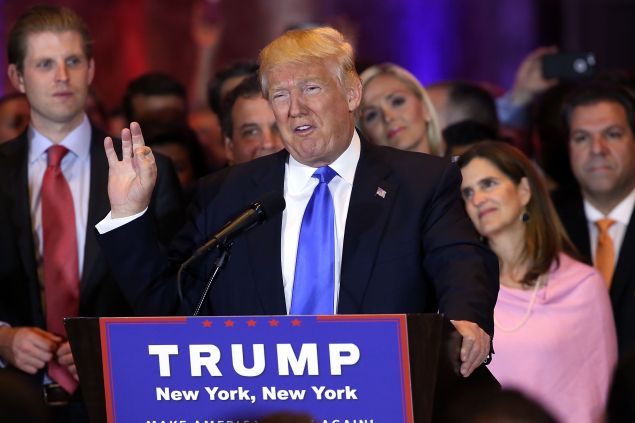 At his first press conference since attaining the highest and most dignified office in the land, President-elect Donald Trump lashed out hotly at leaked reports that the Russian government possesses a video of Moscow prostitutes urinating on a hotel mattress for the Queens-born businessman's enjoyment—and insisted the claim could not be true because of his infamous obsession with hygiene.
At the media event at the incoming commander-in-chief's eponymous skyscraper, first Vice President-elect Mike Pence then Trump himself let loose with their outrage that intelligence agencies may have released the unverified dossier—reportedly compiled by a British agent—to the media, and that CNN and Buzzfeed reported it. The president-elect, known for his antipathy both for reporters and potential infections shared by human contact, began oddly by thanking most of the news organs in the room that possessed the documents for months but did not share them with the public.
"They looked at that nonsense that was released by maybe the intelligence agencies—who knows?—but maybe the intelligence agencies, which would be a tremendous blot on their record if they in fact did that, a tremendous blot, because a thing like that should have never been written, it should never have been had, and it certainly should never have been released," Trump said. "They came out so strongly against that fake news, and the fact that it was written about by, primarily, one group and one television station."
Trump denied other claims contained in the report, which he and other high-ranking government officials first heard in classified briefings, among them that he had received business favors from Russian strongman Vladimir Putin's government and that his campaign had points of contact with Kremlin agents.  But he returned again to his apparent disgust that "sick people" opposed to his candidacy "put that crap together" and then shared it with American intelligence, that the agencies may have then let it dribble out to the press and that Buzzfeed and CNN reported it.
He compared these actions to the crimes of the Nazis.
Arizona Sen. John McCain, a longtime Trump critic and the 2008 Republican nominee for president, has revealed that he was the person who shared the dossier with the Federal Bureau of Investigations.
"It's all fake news, it's phony stuff, it didn't happen," Trump insisted. "Does anybody really believe that story? I'm also very much of a germaphobe, by the way. Believe me."
Urine is popularly believed to be sterile, a perception likely owing to experiments conducted in the early 20th Century that determined it had a deleterious effect on bacterial cultures. More recent studies, however, have disputed these findings.
It is unclear whether Trump would have been familiar with such research at the time the purported incident took place, during his 2013 visit to the Russian capital.
The president-elect offered another glimpse into his psyche when he revealed to the audience that he is paranoid about "cameras all over the place," and warns his associates to watch their behavior at all times, especially when staying in a foreign nation.
"I'm a very high-profile person, wouldn't you say? I am extremely careful. I'm surrounded by bodyguards, I'm surrounded by people. And I always tell them—anywhere—but I always tell them when I'm leaving this country, 'be very careful in your hotel rooms, and no matter where you go, you're going to have cameras,'" he said. "And I'm not referring just to Russia, but I would certainly put them in that category. And 'number one, I hope you're going to be good anyway. But in those rooms you have cameras in the strangest places. Cameras that are so small, with modern technology, that you can't see them and you won't know. You better be careful, or you'll be watching yourself on nightly television.' I tell this to people all the time."
That neurosis does not apparently extend to hot microphones, because a 2005 Access Hollywood tape surfaced in October in which Trump can be heard talking about sexually assaulting women.
Trump later refused to take questions from CNN, calling them "terrible," "rude" and "fake news."