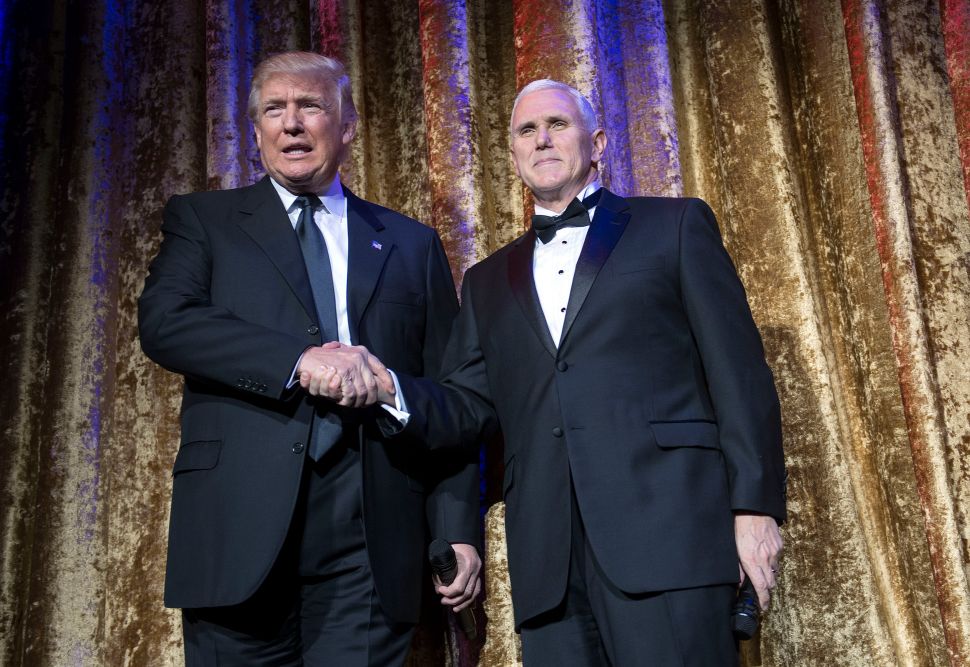 The headlines are dominated by polls showing Donald Trump has approval ratings hovering in the low 40s, lower than any president headed into Inauguration Day. But his policies remain popular with the American public. Are there any lessons in these surveys for the new president?
Reports from an ABC News/Washington Post poll have Donald Trump stuck at a 40 percent approval rating. According to Tierney McAffee with People magazine, Trump's numbers are far below those of other presidents. "Just 40 percent of Americans say they have a favorable impression of the president-elect. That's 21 points lower than President Barack Obama's departing favorability rating of 61 percent and easily the lowest popularity for an incoming president since 1977, ABC News reports. Trump trails behind former Presidents Obama (79 percent), Bill Clinton (68 percent), George H.W. Bush (65 percent), Ronald Reagan (58 percent) and Jimmy Carter (78 percent)."
Voters don't approve of how he's handling the transition (only 44 percent approve, while 52 percent disapprove), according to NBC News and the Wall Street Journal. That approval rating is down six points since December, as reported by MSNBC, while the disapproval numbers have jumped 11 points during that time.
But there is some good news for Trump and the GOP. On an MSNBC program (see video here), a Republican pollster pointed out that 47 percent of Americans support the GOP agenda, while only 41 percent back the Democrats on policy.  And he claims fewer Americans think the country is on the wrong track, no doubt fueled by the stock market boom.
NBC News and the Wall Street Journal did identify top voter priorities in their poll, many of which Trump has supported recently or in the past. These include "keeping jobs in the United States (78 percent), curbing lobbyist influence (66 percent), funding infrastructure (64 percent), fighting ISIS (59 percent) and having new tariffs on certain countries (57 percent)." These plans have strong bipartisan support, as noted in that MSNBC program.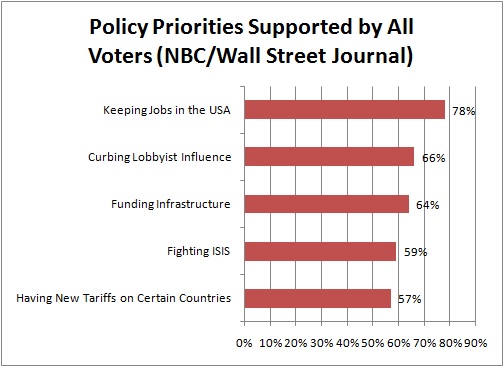 But is Trump taking advantage of this opportunity? In the NBC News/Wall Street Journal survey, 70 percent of respondents are somewhat or not confident in Trump's goals and policies, and more than two-thirds cited Trump's personal characteristics as a source of that concern. That's because he's been involved in tweets and scrapes with the media and other politicians, instead of linking himself to these policies voters liked.
On his Twitter account, Trump claimed "The same people who did the phony election polls, and were so wrong, are now doing approval rating polls. They are rigged just like before." But given that the numbers are so different from other presidents, and the pollsters were only a point or two away on the election, it's not something that can be dismissed.  Additionally, the new president shouldn't ignore results showing what is popular with the American people, something these surveys reveal.
Additionally, getting involved in Twitter wars with Democratic Congressman John Lewis doesn't seem to be helping Trump craft the presidential image he craves. Even the conservative-leaning Rasmussen Reports polls showed that voters aren't too enamored with Donald Trump's use of tweets.
Some would say take Trump's Twitter account away. But such verbal disputes could still emerge at news conferences and presidential appearances. Another Rasmussen poll revealed that "Most voters blame President-elect Donald Trump for his problems with the media and think he ought to do something about them."
Trump's numbers could rebound by focusing on these policies he has supported that have bipartisan appeal. And with better public support, he would have a much better chance of enacting his policies.
John A. Tures is a professor of political science at LaGrange College in LaGrange, Ga.  He can be reached at jtures@lagrange.edu.