It's a big week for outsiders, real and otherwise.
Today, large swaths of America wince as a racist insult-comic ascends to the highest office in the land. President-elect Donald Trump ran on a platform of ignorance — turning his complete lack of professional experience into a selling point — and while this kind of thing is disastrous and potentially world-ending in politics, it can be fascinating in the art world.
Traditional art fairs and galleries are stuffed with overly trained graduates of overpriced M.F.A. programs; meanwhile, the contested and somewhat pejorative-sounding category of "outsider art" tends to be a catch-all for autodidacts, amateurs, and savants. Not surprisingly, the work made by the latter — away from the glare of fame-hogging and glad handing — is often much more interesting than whatever Larry Gagosian has coughed up. And this weekend, New Yorkers in Trump's America have a unique chance to see some of the genre's more wild examples, at the 25th edition of the Outsider Art Fair, on view through January 22 at the Metropolitan Pavilion.  
As a pre-fair palette-wetter, you might want to swing by the Museum of Sex — not a typo — where the exhibition "Known/Unknown" has just opened. Loosely conceived to go up in conjunction with the OAF, this survey covers the more explicit sides of the outsider-art scene. "Overt sexuality and eroticism are, perhaps surprisingly, unusual subjects in Outsider/Folk Art," a wall text offers, "but when they do appear they are emphatic and unconstrained." That wall text isn't kidding. Consider Gil Batle's vigorously unconstrained, hand-carved ostrich eggs, in which winsome rows of penises and vaginas frame figurative depictions of prison life (men enjoying a shower; a man enjoying fellatio from another man while simultaneously staring at a woman performing the same act in a porn magazine, all of this rendered with the intricacy of a medieval relic).
If that leaves you feeling like you need a shower yourself, rest assured that the Outsider Art Fair's offerings are just as unconventional, yet generally less prurient. And while certain cliches are certainly borne out here—creepy totems of baby-doll parts; farm animals rendered as flattened, distended blobs of primary colors on unprecious hunks of wood—there's no way to pigeonhole the diverse offerings, which range from Ghanaian barbershop signage to anonymous 1950s nudie photos, quilts collaged out of trash and plastic bags, and much in between.
One personal highlight is a selection of work by the late Bernard Gilardi, shown by Portrait Society Gallery of Milwaukee. Gilardi's origin story is a familiarly strange one. He was a basement-toiling Sunday painter whose death unearthed hundreds of unseen works that his surviving family didn't quite know how to feel about, which is somewhat understandable considering the subject matter: LSD-pupiled women holding limp, winking moppets; musclemen flaunting their pecs against backdrops of cowshit-dotted rural fields. The most striking canvas depicts two Peter Saulesque feet—one white, one black—their toes pressed together quasi-erotically. Some of the artist's paintings have found their way into Wisconsin museums, but the OAF is the work's first proper outing in New York. Like most things here, the price points are strikingly affordable (in the context of the art world): $2100 for a stunning 2003 portrait of a woman with epiphany-blasted eyes, or $4800 for a much larger 1976 painting, "Room Perfume," in which a pipe-smoking girl exhales countless tentacles of smoke.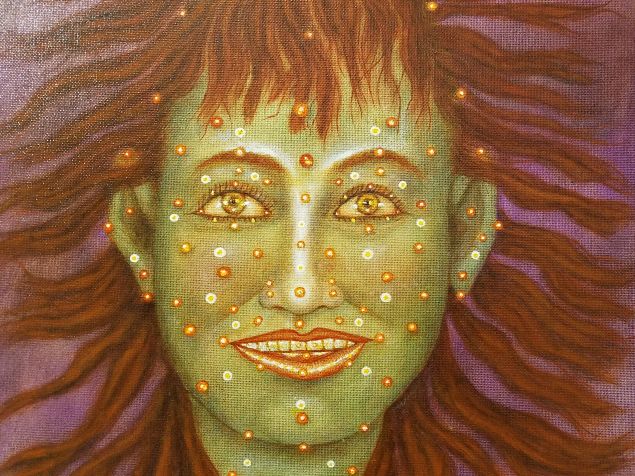 It could be that Gilardi's surreality simply jibes with the prevailing sour mood in the air, the typical overheard bullshittery of an art fair suddenly replaced by lackadaisical terror. Nearby, a French-accented woman bemoaned the status quo: "You know how people were reacting to George W Bush? Now he seems like a saint!" A man with a shaved head and a 'Stop Bigotry' button affixed to his jacket concurred. "The next four years are going to be very scary," he said. "But in any case, wonderful to see you!" Fear and doom, fire and brimstone…Shrine, a Brooklyn-based dealer, has given its booth over to the late "Prophet" Royal Robertson. These are paintings that 21st-century right-wingers and Trumpists should celebrate, seeing as how freely they mingle religious affectation and gutter vulgarity. One mid-'80s example, priced at $6500, combines a quote from Leviticus with an original text: "HEY FILTHY BITCHY'S   MOTHERFUCK YOU…ALL." (In fact, Donald, that's a nearly perfect 140-character tweet.)
But hey, it's not all fucked-up faces and filthy mouths; there's also plenty of sweetness and light here! My brittle heart nearly broke over at Mariposa Unusual Arts, which has a painting by Yvonne Robert of a big horse and a small horse hanging out in a kind of swirling, psychedelic forest. It's called "Cigale Is Happy That Estne Arrived," and I wanted to pay the $1350 just to hang it over my bed and be happy about Estne forever, too. ZQ Art Gallery has tiny drawings on ruled composition paper of flowers and women, circa 1919-22, by Justin McCarthy, each around $650. $500 at Fountain House Gallery will land you Mercedes Kelly's "Cat Medley 2," 2016, which is pretty much exactly what it sounds like. Luise Ross Gallery is debuting contemplative abstract pieces by late Icelander Oskar Jonsson, collaged together from cut-up, colored vinyl pieces salvaged from his day job as a builder.
Jack Hanley Gallery—one of a handful of galleries here who don't particularly focus on "outsider" art at all—has brought painted-wood cut-outs by Juwelia of poodles and flowers, each around $250. Henry Boxer Gallery is showing William A. Hall, whose heart-punching biography—homeless, he spent a good chunk of his life sleeping, and drawing, inside cars—is made even more unbelievable by the quality of his sci-fi-inflected landscapes and drawings of imaginary automobiles.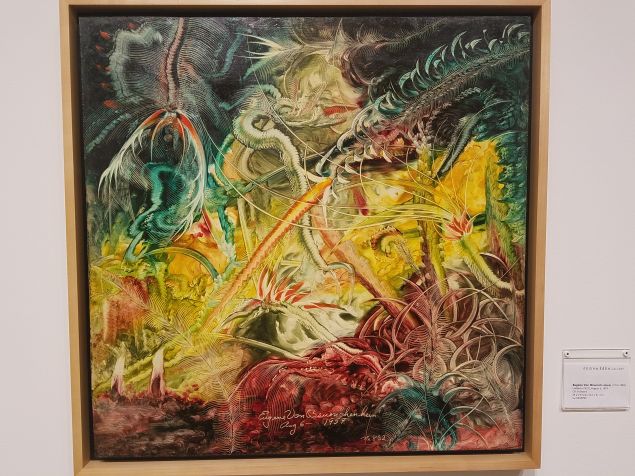 And of course, the OAF also has its share of heavy hitters and familiar names, the kind of stunning work that one might consider an investment vehicle, if one were wealthy and soulless. There's Eugene von Bruenchenhein, whose kaleidoscopic abstract paintings from the '50s are at fair-organizer Andrew Edlin's booth, along with tiny photographic portraits of the artist's wife. There's also the occasional Henry Darger, or Thornton Dial, and some Martin Ramirez, all great. But the refreshing part of the Outsider Art Fair is how it tends to reject the cult of personality and reputation that the mainstream art world is so awash in. Check out Winter Works On Paper, where half of what's on the booth walls is anonymous, with snapshots from an unknown hospital photographer hung next to equally unattributed portraits of four nude women vamping in a suburban rec room. It's not that so-called outsider art is careless, or that it doesn't care; it just cares about different things. In an America gone suddenly deranged, under the thumb of a status-obsessed narcissist, that seems increasingly refreshing, and vital.