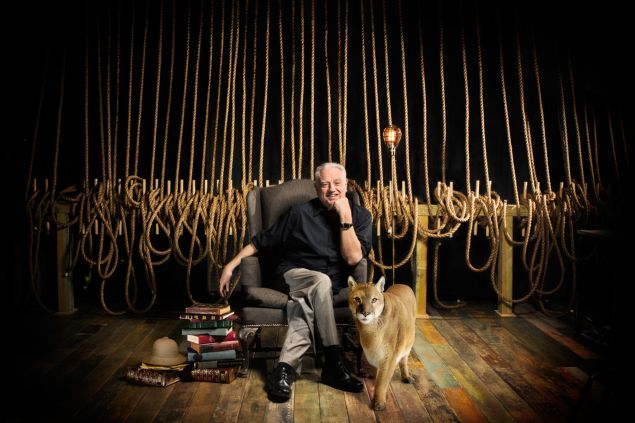 One doesn't, of course, set out to become a character actor. That's just something that happens over the long haul of an evolving career—through age or theatrical seasoning or maybe even a sudden, unpredicted turn that opens the right door.
For 23-year-old Ed Dixon, it came from repeated exposure to a comedic genius at play, working his considerable magic on audiences during an early '70s tour of The Student Prince. When Dixon wasn't lustily leading students in their famous drinking song, he was in the wings, riveted as he watched George Rose, 30 years his senior and a polished practitioner of the English music-hall tradition, steal the show.
Rose did all this from the designated second-banana slot of Lutz, the prince's fussy, fuddy-duddy valet who was not above a little low vaudeville from time to time.
"I'd never witnessed anything like it before—or, for that matter, since," Dixon remembers warmly. "He had it in his contract that he could say anything he wanted—and he did—trying to crack us up while we were all standing at attention."
Nor was Rose any easier on his audiences: "He had this ability to crash through the fourth wall, and he was fearless. It was as if he was accosting the audience. He would figure them out—how he would play them in a few seconds—and then he would tailor it to how they were reacting—so there was this wild spontaneity about him. I had no intention of becoming a character actor, but I knew that I had to watch him."
So he watched, and he learned. As life and a little bit of luck would have it, his career also veered into character comedy. Frequently, he found himself in roles that Rose left his mark on—in particular, "the very model of a modern major-general" in The Pirates of Penzance and Alfred P. Doolittle of My Fair Lady. And now, on February 1 at The Loft at The Davenport Theater, a circle of sorts will be completed when Dixon actually turns into Rose (as well as some 30 other characters) in an affectionate, 90-minute remembrance that he wrote called Georgie: My Adventures With George Rose.
"When I perform George, it feels like George as I know him," he says. There are other Georges, it seems—like the two YouTube interviews he did, both very businesslike and buttoned-down. "In neither of them does he show the ditzy, impish, funny side of himself that he showed to friends and audiences. He would go off on an anecdote for anyone who would stand still for it. And, of course, his performing did that."
In casual conversation, Rose was a Scheherazade warehouse of showbiz stories. He didn't just drop names, he affected the voice of the name being dropped like quote marks.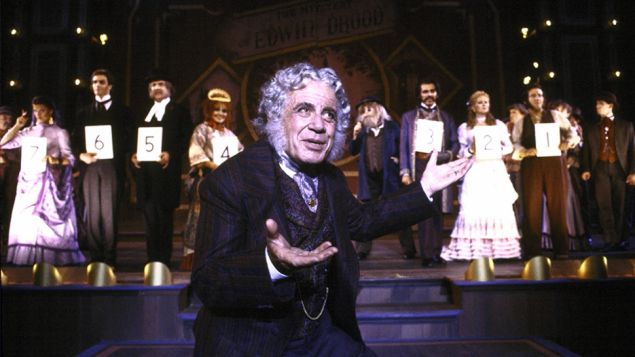 In casual conversation, Rose was a Scheherazade warehouse of showbiz stories. He didn't just drop names, he affected the voice of the name being dropped like quote marks. "George used to pepper his conversations with famous people and go into Gielgud or Olivier or Gladys Cooper as he talked about them, which complicated my job. I never intended to be doing impersonations, and they aren't. They're George's versions of them. Some people aren't in my range at all, but what was I going to do? The quotes are important, often hilarious, and I didn't want to leave them out."
Gradually, an easy friendship developed. Dixon left the wings and started hanging out in Rose's dressing room and chatting. Although both were openly gay, a physical relationship never developed. "I don't recall ever having a particularly charming moment with him, which is why it is so funny. It was the talent—and the talk."
The Student Prince tour stopped short of Broadway—in Pittsburgh, and the actors scattered like the wind to find new jobs. "I had this great pang because I knew he was so special and I probably would never see him again," recalls Dixon. "Then, back in New York, I bumped into him walking his dogs in Greenwich Village, and he said, 'Come and have some tea.' So I did. He went off to the kitchen to put the kettle on, and the next thing I know there's a mountain lion nuzzling against my knee, which George thought was hilarious. He loved to spring that on people. He did it often."
In addition to a mountain lion and assorted cats and dogs, Rose lived with a 60-pound lynx, a South American wildcat and a caracal, all of whom accompanied him on tours in a Winnebago. The man who lived dangerously on stage, ad-libbing and being "in the moment," lived dangerously off stage, too, and it would be his undoing.
"So I spent this amazing afternoon hearing these stories, and it ended, and I thought, 'That's that, and now I won't see him anymore.' Then I went off to summer stock, and he showed up in summer stock, doing Two by Two while I was doing Philemon.
"We just kept running into each other. At one point, he needed a vocal coach, and I was recommended as the teacher of choice. By then, I was in Greenwich Village myself and had almost stopped performing because I had a studio full of students."
This secondary career, which exists to this day, started with Dixon's first Broadway show, No No Nanette. "One of the chorus boys said, 'Would you help my voice?' I could tell it was a troubled voice and thought. 'Well, I couldn't hurt.' He was in Helen Gallagher's class and had improved so much she started sending me people. The next thing that I knew, I had a whole studio full of people who were twice my age."
Rose's brilliance ran from Shakespearean tragedy to Broadway song-and-dance for 40 years, both here and in London. A butcher's boy from Bicester, Oxfordshire, he put in four years at the Old Vic before making his New York bow in 1946 with Henry VI, Part I. When he returned in 1959 in Much Ado About Nothing, Brooks Atkinson found "Mr. Rose's Dogberry makes it unnecessary for anyone to play the part again."
He was forever gathering nuggets like that—as the eight-character Common Man in A Man for All Seasons (a role that was cut from the movie and the recent Broadway revival), as the First Gravedigger to a Hamlet by Richard Burton (who said, "One should not have to share the stage with animals, children or George Rose"), as Katharine Hepburn's Tony-nominated attorney in Coco and as an over-the-top Captain Hook to Sandy Duncan's Peter Pan (on that musical, he famously feuded with director Ron Field, who thought Rose "played Hook like Hermione Gingold").
His two Tony Awards were for Best Actor in a Musical. The first one was won the hard way—in a decidedly supporting role: My Fair Lady's Doolittle—up against co-star Ian Richardson's Henry Higgins. The second was for his last Broadway show.
That was The Mystery of Edwin Drood, and he toured with it, making contractually sure he had periodical breaks to visit his vacation home in the Dominican Republic. It was during one of these hiatuses that he was found savagely bludgeoned to death.
Dixon got a glimpse of this tragedy-in-the-works when he visited Rose's home in the Caribbean shortly beforehand. "I spent 20 years idolizing someone, and then I take a trip to the Dominican Republic, and, within five minutes, the whole thing comes down around my head," Dixon remembers. "'I honestly felt as if Noel Coward had invited me to Firefly. That's how I felt when I got off the plane. George met me at the terminal and took me to this little red Suzuki. I got in and turned around, and there was this boy in the backseat. That's how he sprang it on me, just as he had with the mountain lion. He looked 12, but apparently he was older than that because he seemed to be 18 by the time of the trial. He could have maybe been 14. What did I say? I said, 'It's very sunny.' Here was a man who was talented, wealthy, famous and my idol. What could I say? 'Oh, you mustn't do this?' I didn't do that. I couldn't."
What he did do was run away. He caught the next flight back and was home when he read that Rose was found dead in a crashed Suzuki. Murder was eventually proved.
This cruel, stunning end of his friend and mentor, after years of laughter and good times, had Dixon reeling for years. He finally got his head around it when he wrote his memoir, Secrets of a Life On Stage…and Off, and included a chapter on Rose.
That's where it might have stayed, had Broadway World's Richie Ridge not invited himself over to see Dixon's theater memorabilia. "I thought he was kidding, but the next thing I knew, he was coming over," says Dixon. "I live like a bohemian—there's no dining room table—so we sat on the floor eating Chinese and talked five hours. Richie had read my book and, out of the blue, he said, 'You need to do a one-man show on George Rose.' And, when he left, I sat down at the computer and started typing. Nine days later, I had the first draft. I just sat there till I had it."
The result surprised Dixon: a dual biography, as autobiographical as it was biographical. "I put together every interaction that we had, and I had no idea how numerous that would be until I really started doing it. I thought this was going to be about someone I idolized, but, when I really wrote it down in order, I realized it was more than that. Because the story is so difficult, I didn't know if I'd be able to do it or not—but, when I saw it come together at the end, I thought, 'I think I have done it.' "
Things started moving forward very quickly after that. Producers got involved, and there was a developmental workshop in Sharon, Conn., followed by a fully fleshed production at Arlington's Signature Theater; its artistic director who directed it there, Eric Schaeffer, is directing and designing the version parked at the Davenport.
Dixon is now 68—the same age Rose was when he was killed—and rekindling their special kinship is proving to be quite a cathartic workout. "The show is healing—but it is hurtful—every time I do it," he admits. "It's extraordinary to find yourself in this situation—to be doing it at this age and to have it be so difficult—but I really believe that if something is this important to me, it might be just as important to others."