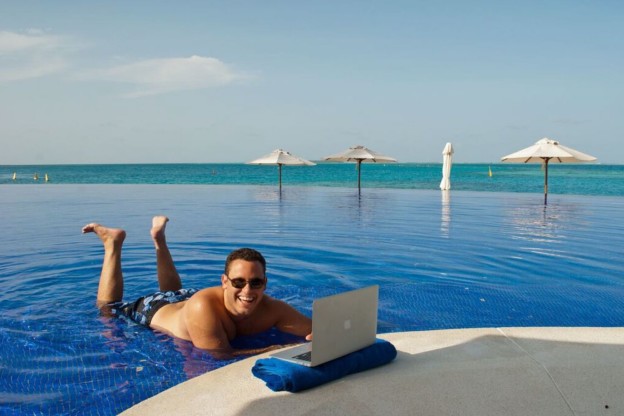 It's true: there are certain habits that separate millionaires from mere mortals. However, as I have discussed on this blog before, these habits are far from inaccessible; they're actually habits that can be cultivated by anyone with a little work. Honing millionaire habits can help you develop the skills which will help you attain your financial goals.
Today, though, I'd like to take a slightly longer-sighted look at those habits. Once you've attained millionaire status, how are those habits affected? What are some of the habits that millionaires maintain over weeks, months, and years that help them stay successful in the long term? Here are just a few.
Getting the worm. It's an age-old saying that the early bird gets the worm. Millionaires always want to get that worm. If you want to become a millionaire, you've got to devote yourself to long hours of working. Existing millionaires know this, and maintain the habit to maintain their millions.
If you ask successful people when they wake up each day, chances are, unless they are rock stars, they're not going to say at noon. Driven people tend to wake up early and get to work early. This is particularly important if you are in the financial sector, where being up early can help you take advantage of foreign markets and give you some much-needed quiet time to reflect on the day ahead.
Voracious reading. To attain financial success, it's important to remain up to date on the goings-on of the world, be they financial, world news stories, or even cultural highlights. Hey, you never know what news might inspire an investment.
Longtime millionaires never lose the habit of reading; if anything, they just become more voracious with time. They read the papers, they stay updated on the news, and they keep updated on other investors. They read trader biographies, they read "about us" sections of company websites. They read everything. The lesson here? Fall in love with reading if you want to attain long term financial success.
Hobbies. Longtime millionaires know this secret: it's not all about making money. To be an effective investor or businessperson, you have to have interests other than making money that matter as much, if not more, than your work. Really.
Having passions outside of the workplace makes your life vital, and keeps you energized so that when you're ready to get to work and make money, you're in the best state of mind possible to do so. So whether it's surfing, sailing, chess, skiing, fixing cars, or playing in a band, be sure to cultivate interests in your life. It will make you a more interesting person, and it will make you a better businessperson too. Promise.
Good manners.  It's a common misconception that to become (and to stay) a millionaire, you've got to be brutal, ruthless, and ready and willing to take people down. Truthfully, this couldn't be further from the truth. Have you ever heard the phrase "you catch more flies with honey?". Basically, this is to say that a nicer approach will have a greater impact, and it's true with maintaining financial success, too.Treating your colleagues (and even your competitors) with respect will get you much further than taking advantage of people and burning bridges. Treating people rudely or poorly may come back to you in time; you never know when the person you snub today or deem "not important enough" could become a real player in the future.
Long-sightedness. Something that longtime millionaires have in common is that they are able to see the forest, and not just the trees. They don't spend money rashly just because they have it. They have learned from their mistakes. They have learned that sometimes, watchful waiting is the best course of action.
They're also not afraid to take on a long term project that may not yield results until much later. For instance, they are willing to give their time to budding traders, acting as a mentor. While this might not make them money in the short term, nurturing these students could give them a valuable employee or a future company owner in the years to come.
Perseverance. A habit/trait that many a millionaire has continued to hone over the years is perseverance. It's one that never becomes easy, per se, but can become an ingrained habit. Even when they've attained financial success–especially when they have attained financial success–they don't lose the fire in their bellies.
They stick with the process through the ups and downs, and have reached a level of comfort with risk. This perseverance has become not just a habit but a way of life.
Goal-setting. You might think that goal-setting is something that millionaires have left in the past. After all, they made a goal to make millions, they reached that goal, and everything is happily ever after, right? Not quite.
While it's fantastic to make millions, it doesn't mean it's time to just retire and rest on your laurels. For one, that's boring. For another, there are greater goals to attain! A millionaire revisits goals often, adjusting them based on current circumstances. Seeing goals as moving targets that can be adjusted and maintained as inspiration is a habit to work toward.
Socializing. No millionaire is an island. Making money and being an effective businessperson requires relationships, and smart investors know how to forge connections and maintain them. They network, they socialize with other millionaires and colleagues, and they stay active in society.
Staying connected in this way can help forge business relationships and help nurture possible business deals. Longtime millionaires never forget that their success relies deeply on personal relationships.
Conclusion: There are habits that you can cultivate that will help you become my next millionaire trading challenge student. But don't become complacent when you've made your millions: it's then that you need to fine tune your habits to maintain long term wealth. By looking at these habits of long term millionaires, you'll be able to proactively begin to better yourself and prepare yourself for a long, successful career.
What millionaire habits could you use a little help cultivating?
Timothy Sykes is an entrepreneur and a stock market expert, self-made millionaire stock trader, former hedge fund manager and author of the bestselling book "An American Hedge Fund". He has several millionaire students now and has been featured on CNN, Fox News, CNBC and more and has spoken at prestigious institutions such as Harvard University. Watch his media appearances and speeches on YouTube here. This article originally appeared on timothysykes.com.