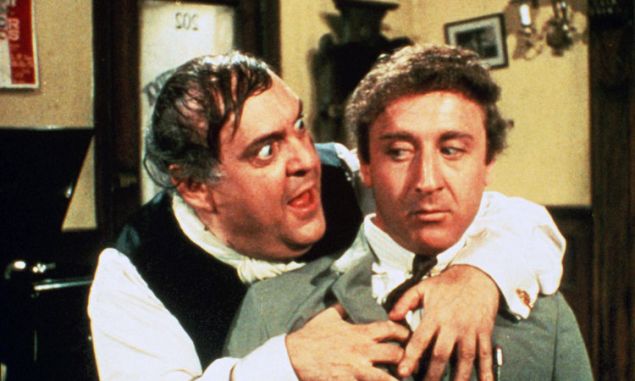 WEDNESDAY, JANUARY 11
Opening: "The New York Jewish Film Festival"
The 26th annual New York Jewish Film Festival will run from January 11 through 24, and feature screenings of 29 films and shorts, including the U.S. premiere of William Kentridge's Triumphs and Laments and Samantha's Peters' documentary Bette Midler: The Divine Miss M. And you won't want to miss a special screening of Mel Brooks' 1968 classic The Producers.
Opening: "Cory Arcangel and Olia Lialina: Asymmetrical Response" at The Kitchen
Russian-born internet artist Olia Lialina—known for her work in the early days of the 1990s net art scene—and Brooklyn-based Cory Arcangel—who notably hacked and altered Nintendo's video game Super Mario Brothers to create a version that only featured floating clouds against a blue sky in 2002—have teamed up to show collaborative work they've created on the shifting role of the internet in today's society.
THURSDAY, JANUARY 12
Opening: "Charles Andresen and Jerry The Marble Faun" at Geary Contemporary
Dallas Art Fair co-founder Chris Byrne has brought together two artists whose lives are as colorful as their two-dimensional creations for this show: Charles Andresen, who was a security guard at the Metropolitan Museum of Art for over 25 years, and Jerry Torre (a.k.a. Jerry The Marble Faun), who served as Big and Little Edie's handyman at Grey Gardens.
Opening: "Nasty Women" at the Knockdown Center
Artists who self-identify as "Nasty Women" were invited to submit artworks no larger than 12-inches to the Knockdown Center's sprawling open-call exhibition of the same title, which has been organized in response to the current assault on women's rights and reproductive healthcare tin the U.S. Works will be displayed in the gallery on large letters that spell out the show's title, and will be sold for $100 or less, with proceeds going to Planned Parenthood.
FRIDAY, JANUARY 13
Opening: "Winning the White House: Curator's Walk Through and Talk" at ICP at Mana
In the age of television. and now social media, visual imagery has played a key role in presidential elections. Through January 27, ICP at Mana explores the constantly changing role of photography and film in American presidential campaigns, from Kennedy to Trump, in the exhibition "Winning the White House." On Friday, ICP assistant curators will give a walkthrough of the show, and discuss some of the most influential images on view.
SUNDAY, JANUARY 15
Screening: "Why Does the History of Squatting in NYC Matter?" at UnionDocs
During the 1980s and 1990s, the Lower East Side of Manhattan became famous for its population of squatters who created a vibrant community within the city's many dilapidated and abandoned tenement buildings. Williamsburg's UnionDocs will be sharing a series of documentary-style works made in various media that detail the complicated history of the city's many battles with squatters.