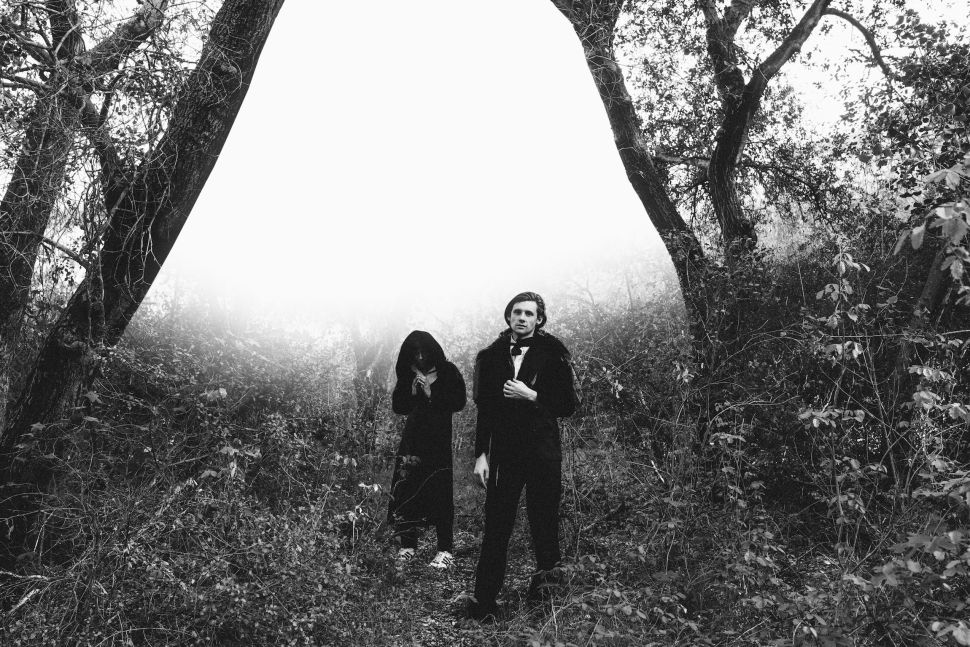 The best music coming out of Los Angeles belongs to the youth, and no one knows this better than Foxygen. 
Though the two core members at Foxygen's center, Sam France and Jonathan Rado, are still in their mid-20s, they've already released five albums of radically different sounds. After pulling a Bowie and announcing that their fake band "Star Power" had broken up following 2014's …And Star Power, those not paying attention didn't realize that Ziggy Stardust pulled the same stunt when he killed The Spiders From Mars onstage at the Hammersmith Odeon in 1973.
Just like Bowie, producer, pianist and main songwriter Jonathan Rado says the band treat each Foxygen album as actors, playing parts and embracing the affectations. 
Rado's been the man behind the boards for some of last year's best albums, including The Lemon Twigs' Do Hollywood and Whitney's Light Upon the Lake, demonstrating his knack for making vintage sounds of psychedelia and Americana sound fresh and vibrant. 
But it's with Foxygen that Rado gets to act out all the sounds he loves. On the band's fifth LP Hang, out today on Jagjaguwar, Rado and France embrace the sonic transience as scenes play out in a whirlwind, California time-vacuum. Billed as their first proper studio album, Rado recorded Hang onto two-inch tape and enlisted Matthew E. White to arrange the 40-piece orchestra that lends each track equal-sized helpings of grandeur and schmaltz. 
"I think there's just something about making the 'L.A. record' that's kind of sad. It's a sad city, the city of broken dreams."—Jonathan Rado
But that's Hollywood, baby. Foxygen makes no secret of the fact that Hang is their California record, best heard in the moments when France travels down Lankershim Boulevard with the top down, only to get stuck in traffic, or sings, "Here I am in this Hollywood bar/press my face against the glass/ Can't you see I'm making reservations?" on "Ms. Adams." 
Hang is a sonic satire, too, vacillating from the old-timey vaudeville of "Avalon" (the new name for a Hollywood club that has actually been around that long) to Zappa-esque transitions of meticulously arranged chaos, from '60s L.A country to to old America of Ellington and Gershwin. 
If you're already feeling exhausted, that's O.K.—while Hang's" 30-ish minutes sound designed to be chewed on in one setting, the songs that work as suites also stand on their own, bite-sized, clusterfuck pastiches, as grim as it is romantic.
This is an album wherein France's singing about "the garden of love" in "Avalon" could equally refer to the nightclub or the William Blake poem, when all players' hands are on deck for multi-movement album centerpiece called "America" that comes straight out of tin-pan alley. The Lemon Twigs' brothers D'Addario filling out the rhythm section feels fitting—Rado helped them "do Hollywood," now it's Foxygen's turn. 
I recently talked to Rado about capturing the history of Los Angeles through its sonic milestones, channeling the ambitious of youth, and the value in being a studio perfectionist in the sheets but a loose, live player in the streets.
[youtube https://www.youtube.com/watch?v=9-DM0TThIhM]
Hey Justin, it's Rado.
What's up Rado? I think I saw you guys right after We Are The 21st Century Ambassadors of Peace and Magic came out at Pianos, in the bottom room, and I remember that title track sounded almost like a manifesto. But then you became Star Power, and now you've released this insane record that's completely adjunct from both of those. So it got me thinking about something you said last year along the lines that you guys often feel like actors, like you're acting in a band. Was that always the intention with you two?
Yeah, pretty much. We always have different concepts for the records. For 21st we were kinda thinking like we were this '60s band totally out of time, like we were in the 1960s. With Star Power, what if that band was given a massive recording budget and ultimate creative control by their record label and tons of cocaine, you know? [Laughs] Where would that go? And this one's kind of a deviation from the lineage of that band, but it's kinda going back to the '30s or '40s or something.
Sure, and it's a California record beyond the fact that you guys are both California dudes.
Yeah.
As a producer who's honed his chops with a lot of other well respected names in the business, why was it important for you to go in and make this studio record proper, to compose and arrange for a large string section, and to spend the time creating a work of this much grandeur and scope?
It is very rewarding, being a producer and working with other artists, and I feel like I'm pretty good at it. I feel like I'm a good collaborator, I can bring things to other people's albums. But ultimately I feel like Foxygen is my music.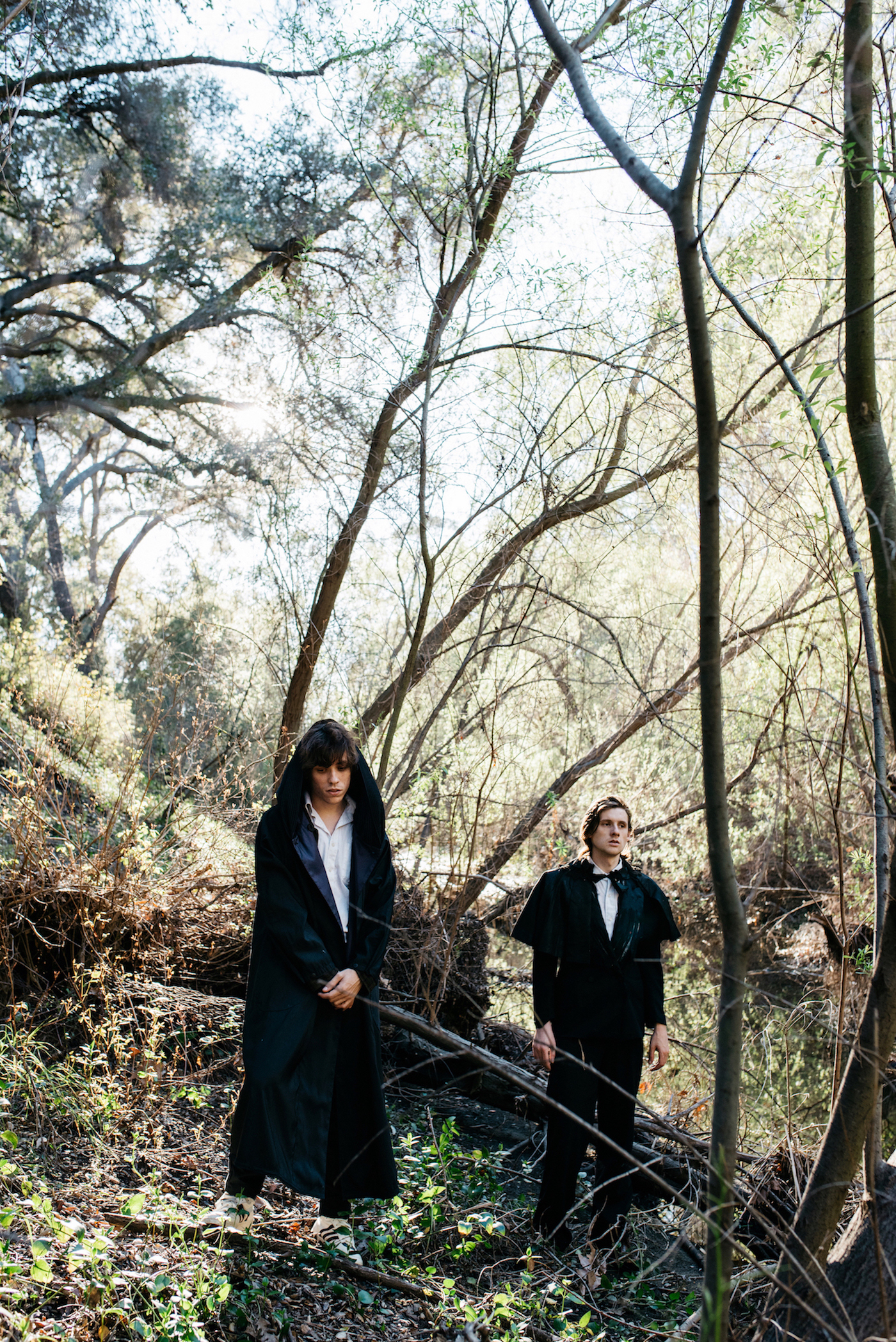 You're the Paul Schafer of Foxygen.
Yeah, exactly! Whitney and The Lemon Twigs, those records are great and I loved working on them, but you leave and the band goes on.
So you've kind of embraced that transcience and channeled it into Foxygen as a result?
Yeah, it's kind of sad in a way. But Foxygen is the main project, you know, and it's the kind of thing I wanna go all out for.
The insanity of Star Power seems to still be here, but it's condensed, and thematically there just seems to be a lot of sorrow on this album, a uniquely West Coast sorrow.
You're definitely right, and I think there's just something about making the "L.A. record" that's kind of sad. It's a sad city, the city of broken dreams. [Laughs]
"I grew tired of that a little bit, of being a band that was defined by our influences. And so, almost decidedly, we wrote these songs supposedly free of influence."
Have you ever heard John Phillips' The Wolfking of L.A.?
It's one of my favorite albums.
This album taps into some of that same ugliness for me. He's doing the same Laurel/Topanga Canyon thing, you have the black back-up singers, the lap steel, the rollicking piano…but he's also buying heroin on one track and snuggling up next to his daughter on another. There's something very "death of the '60s" about it.
It's one of the darkest records ever, so, so dark. But it's sunny on the surface.
Is that going on here too at all? Are the images you guys choose to depict of the Hollywood facade meant to be grim or romantic?
I think it would be both. The record kind of gets dark in the middle and comes back up. It starts with "Follow the Leader," which is about as peppy as you can get. There's one of those Foxygen songs on every record that's overly optimistic, and then it delves into darkness as the album goes on. Then it comes back up with "Rise Up."
[youtube https://www.youtube.com/watch?v=_-tZ1gbc2pQ]
The '30s and '40s vibe you mentioned comes through in the arrangements, sort of vaudeville and big band, but it's liberated from time on this record. You guys are taking a very modern look back.
That was something I think we were trying to do. While writing it I was thinking a lot about American heritage music, early, early American music. I didn't wanna do a record that was influenced by the same stuff we'd always talked about, like The Kinks or Todd Rundgren. I grew tired of that a little bit, of being a band that was defined by our influences. And so, almost decidedly, we wrote these songs supposedly free of influence. But I was thinking of Tin Pan Alley, big band jazz, Duke Ellington or George Gershwin or something. The old America.
Which L.A. kind of has a relationship with far past its heydey. Even in the '60s and the '70s, you could see the crooner dudes like Lee Hazelwood still hanging onto that old-world romantic style.
Or Van Dyke Parks.
Well, you and him both work in cycles from a compositional angle.
Our albums are always circular with little callbacks and stuff, you know.
I was tripping out to the idea that in the '60s all these bands playing American heritage music and roots music moved to L.A. to make it poppier, like Buffalo Springfield and The Byrds.
Yeah, it's weird how that happened. Our nod to that was "On Lankershim", kind of our Gram Parsons thing, that weird thing when L.A. got really country for some reason. We kind of think of "Lankershim," "Upon a Hill" and "Trauma" as a big suite that we were calling "Christmas at the Flamingo Hotel."
"That's the Foxygen thing—sloppiness on top of perfectionism."
Your live shows are so much more freeform and loose than your performances. When is it time to go with the flow and accept the transience of all of this and when is it important to be a perfectionist?
The real thing is, I'm a studio perfectionist. I'm actually a really, really loose musician onstage. I just can't be a perfectionist. And I think it's the same with Sam. We learned how to play music together, and I think our approach to music, which was [just] recording, didn't allow us to practice our instruments in a normal way. It allowed us to practice our instruments to get a good take and forget that part forever. [Laughs] I think every show I'm playing different stuff; I'm never perfect. Our way of getting around that is this tour, because the music is so perfect and our backing band is top-notch.
Maybe the idea that you guys are essentially treating each project like actors would plays into this solution, too—if you accept the pageantry of going from the studio into the real world then you're good.
That's kind of what Foxygen is, you know? We did the record with the Lemon Twigs as our backing band—they're the bass and drum section. They're amazing musicians, so we would do these tracks and they would sound perfect. I told Brian [D'Addario], who's one of our best friends, and one of the best guitar players in the world, "I think I'm gonna have to play electric guitar on this record, because if you play it'll be too perfect." I had to add the tough of a little sloppiness. That's what it is live, too. The backing band, the rhythm section, is so tight and then I'm on grand piano kind of fumbling around these notes. That's the Foxygen thing—sloppiness on top of perfectionism.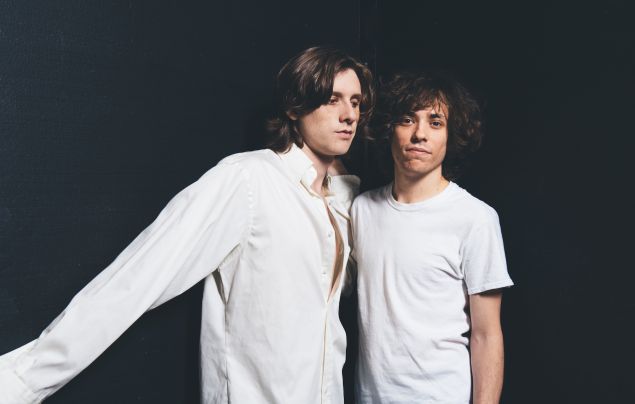 Well, you've also said before that you've lived through every rock and roll cliche, a vacuum that allows for various avoidable mistakes and moments of pristine perfectionism to coexist. Nobody else can make your narrative for you that way I guess.
You know what's funny? I'll never live down the "rock and roll cliche" thing I said, which is, in of itself, a rock and roll cliche.
Between bands like The Lemon Twigs and Cherry Glazerr, are the youth taking over California? Does the future of the weird belong to the kids?
I don't know, I'm not sure. I know The Lemon Twigs are really young, but they're way older than me in my mind. You could've said the same thing about us when we came out, we were really young. I think there's always gonna be some young kids that are doin' shit. But it's hard as a young band, especially a young ambitious band, to have as many ideas as you have when your brain is developing that way. When you're a kid you're being influenced by literally everything that you can see. Then it's hard to keep the trajectory of a band on course.
The longer you can hold onto that stuff through adulthood though, the longer you can stay weird.
Exactly, you have to just steer the ship, and that's the hard part.