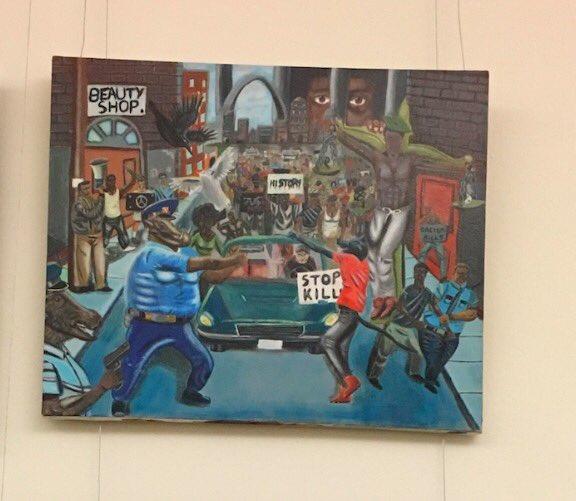 It's baaack! The controversial artwork by a Missouri teen depicting police officers as pigs has been restored to the walls of the Capitol building following a brief respite, according to a report from the Washington Times.
The piece (above) was on display outside Missouri Congressman Lacy Clay's office, after it won the annual Congressional Art Contest.
The work, painted by a high school student in Clay's district named David Pulphus, quickly inspired controversy and was eventually forcibly pulled from the wall by California Congressman Duncan Hunter, who also hinted to Fox News he was willing to help remove other "offensive" paintings, and repeatedly reiterated that he is a U.S. marine.
Now, Clay has unleashed what is hopefully the finale of a sort of meta performance work on which the dueling Congressmen have unintentionally collaborated (that looks at the use of media and public performance in politics and both augurs and hastens the coming culture war, or something). In other words, Clay has defiantly rehung the work, with support from other members of the Black Caucus.
Clay reportedly said he does not "agree or disagree with the painting," but supports the young student's First Amendment right to free speech.
The Missouri congressman said it is "pathetic" that some Republicans and "alt-right media types" constantly refer to themselves as constitutional conservatives, but don't think the same document protects the free-speech rights of his constituent. –The Washington Times
Clay's district, which has seen protests and rioting since the 2014 death of Michael Brown in police custody, also has one of the highest levels of gun violence in the country.
Come see us again next week, when the painting is either re-removed or fire bombed. Also, we hope for your sake you don't have Twitter, David Pulphus.