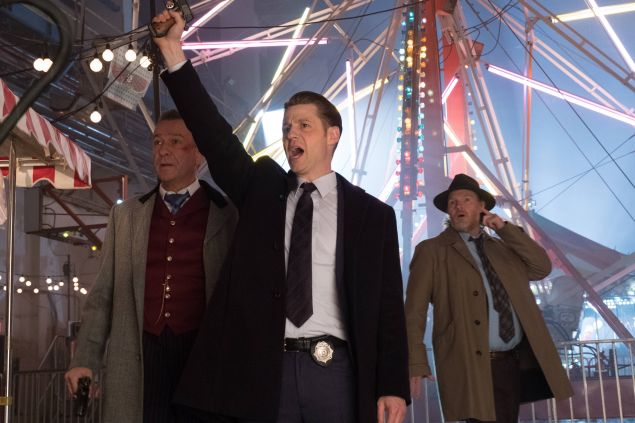 Like the mother of a cat-obsessed orphan child, Gotham is leaving us just as quickly as it arrived. Tonight's episode, "The Gentle Art of Making Enemies," essentially serves as yet another finale, just three weeks after the series returned, so FOX can take three months to air a 24 reboot that, against all the laws of gods and men, doesn't even star Kiefer Sutherland. But that's okay! Three Gotham-less months is just more time to ruminate on all the questions and dangling threads this episode left, appropriately enough, juggling circus-like in the air. Bruce Wayne, after his first big showdown with Jerome "Don't Call Me Joker But Come On" Valeska, firmly established the ground rule that has aided every single iteration of Batman, minus that one from Boston. Jim Gordon finally achieved his life-long masturbation fantasy of punching someone's face off, and then was reunited with his mysterious, Court-of-Owls-connected Uncle Frank. And Edward Nygma, in a combination of Isabella-fueled rage and his love of puzzles, decided to test how well penguins can swim.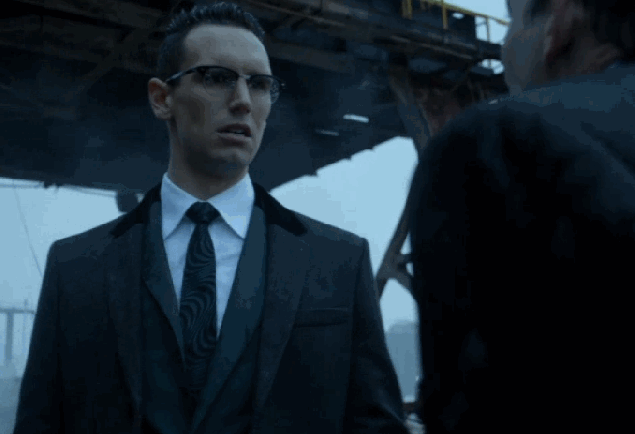 Let's start with Eddie and Oswald, those scamps. I have tremendous respect for both Cory Michael Smith and Robin Lord Taylor, oh they of the three names, who over three seasons of Gotham are consistently powering through, and often elevating some truly suspect material to a point where it lands far harder than it should. Case in point: As part of his sprawling revenge scheme, Nygma straps Oswald to a complex, pulley-based death trap that involves a vat of corrosive acid and a block of ice. Which is fine, Riddler gonna' Riddle, but Oswald escapes because either A) He was supposed to escape, as part of a far-too-elaborate moral lesson Nygma wants to teach Oswald before he just shoots him anyway, or B) Because this random rent-a-cop is just, like, patrolling an empty warehouse by himself, armed only with a flashlight, while Gotham City literally burns to the ground. A lot of this plot-jumping has to occur to get Eddie and Oswald to that gray, cloudy dock–with some fun character moments from Barbara, because Erin Richards is this show's secret MVP despite spending season one portraying a piece of driftwood–but once they get there, it's worth the bumpy trip.
"This would be the cold-blooded murder of someone you love," Oswald says, which is straight-up untrue outside of anywhere but Penguin's immaculately-styled skull. We watch as Oswald blows through the Five Stages of Grief, coming to a screeching halt right before Acceptance. This is the fascinating character Gotham's Oswald Cobblepot has become; he can't accept any of this because he's so far left of basic humanity he can't even understand it. Why would Nygma want to kill him? He passed the test! He did the love thing! Everything that came before, the whole part where Oswald sent Isabella careening into a train and almost started a massive gang war to cover it up, that's water under the bridge. At least, it is in Oswald-logic. Dude has been able to survive this long, in a city that usually just shoots people for having a limp, by sweet-talking the illogical into the logical. Unfortunately for him, logic is kind of Edward Nygma's thing.
"I loved her, Oswald. And you killed her," Nygma says, and one gunshot and a shove later, Oswald is headed to the bottom of Gotham City harbor. Now, no, I don't think Oswald Cobblepot is just dead, never to return. Gotham has brought back so many characters from the dead it owes Arrow royalties, and we never saw Oswald breathe his last breath in the first place. But until May, until we learn what actually happened to Oswald, this was perfect. Some dark stuff, deeper than Gotham usually goes, an exploration into what happens when dangerous, violent men fall in love.
Meanwhile, Jim Gordon was busy starring in a GIF so perfect I wish I could frame it: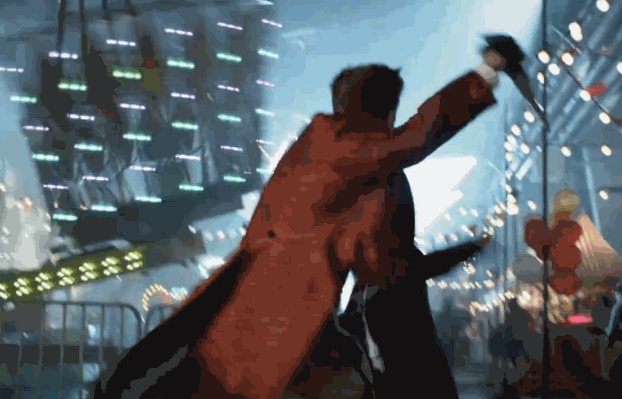 Jerome, fresh off the slab and better than ever, has erected an entire carnival in the midst of his city-wide blackout in order to give Bruce Wayne the most flamboyant death outside of a horrible Rupaul's Drag Race accident. Something key to point out here: There is a carnival taking place during a blackout, an entire carnival complete with a circus tent, Ferris wheel and flashing, neon lights, and the GCPD are still sitting at their desks shuffling stacks of paper like, "there has to be a clue somewhere." But, whatever. Water is wet, the sky is blue and the GCPD is so inept it eventually takes a mentally-unstable billionaire in bat-shaped spandex to help them out. Doesn't matter.
What does matter here is the faceoff between Bruce Wayne and Jerome, who Gotham isn't even trying to pretend isn't the Joker. On one hand, it's a little lame that in the future, instead of being terrified of his unexplainable foe, Batman can just take one look at the Joker and be like, "Wait, you're that crazy circus kid, aren't you? The one from Shameless?" But, much like last week with Camren Bicondova, David Mazouz has a chemistry with Cameron Monaghan that makes this all seem…right. There's a ton of give-and-take between the untethered instability of Jerome and Bruce's way-too-intense-for-a-15-year-old stoicism. Jerome is spreading blood on Bruce's face like clown make-up, shooting staples into his arm and aiming at a cannon full of cutlery at his face, and Bruce absorbs it all because he has to. Jim, Alfred and Harvey do eventually show up, but Jerome still yells "you ruined my show, Bruce," which is basically the argument these two are going to have for a long, long time.
I'm split on the climax inside the Maze of Mirrors. Essentially, it was perfect; there's no better place for Batman and the Joker, two twisted reflections of each other, to face-off than a house of funhouse mirrors. And it is fitting for Bruce Wayne to have to see himself become his own greatest enemy, makeup and all, in order to decide he can never stoop that low again. But, and maybe this is nitpicking, I kind of wish Bruce Wayne didn't come to the most serious, significant conclusion of his life while looking like he applied his makeup on the way to Warped Tour so he didn't miss My Chemical Romance playing the main stage:
As always, let's run down every reference, fact, and nugget of Bat-history brought up in season 3, episode 14, "The Gentle Art of Making Enemies."
THE FIRST RULE 
"The Gentle Art of Making Enemies" has no shortage of comic-book DNA running through it, ranging from the obscure, like the fact Bruce's impromptu makeup looks like small time Batman villain Pierrot Lunaire, who himself is modeled after the "sad clown" stereotype from the Commedia dell'arte…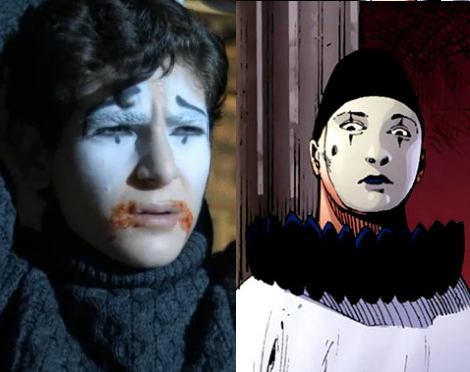 …to the mainstream, most notably Alan Moore and Brian Bolland's The Killing Joke. Despite the fact Moore has pretty much disowned it, The Killing Joke is THE Batman/Joker story to a large portion of fans. Not only does it come to a head inside a carnival's Hall of Mirrors, but heavily relies on the image of a rain puddle, an image "The Gentle Art of Making Enemies" gives a quick shout-out to:
But then, we can really go into a bit of a rabbit hole, inspired by an innocuous portion of the set behind Jerome's circus cannon: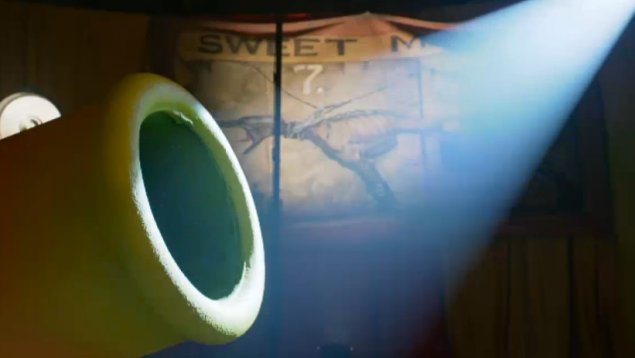 That "7." looks random, until you take a look at Batman Vol.1 #7 (which came out in 1940, making it older than every single Gotham castmember combined). The issue's main story, titled "Wanted: Practical Jokers," basically shares a storyline with this episode; the Joker recruits normal citizens into committing a number of "pranks" that evolve into outright violence, culminating in a night of chaos in Gotham City. It ends with Batman throwing Joker off a train for the first of 1 million times.
"Wanted: Practical Jokers" comes just three issues after Batman #4, which ALSO, for the most part, shares a plot with Gotham's Winter Finale. The main story, titled "The Case of the Joker's Crime Circus," involves, uh, the Joker starting up a crime circus. It's exactly what it sounds like. But WAY more importantly, Batman #4 is an issue filled with firsts. It's the first time Bruce Wayne's hometown is referred to as "Gotham City." And, more importantly, it's the first time Batman makes it very, very clear that no matter what, even if he's fighting pirates, he does not kill: