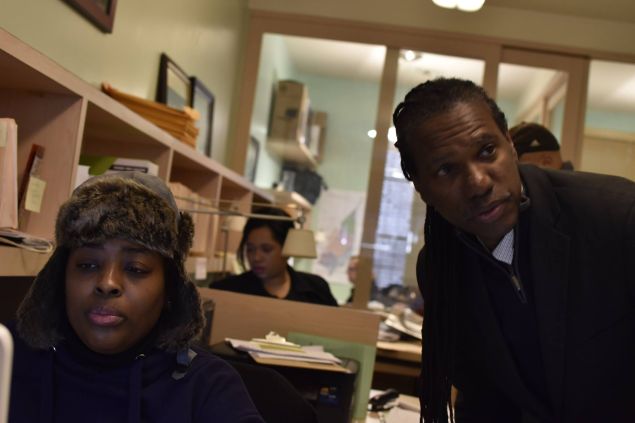 The legal team of Marvin Holland, a candidate in the special election for a vacant Harlem City Council seat, is attempting to boot almost all his rivals from the ballot in the special election scheduled for February 14—including the presumptive frontrunner, current State Senator Bill Perkins.
The seat formerly belonged to Councilwoman Inez Dickens, who won election to the Assembly last fall and assumed her new state role on January 1. City law obligated Mayor Bill de Blasio to call a special election within three days of the post opening up.
Special elections for the Council are non-partisan, obligating each candidate to collect petition signatures from registered voters in the district in order to create their own original ballot line. The names of these new, unique lines cannot resemble the names of any existing party.
Holland, a Democrat who serves as legislative and political director of the Transit Workers Union Local 100, filed petitions to run on a row called Holland4Harlem—and has filed objections challenging the validity of the signatures of seven of his opponents.
Holland's attorney, Sarah Steiner, called most of these claims "a routine filing."
But the challenge against Perkins is more serious. Steiner and Holland alleged the state senator illegally began petitioning before the mayor called the election on January 3—and has sued him to prove it.
"It is, and should be, easy to qualify for the ballot, and disrespectful to the community to disregard the rules the rest of us are following," she said in a statement.
A representative for Perkins, a Democrat running on the Community First line, denied the allegations. He also lashed out at Holland, who has never before held elected office and has lived in the district just five years.
"It's sad and disappointing that the first thing this candidate with no record in the community does is hire lawyers, make unfounded charges and try to throw people off the ballot," said spokesman Richard Fife. "In this age of Trump, we think it is great that people have followed Barack Obama's advice—picking up a clipboard and getting involved. Let the people decide."
The two sides will face off in court on January 26.
Perkins, a lifelong Harlemite, held the Council seat from 1998 until 2005, when he ascended to the State Senate. Sources told the Observer that Perkins has long been unhappy in the upper chamber of the State Legislature, where Republicans have held the majority for most of his tenure—and where, after the most recent Council pay raise, salaries are almost $70,000 smaller than they are at the municipal level.
If all of Holland's challenges are successful, his only opponent standing will be Republican Dawn Simmons. Simmons filed petitions to run on two lines, Dawn for Harlem and Rent Is Too Damn High, and only received challenges on the latter.
The GOP candidate's team ripped Holland's efforts to efface his opponents from the ballot as an attempt at "banana republic political suppression."
"Rather than defending their status-quo policies at the ballot box, they seek to prevent a meaningful election by eliminating each candidate from the ballot through New York State's arcane election laws," said spokesman Robert Morgan. "Dawn Simmons is fighting back by organizing her community and demanding change on issues like jobs, affordable housing, and education."
Complicating the entire contest is a tangle of indefinite political allegiances. Holland's union backed Congressman Adriano Espaillat for his current seat: twice against retired Congressman Charles Rangel, and again when it became vacant last year.
He has also retained the firm Red Horse, which is close to the congressman, and State Senator Marisol Alcantara—Espaillat's anointed heir to his former job in Albany—attended Holland's campaign kickoff party.
Yet a source connected to Perkins told the Observer the congressman has aligned behind their campaign, possibly a reward for Perkins—a black Harlemite—endorsing the Dominican-American Washington Heights pol for the House.
Local district leader Cordell Cleare, a longtime Perkins aide,  also filed petitions to run for the seat, which Holland's attorney has also challenged. Sources told the Observer Cleare and Perkins had a falling out over which of them was to seek the Council job.
Two candidates connected to Dickens attempted to enter the race: Troy Outlaw, her former chief of staff, and Larry Blackmon, a longtime Harlem political operative. But, as of now, neither will appear on the ballot—Outlaw because he failed to get a vital piece of paperwork in on time, Blackmon because his "Harlem Family" line was deemed too similar to the Working Families Party line.
Another candidate, Mamadou Drake, attempted to call his ballot line "Democratic," and was declared ineligible for the same reason. And another contender, Pierre Gooding, never filed petitions at all.
Other candidates for the seat include Charles Cooper, Caprice Alves, Todd Stevens and Athena Moore, all of whose petitions Holland has filed objections against.
Updated to clarify the claims against Perkins and the other candidates.