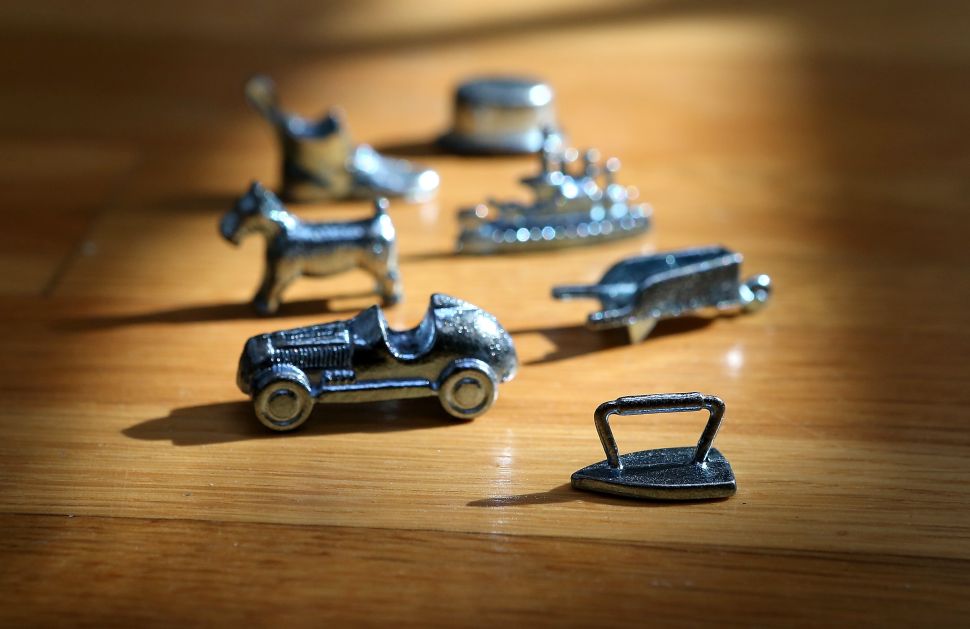 In the next version of Monopoly, instead of playing with Thimble or the iconic Top Hat, you could be hopping to Park Place with an emoji or a hashtag. 
For the first time in 82 years, toymaker Hasbro, who owns Monopoly, is allowing the public to pick all eight game pieces. The company has set up VoteMonopoly.com, which will be collecting votes until January 31st. Voters can vote as many times as they want. 
Monopoly's current tokens are Scottie Dog, Shoe, Wheelbarrow, Race car, Thimble, Battleship, Top Hat and, the newest piece, Cat. Occasionally, Hasbro and Monopoly's original owner, Parker Brothers, would replace one piece at a time through a fan vote. Iron, Sack of Money, Lantern, Cannon and Horse and Rider were among those liquidated in the past by Monopoly fans.
This time around, voters can opt to keep all eight current game pieces or they can replace them with 8 out of 56 new symbols. According to CNN, the options were "inspired by pop culture and the media," and include a hashtag, several different emojis, a monster truck, a speedboat, a computer, a flip-flop and a moped.
Monopoly was first commercially sold in 1935 by Parker Brothers, and became an instant hit in the wake of the Great Depression. Now an iconic part of American culture, the game is sold in 114 countries (as of 2015). McDonald's even runs an annual promotion based on Monopoly.
But before deciding to change such a legendary game so completely, Hasbro would be wise to learn lessons from other products that underwent drastic changes—the most famous being the launch of New Coke.
In 1985, the cola wars were in full swing. Coca-Cola (KO) had been the dominant product of choice since World War II—until Pepsi began increasing its market share. Coca-Cola decided to deliver a knockout blow to Pepsi and introduce New Coke, a change to the brand's century old formula. Most experts praised Coca-Cola at the time.
Eventually, Coke was forced to bring back Coca-Cola Classic in the wake of a public outcry. Consumers who grew up on the iconic soft drink didn't like the new formula.
Despite the fact that Hasbro is rallying the support of Monopoly fans to make changes, it's easy to see emoji and hashtag pawns backfiring. Just like Coca-Cola, Monopoly is a traditional American brand, and Americans have not always been receptive to major changes to their favorite products. This is especially true in a country that is changing too fast for the middle-American consumer, which helped make the game so popular in the first place. 
There is a growing sense that American culture is under attack. For example, some Christians believe they are no longer welcome in American society. And they're not the only part of middle America that feels threatened—many are becoming resistant to change and are want to preserve their traditions. We saw this in the recent presidential election, as middle America flocked to the slogan "Make America Great Again" and a promise the return of a nostalgic, idealized America. It's the same reason classic TV shows remain popular on both cable and digital broadcast and Hollywood is rebooting every old classic it can find.
In an ever-changing America still troubled by war and by an economy which has seemingly left much of the country behind, there is still comfort in the familiar. Middle America likes to hold on to what they still have.
Which brings us back to the Monopoly token selection contest. If the voters decide to replace iconic symbols such as Top Hot with emojis, a backlash could follow. Middle America made Monopoly such a global icon in the first place.
While it's likely that many—if not all—of the original game pieces will be kept, by putting the game up for a vote, Hasbro risks turning Monopoly into New Coke. Thankfully, leaving the final decision to Monopoly fans will decrease the likelihood of alienating an iconic product's loyal consumer base. Maybe politicians, the media, and culture warriors can take some lessons from this.
Kevin Boyd is a Louisiana-based writer and commentator who has been previously published by Rare.us, IJReview.com, the Foundation for Economic Education, the R Street Institute, the Capital Research Center, and other media outlets. He also serves as the Blog Editor at PracticalPoliticking.com. You can follow him on Twitter @TheKevinBoyd