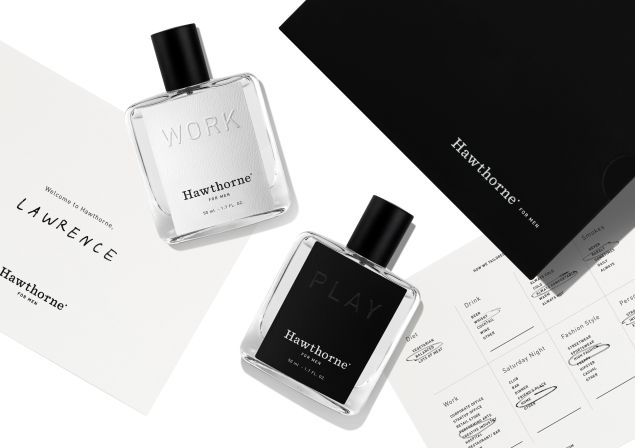 Are you a vegetarian or is your diet meat-heavy? Do you prefer wine or whiskey? What's your average body temperature? What do you wear to work?
These questions are not often asked of men when they are selecting cologne, but they are nevertheless important factors. Higher fat diets alter the skin's oil level, which affects how long scents last; the excretion of sweat can alter the balance of a fragrance. These findings are presented to shoppers who visit Hawthorne For Men's website, the first direct-to-consumer cologne company that promises to match each customer with a scent that perfectly aligns with their lifestyle.
Founded by Brian Jeong and Phillip Wong, the entrepreneurial duo who first met at Manhattan's Hunter High School and have since worked for buzzy fashion brands, including Hood By Air and Reason. As young professionals, they found issue with the fact that luxury cologne was far out of their budget. In particular, they both loved Bamboo Harmony by Kilian, but blanched at its $260 price tag.
"It was this luxury that was hard to discover, hard to come by," Wong told the Observer by phone. "We wondered why something like cologne, something that has such a broken retail experience, hasn't been that improved on since it was invented."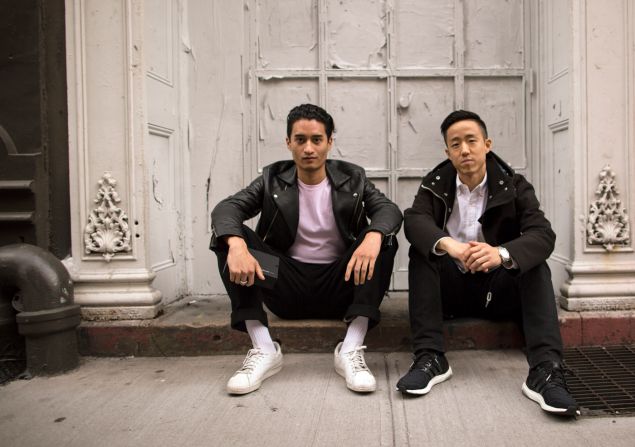 The last time you set out to buy cologne, you likely stopped by a department store and traversed a phalanx of overzealous sales associates spritzing the air without abandon. Rather than providing you with a good fit, this process does little to provide a good customer experience. The global perfume market is expanding, estimated to be valued at $51 billion by 2022, according to a report by Global Industry Analysts. While women's scents do dominate, the men's sector has shown noticeable growth. According to NPD, the sale of men's eau de parfum (a fragrance with a high concentration of oil) rose 30 percent in 2015, accounting for $69.9 million in sales. Most of those transactions likely took place through the classic retail channel.
Hawthorne for Men eliminates that outdated process, by providing customers with scents that closely align with their lifestyles. Keep in mind, this isn't a bespoke service, simply a brand that aims to deliver a targeted, quality product.Customers complete the aforementioned survey and the website's algorithm offers two of the 10 in-house formulas. One of those will be a strong, bold scent that's ideal for a night out on the town; the other is lighter and less obtrusive, ideal for wearing at the office. As Wong puts it: "You don't want to announce yourself to the meeting before you walk in or have people know that you were in the elevator, 30 minutes after you get out of it."
Each bottle of Hawthorne for Men costs $100, but Wong and Jeong insist that this is a major steal. Each scent was concocted by one of three top noses from the leading global fragrance firm, Givaudan: Olivier Gillotin, a 4-time winner of Men's Fragrance Of The Year, Quentin Bisch, who just created a new scent for Jean Paul Gaultier and Rodrigo Flores-Roux, a member of the Fragrance Hall of Fame.
The only directive the noses were given was to create scents in the five major men's fragrance categories: dry woods, sweet woods, citrus, aquatic/marine and fougères (the classic backbone for many men's fragrances, which often calls to mind the scent of a barbershop). There was just one other stipulation: each of the noses had an unlimited budget.
"The average cost per kilo [of raw materials] in the industry is around $50 for designer fragrances and $100 for niche fragrances. Our average cost per kilo is over $400," explained Jeong. Naturally, the noses were thrilled to have such creative and financial freedom.
"Olivier has been working for 30 years to achieve this simplicity, in the ingredients as well as the purchasing experience, and he's finally seeing it come to fruition with Hawthorne," said Jeong.
As a result, the Hawthorne for Men range includes Smoky & Woody, which features a boozy rum base, making it perfect for a night out with the boys. There's Citrus & Woody, where mandarin, grapefruit, tangerines and neroli is contrasted with a dry wood base. For a nostalgic bergamot barbershop smell, Warm & Aromatic does the trick, with notes of vanilla and black pepper. Offering a variety of colognes, all of which are high quality and crafted by the masters, Hawthorne has set itself up as a one-stop shop for all men, whether they happen to be fragrance buffs or total novices.
This startup remains true to their promise that customers will receive the ideal scent. Exchanges on Hawthorne's site can be completed with no extra fee and returns are made simple. But most Hawthorne shoppers are happy with their given scent, and the numbers back that up.
"We've kept our return rate under five percent and our request to swap rate is under 10 percent. When we created our algorithm, it had an 88 percent success rate, so we're doing better than it!" Jeong disclosed.
It seems that success does, in fact, smell sweet.
READ MORE ABOUT THE COMING YEAR…
The Next Big Anthony Bourdain: Michael Twitty
The Next Big Protest: The New Sanctuary Movement
The Next Big Consumer Trend: Imperfection
The Next Big Career Hack: Equine Therapy
The Next Big Change to Office Culture: Virtual Reality Meetings
The Next Big Workout: VR in the Gym
The Next Big Disrupted Industry: The Music Business
The Next Big Cocktail Ingredient: Activated Charcoal
The Next Big Democratic Governor: Phil Murphy
The Next Big Marijuana Marketing Ploy: Appellations
The Next Big Guru: Light Watkins
The Next Big Zika Fighter: BugBling