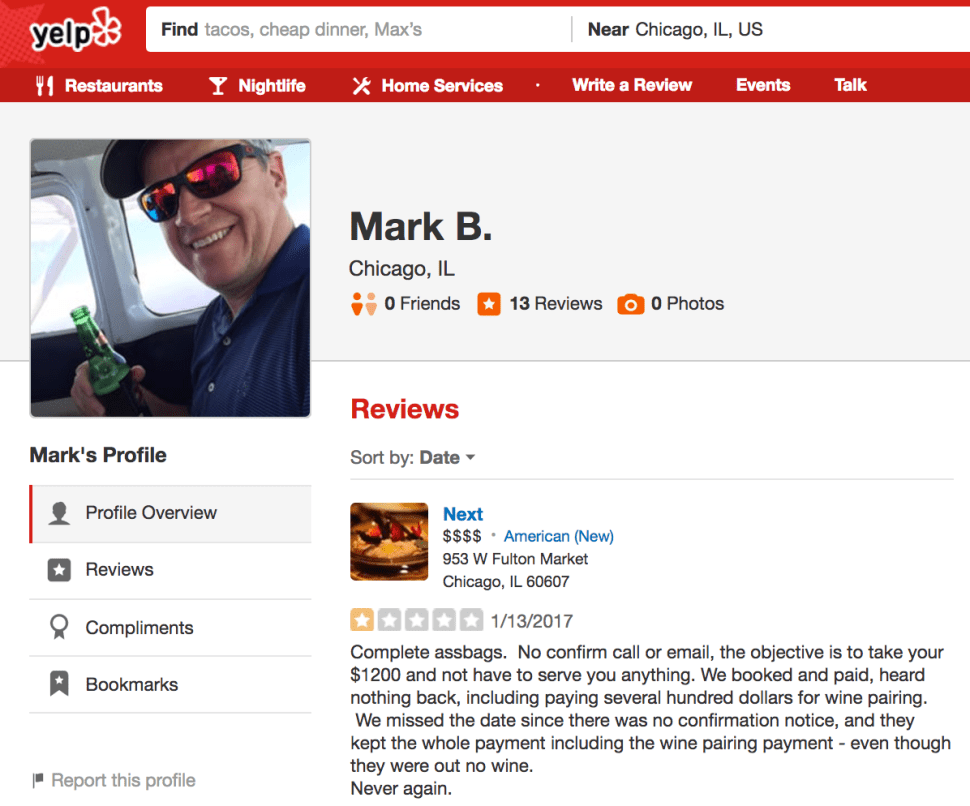 As the Global Head of M&A at Chicago investment bank William Blair and Company, Mark Brady enjoys a fancy meal from time to time. Over the weekend, he booked a reservation at Next, the high-end Windy City phenomenon founded by Nick Kokonas of Alinea fame and featuring Grant Achatz's tasting menus and "theatrical presentation."
Next is not Chili's – you don't walk in and ask to be seated. You not only must make a reservation months in advance, but you have to pay in advance. There's a good reason for this, but … let's let the social media sparks fly because all of this becomes painfully clear.
On Friday night, Brady took to Yelp to describe his unhappy experience at Next:
Complete assbags.  No confirm call or email, the objective is to take your $1200 and not have to serve you anything. We booked and paid, heard nothing back, including paying several hundred dollars for wine pairing.  We missed the date since there was no confirmation notice, and they kept the whole payment including the wine pairing payment – even though they were out no wine. Never again.
Rather than take it lying down, Kokonas fought back. In addition to several restaurants, Kokonas is the founder of Tock, a restaurant reservation system and platform, so he has strong opinions about diners honoring their reservations. On his personal Facebook page, he summarized the situation for his followers. He blocked out the dissatisfied diner's name but the Observer's reporting uncovered it and confirmed the identity.
Bad Yelp review for Next from a diner who simply 'forgot' that he had a reservation and 'whiffed' by his own admission. Then he emails asking for a full refund or rebooking in the future. When told that he no showed without advance notice and we couldn't rebook so we won't refund, he takes to Yelp stating incorrectly that we never sent a confirm email (those are automatic, two of them, through Tock). He then asks for a partial refund since we didn't pour any wine or serve any food.

Economists will note that the loss here ($1,200 or so) is going to be borne by either the restaurant or the patron. If we rebook him for the future we STILL lose $1,200…. he has essentially taken up two tables for the cost of one (one empty, one in the future). If we split the loss we still lose.

Here's what I wrote to him… and I'd like to see more restaurants start doing this for no-call / no shows. Keep in mind, we *would* have refunded the customer if he had emailed ahead as we could have easily resold the table off of our wait list.

Mr. XXXXX:

I am very sorry you did not join us on December 14th at Next. We always want guests to attend any reservation made and never take pleasure when someone fails to attend their planned dinner.

That said, we do not offer refunds for no-shows unless the error made was somehow our fault. In this case both your confirmation email and reminder email were sent appropriately and automatically through our booking system. We do not place confirmation phone calls simply because most people find it invasive to get a call on their cell phone from an unknown number and do not answer. Instead we send all confirms through email 7 days before the reservation. Your Yelp review is not accurate. Both emails did in fact go out, I have checked personally.

I built the reservation system — Tock — exactly because of situations like this one. Next is a small restaurant — 64 seats — with a large staff. No-shows nationally run 14% or more of all reservations. Many restaurants simply overbook and have people wait at the bar. We strive to provide a better level of service, do not overbook, and thus must ensure that guests attend. That is why we require pre-payment. Last year we only had .37% no shows across over 19,000 guests at Next. So the system works and the confirmations are clearly adequate for over 99% of the diners. It is very rare that we receive an email like yours asking for a refund after no-showing a reservation.

While it is true we didn't serve you the economic loss would be borne entirely by our business if we refunded your purchase or rebooked you for a future date. Looking up the 14th of December we had 9 parties on the waitlist. Had we received notice ahead from you we could have booked one of those and refunded your money without issue — no loss for either of us and a better feeling of hospitality. However, we held the table for you that night straight through and never seated anyone else (we do not accept walk-ins). This is no different than if you had purchased tickets to the opera, Cubs game, or Steppenwolf theater. If you forgot you had the tickets and didn't attend I doubt you'd blame the Cubs or ask for a refund. Nor would one be forthcoming.

While this does not change the situation I hope it sheds some light on the logic of our position. As a banker and MBA I know you understand the business and economic principles involved. Those ideas apply the same to a restaurant as any other business. By your own admission you "whiffed." If it had been our fault I assure you we would have made it right. As it is not, I fail to understand why a refund should be forthcoming.

Regards,

Nick Kokonas
Co-Owner, The Alinea Group
The Observer reached out to Brady and will update this story if he responds. Meanwhile, he has presumably been too busy at William Blair to do all that much yelping, having penned only 13 reviews in five years. He's a tough customer – five of those 13 were one-star slams, including his earliest, which took a Vail eatery to task for cold foie gras.
On December 3, 2015, Brady took the time to inform the good people of Yelp that Cosi employees were "confused and indifferent" and had gotten his order wrong. One star for you! Not once but twice he gave beloved local electronics store Abt a one-star review, each time managing to mention that he'd dropped "eighty grand" on a "system they don't understand and can't make work."
On the other hand, the discerning banker gives three stars to Chicago pizza joint Siena Tavern, praising its "fun atmosphere" but also wishing that he could take a "short position" as a bet against its success. And Café China here in New York City earned a full five stars — "they nailed it."
UPDATE: After this story appeared (and began being tweeted like crazy), Mr. Brady removed his negative review of Next from his Yelp page. He also removed three other negative reviews, including those trashing Cosi and Abt, as well as, unfortunately, his kinda awesome profile photo. The Observer applauds Mr. Brady on his suddenly much sunnier outlook.