If you are as much of a fan of the History Channel's hit show Vikings as I am, than the likelihood that you're also a serious history buff is pretty high. And so, for its super-sized, 20-epsiode fourth season, the show is giving history-loving fans a chance to win the kind of plunder that lured the Great Heathen Army to England's shores.
Each week, History Channel has been hosting a giveaway contest—dubbed the 3D Prophecy Challenge—to tests viewers' knowledge of both the show and the vikings' legendary raids across Europe, while also putting a spotlight on the ways 3-D printing technology can be used to recreate historic artifacts. To make this happen, the network turned to the studio team at 3D Brooklyn to recreate a series of significant objects and props central to this season's storyline. Before every new episode, History Channel introduces a weekly object—they range from pieces of ornate jewelry to life-sized weapons—via teaser videos posted on Facebook. The lucky fan who correctly guesses what role the item will play within Vikings' ever-twisting plot gets to go home with the spoils.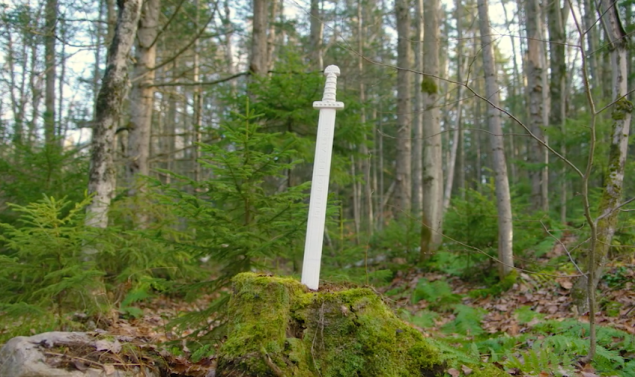 "It's great to see this tech making its way into pop culture," 3D Brooklyn co-founder Nate Kolbeck told me by phone. "People who don't traditionally think of making these things for themselves, maybe because of the History Channel now a lot of people will start channeling their own creativity into printing and making things."
With a background in cultural anthropology and film, Kolbeck is uniquely positioned to lead his team in recreating the historically-inspired props with modern technology. The studio primarily uses the Makerbot Replicator 2 printer to make objects in biodegradable plastics, as they did with the wooden boat for episode 2 and the compass for episode 6. But for objects that require more surface detail, like Rollo's sacred armband and Finehair's ship figurehead, the studio used Formlabs' Form 2 resin printer.
"The 3D Prophecy project is really about viking culture and how it connects to the show," said Kolbeck. "From our perspective, our whole approach was modern. What was important was making it look as close to the prop as possible while getting the word out that this tech is available," said Kolbeck.
For the first half of season four, the 3D Brooklyn team was given only screenshots with which to create their 3D-printed replicas. However, for the season's last ten episodes, they were invited to travel to the set of Vikings in Ireland and scan props on-site. There, the studio used an iPad outfitted with an iSense 3D scanner to capture the detail of each object with greater accuracy. The method worked well in most cases, as Kolbeck showed fans in one of History Channel's weekly behind-the-scenes videos. In the video, he explains that scanning is often challenging with items that are not stationary, such as with the noose for episode 11. In two exceptional cases, the challenge objects were actually alive: for episodes 15 and 16, the team scanned and replicated a live raven and a snake. I won't give any spoilers here, but it doesn't take a history geek to know that both animals aren't exactly considered good omens.
[protected-iframe id="8419601ecbb1731994236194ceff4d65-35584880-70888234″ info="https://www.
Facebook (META)
.com/plugins/video.php?href=https%3A%2F%2Fwww.facebook.com%2FVikings%2Fvideos%2Fvb.258436810927867%2F1032642433507297%2F%3Ftype%3D3&show_text=0&width=560″ width="560″ height="315″ frameborder="0″ style="border:none;overflow:hidden" scrolling="no"]
Another hurdle this season for Kolbeck and his colleagues was printing large items to scale, an ambitious goal he set for his team to tackle for the season's last 10 episodes. Real swords cast and carved in iron and a bow outfitted with a leather handle had to be printed in sections, with all parts designed to include internal "lego-like components" that would fit together when assembled. The 3D-printed bow created for episode 14 was eventually printed in eight sections, and wrapped in cloth and strips of leather to make it appear like a close second to the one found on set.
Vikings Season Four may only have two episodes left to go, but for the team at 3D Brooklyn the journey is just beginning. While the group has worked with design firms in the past on projects that included replicating pottery from various historical eras and cultures, their collaboration with Vikings has included the largest scope of historical artifacts to date. The project has also opened the door for future collaborations with museums and cultural institutions, Kolbeck said.
As for contest participants who don't win: 3D Brooklyn is providing free download links for each week's printed models on its website. And while Kolbeck and his team have been plenty busy in the studio, they've also been spending their fair share of time in front of the camera as well, hosting a series of short behind-the-scenes videos each week that take fans through the process of each object's creation, its role in the story and place in vikings lore.