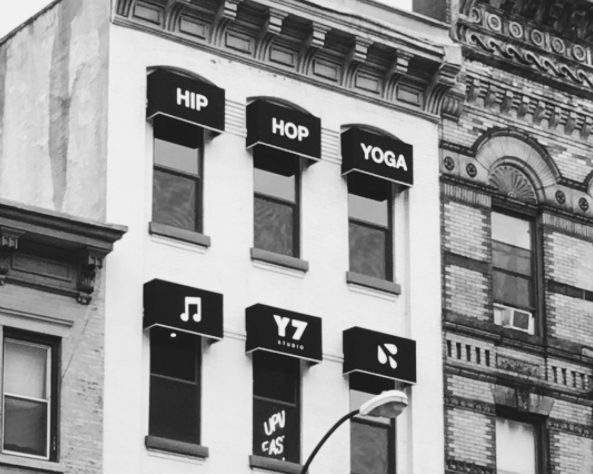 A new study by LG found that 91 percent of people believe that listening to music is more crucial during a workout than anything else in life, including commuting, showering or having sex. LG teamed up with Gunnar Peterson, trainer to the Kardashians, to explore how the perfect playlist impacts a training session. But you don't have to be a Kardashian to appreciate a Beyoncé dance cardio class or Justin Bieber yoga.
Now, people expect their yoga to have a themed playlist, with no harps or gongs allowed. Just look at the popularity of Y7 and its hot hip-hop yoga classes. At Modo, musicians from Arcade Fire and Bon Iver perform. Spin classes lure bikers in with custom playlists where two artists are pitted against each other; they often host themed evenings, too. For example, The Monster Cycle is famous for their "Emo Night" playlist. Even Zumba is getting in on the action by partnering with Timbaland. And if you're one of the few who has yet to see Hamilton you can sing along to the soundtrack while rowing at RowHouse.
At the newly-opened (and Vogue-approved) yoga studio SHAKTIBARRE in Williamsburg, founder Corinne Wainer sends out playlists in the weekly e-blast so students can listen on Spotify. Wainer's studio has a social mission: to make wellness accessible for everyone, especially through their music.
"A few weeks ago our signature sequence opened with 'O Saya' by Indian composer and producer A.R. Rahman, 'Sticky Fingers' by local songstress-powerhouse Merrily James and a handful of songs by Yuna," Wainer told the Observer. When she sends out emails, she asks class-goers to request the songs they want to hear.
"Part of cultivating a class that motivates people from various spectrums of experience is 'soundtracking' the flow of emotions," Wainer explained. "When a playlist matches the mental current of a class, I tend to see greater integrity in anatomical alignment," Wainer said. She makes sure to switch to acoustic songs when it's time for Savasana.
If you've ever wanted to see your favorite pop stars on the big screen, try IMAXShift. "Making a playlist is the most important part of the class, the foundation," Bree Branker, the Director of Creative Integration at IMAXShift explained. Branker's classes include a recent Disclosure vs. Diplo mashup. She makes sure the playlists include singalong recovery songs and high energy songs for climbs.
The most popular face-offs have been Rihanna vs. Drake (more necessary now than ever before) and Bieber vs. Timberlake. "I certainly am not trying to go to the club at 3AM at this point in my life, but finding those endorphins in a healthy and beneficial way is exactly up my alley," Branker said. This is echoed by Banana Skirt and Vixen Studios, where women who are past their club stage listen to the same music; flashing lights are included, but cocktails are not.
At Row House, you can take a class with instructor Caley Crawford, who recently starred in the Broadway musical, Holiday Inn. Unsurprisingly, she likes to play Broadway numbers while she pushes her class to row faster and stronger. The Hamilton mixtape rows are her most popular classes (though SoulCycle also offers Hamilton classes, if you want to stay on theme). Crawford told the Observer she sees her students singing along most when Hamilton plays, or "Step One" from Kinky Boots.
Fitness classes used to be set to soundtracks that were exclusively the top 40s or EDM. But working out is hard enough without being forced to listen to Avicii.