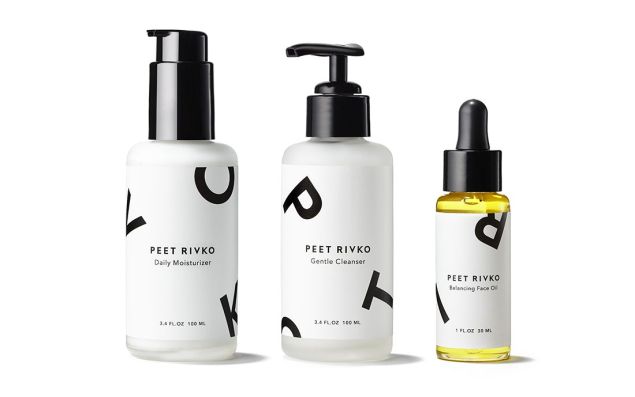 Before this year, I had never traveled on a plane without checking a bag. Regardless of whether I was going away for a long weekend or two weeks abroad, I was always able to justify the fees and waiting time that came with my large rolling suitcase, for just one reason: my beauty products.
I need to be able to properly cleanse, moisturize, protect and so on, in order to keep my skin looking somewhat dewy and breakout-free. And that collective haul of products was never up to TSA standards. Especially when you factor in that I was toting around separate bottles of face wash, toner, Retin-A, eye cream, evening face cream, morning face cream, sunscreen and face oil. And that's in addition to my makeup bag.
However, when embarking on a recent two-night trip, I decided I would test the waters of not checking a bag. Yes, even my friends expressed shock at this sentiment. But I was armed with a few secret weapons that made me feel secure in my decision, which, for the first time ever, also kept my bags on the lighter side.
In addition to my must-have items, like Retin-A and eye cream, I decided to use this as an opportunity to try out the three-piece Peet Rivko system. Comprised of a cleanser, a moisturizer and a face oil, all offered in normal and adorably tiny travel sizes (that are TSA-approved), I was a fan of this trio as soon as I set eyes on it. Then I tried all three products out and was still seriously obsessed. The cleanser was creamy, but did a great job of removing makeup, the daily moisturizer was thick enough to treat my dry airplane skin and the not-too-greasy face oil was the perfect cherry on top of the skincare sundae.
I was then surprised to find that these Peet Rivko products are all plant-based and free of nasty parabens, sulfates, silicones, petroleum and so on. They are also created without the irritants found in other products, like essential oils and floral extracts, so they're good for all skin types. For example, the face oil contains organic avocado, jojoba and prickly pear oils; the lotion contains a soothing dose of aloe vera and Caprylic/Capric Triglyceride, otherwise known as fractionated coconut oil, which "creates [a] barrier to retain moisture."
Peet Rivko was started by Johanna Peet, an unlikely beauty CEO, considering her previous jobs have included a staff assistant at the U.S. State Department and a law clerk at Orleans Public Defender. She felt the need to start an affordable skincare range that actually addressed her sensitive skin, rather than inflaming it. She did just that, with her prices starting at $30 for cleanser, $48 for moisturizer and topping out at $56 for face oil (but you can get all three for just $115). Oh, and she also tapped her childhood friend, Aubrey Plaza, to be the face of the brand.
"There's a lot of noise in the skincare industry, and as an actor, I'm constantly being pushed products—it's overwhelming," the actress explained. "These days, I want a product where I know I can trust the ingredients—and one that works." Don't take my word for it, take Plaza's; this is one brand you'll be proud to display in your bathroom.
The other product that promised to make my travel regime easier was a bit more luxe. Okay, it was really sumptuous (and came with a $350 price tag), but I just couldn't resist the allure of La Prairie's new Line Interception Power Duo. While the draw of this product is supposed to be its anti-aging properties, I was most intrigued by the day/night cream being offered in one package, but with two separate pumps. I was particularly into the fact that the day cream includes SPF 30, while the night cream is light, but still rather hydrating. It was space-saving, but still chic and effective.
I decided to give the anti-aging properties a chance to entice me, too. I wasn't mad about the description on the website, where it explains that the Power Duo targets and diminishes the appearance of three types of wrinkles: "expression lines, sun-induced lines and aging/gravity lines and wrinkles."
According to Dr. Jacqueline Hill, director of strategic innovation and science, and Dr. Daniel Stangl, director of innovation, the Day Cream hones in on lines that appear after repetitive facial expressions, while the SPF proactively protects against future wrinkles that may appear. Meanwhile, the Night Cream "supports the skin's natural renewal of the extracellular matrix to fill in deep lines." It also preserves your existing elastin and helps with the formation of new collagen, to fight the effects of aging. I'm still in my twenties, but I know that integrating anti-aging products into my regime is as important as ever, so at least I can rest assured that this pricey cream is worth the money, as its the best multitasker I know.
And now that I have a TSA-friendly skincare routine, I don't think I ever want to check a bag again.