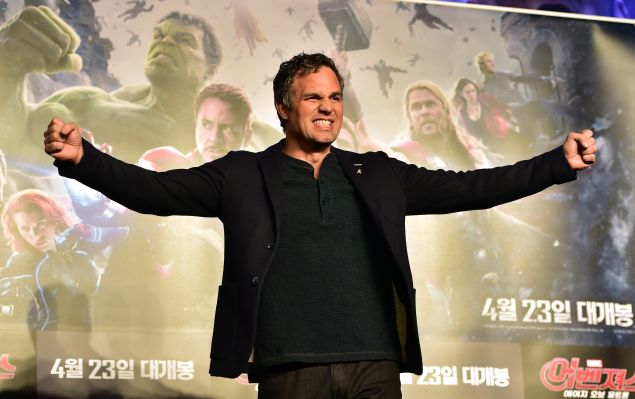 Actor and activist Mark Ruffalo—best known for turning into "an enormous green rage-monster" in the Avengers films—signed off on an email fundraising appeal for Mayor Bill de Blasio, calling the liberal Democrat a bulwark against President-elect Donald Trump's "radical right-wing agenda."
The performer's message, sent via the mayor's campaign listserv, recalled de Blasio's support for his pet cause: banning the use of hydraulic fracturing to access natural gas deposits in upstate New York. Gov. Andrew Cuomo banned the practice, which many feared could contaminate the New York City water supply, in late 2014—but Ruffalo credited that move to the governor's arch-nemesis, the mayor.
"It was very important to have such a prominent leader take a stand on the issue in the way he did because it opened the door for many others to follow. A year later, we won a fracking ban in New York State, and Mayor de Blasio's voice on the issue really helped achieve that victory," the missive reads.
The left-wing actor, an avid supporter of Vermont Sen. Bernie Sanders' unsuccessful bid for president and Fordham Professor Zephyr Teachout's primary campaign against Gov. Andrew Cuomo, then echoed de Blasio's favorite re-election pitch: that he is uniquely positioned to push back on Trump's proposed policies. Ruffalo did not delve into any details, but de Blasio has vowed to sue to stop the incoming commander-in-chief's plans for a Muslim registry, and has promised to shield otherwise law-abiding undocumented immigrants residing in the five boroughs from deportation.
"With Donald Trump set to take office, we need Mayor de Blasio more than ever. Cities are going to be the first line of defense against a Trump Administration and his radical right-wing agenda," the email continues. "I am thankful that we have a mayor who has pledged to use the tools at his disposal to protect the values that make New York City great."
Ruffalo is scheduled to join fellow actor Steve Buscemi in hosting a fundraiser for the mayor in SoHo tomorrow night, where plates will start at $100. So far, de Blasio's only opponents for September's Democratic primary are Queens State Senator Tony Avella and former Brooklyn Councilman Sal Albanese, both extreme longshots who have failed to gain traction in past mayoral campaigns.
On the Republican side, real estate executive Paul Massey has already launched his campaign, while Queens Councilman Eric Ulrich is fundraising for an as-yet undeclared bid—with GOP Ohio Gov. John Kasich's help. Supermarket mogul John Catsimatidis is rumored to be considering a reprise of his 2009 Republican primary campaign.
The city's heavy Democratic enrollment advantage poses an enormous obstacle for any Republican candidate, despite the welter of fundraising scandals surrounding de Blasio.
Read the full message below:
Friends –

In 2014, Bill de Blasio was one of the first mayors of a major city to come out strongly against fracking. It was very important to have such a prominent leader take a stand on the issue in the way he did because it opened the door for many others to follow.

A year later, we won a fracking ban in New York State, and Mayor de Blasio's voice on the issue really helped achieve that victory.

Now, with Donald Trump set to take office, we need Mayor de Blasio more than ever. Cities are going to be the first line of defense against a Trump Administration and his radical right-wing agenda, and I am thankful that we have a mayor who has pledged to use the tools at his disposal to protect the values that make New York City great.

We need him in office for four more years.

Please add a $3 contribution to Mayor de Blasio's re-election campaign ahead of tomorrow night's critical NYC Campaign Finance Board fundraising deadline. As a NYC resident, your contribution of up to $175 will be matched 6 to 1!

Thank you for supporting Mayor de Blasio in his re-election campaign. He is shooting for a large number of individual contributions, so I know that one you add right now means a lot to him.

All my best,

Mark Ruffalo