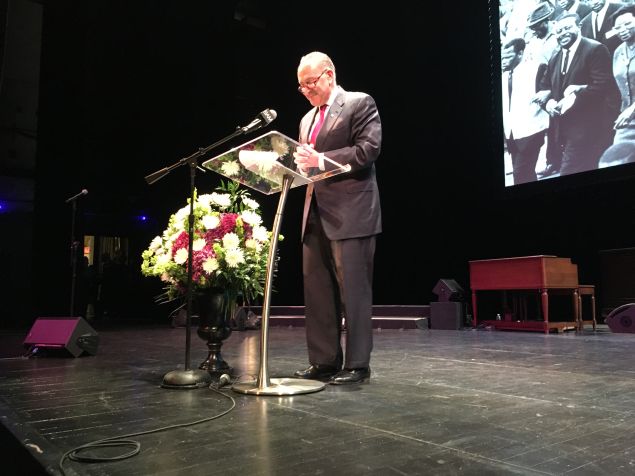 Senate Minority Leader Charles Schumer had this Dr. Martin Luther King Day message for President-elect Donald Trump: he's "ready for the fight" against Trump's plans to repeal the Affordable Care Act, his attacks on civil rights icon Congressman John Lewis of Georgia and his Attorney General-designate Sen. Jeff Sessions of Alabama.
As Schumer kicked off his speech at the Brooklyn Academy of Music memorial event, he asserted that King's work is not done so long as there is "still so much bigotry and inequality in the land," and that all Americans have a responsibility to "go forward and do it." He noted that the dream of which Dr. King spoke 50 years ago hasn't been achieved and that the country has received "a setback in the election," garnering laughter from the audience.
"I know many of you are despairing," he said. "My daughters came to me weeping after the election results came in and I recited to them—some of you my age will remember—a song by The Shirelles. 'Mama said there'd be days like this. There'd be days like this, my mama said.'"
He said that his job would have been "fun" if Hillary Clinton was president, and if Democrats had won a majority in the Senate, as he would have been able to do "more good things to help people." But he insisted that the Democrats' job now is to make sure that Trump and the Republicans do not undo the the legacy of King and of President Barack Obama.
The minority leader boasted he was the first to oppose Sessions—though it appears that Ohio Sen. Sherrod Brown, and perhaps others, beat him to it. Schumer trashed Sessions for his "horrible, horrible record on voting rights and civil rights and immigration"—and that he, Vermont Sen. Bernie Sanders and House Minority Leader Nancy Pelosi set up rallies to push back against GOP plans to eliminate ACA.
He also said that he assured Lewis, who was named as one of the "Big Six" leaders of the Civil Rights Movement by 1963, that he supports him. Lewis said over the weekend that he doesn't see Trump as a "legitimate president," arguing that the Russians helped bring him into office and ruin Clinton's candidacy. In response, Trump tweeted that Lewis should focus on fixing and helping his district that he alleged is "in horrible shape and falling apart (not to mention crime infested)" than "falsely complain about the election results."
"When the president-elect started a Twitter war with John Lewis, a great hero whose picture is right there, I said to John, 'I have your back. We're all behind ya. I am ready for the fight.' Are you?" Schumer said, while asking the crowd if they'll join his endeavor.
"Yea!" the crowd yelled back in response. "Are you ready?" Schumer said again, with the audience again yelling, "Yea!"
He added that he gets inspiration from Dr. King's moral leadership and noted that he "had it probably worse than any of us" but never gave up, and said that he reads the letter Dr. King wrote from the Birmingham Jail in April 1963 in which he promotes nonviolent civil disobedience.
Last week, Schumer said that the GOP plan is at a stalemate because they do not have a replacement and because Democrats are united against it. House Republicans have since passed a bill initiating the first steps of repealing ACA.
Schumer previously called on Trump to stop the "really dumb" tweeting about his admiration of his "little friend Putin" as well as his ire toward the intelligence community for discovering Russia's meddling with the election to help him win. Trump, for his part, said that the Democrats, led by "head clown Chuck Schumer" know how bad ACA is and are blaming and should join with Republicans to come up with a better, cheaper healthcare plan.
During her speech at BAM, Sen. Kirsten Gillibrand pointed to the rise in hate crimes over the past few months in the city, in the state and around the country, including incidents of racist graffiti, ethnic slurs and Ku Klux Klan literature appearing on doorsteps. She also pointed out the adverse impact the GOP's repeal of the Affordable Care Act would have on all New Yorkers and Americans in general, and called for a national paid leave policy, affordable childcare and a living minimum wage.
"We have to continue Dr. King's legacy where we started," Gillibrand said. "We have to actually work to conquer hate. We have to do this with courage, with purpose and actually with love. As a preacher and a moral leader, Dr. King clearly always believed in the golden rule: love your neighbor as yourself, even your enemies."