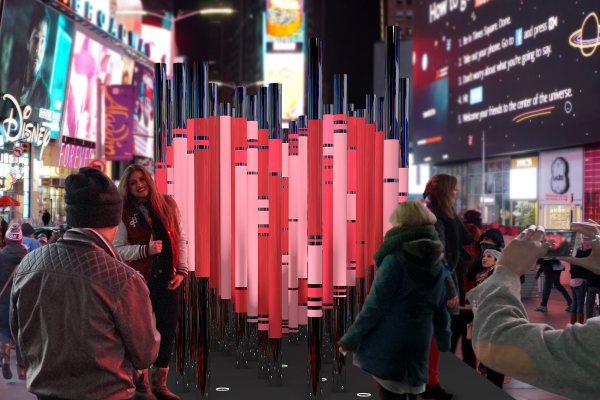 The Trump administration's recent executive order to block immigration from seven Muslim-majority countries has pushed the hot button subject to the forefront of the country's discourse on social issues and policy. Shortly after the order was signed on January 27, protests erupted at several major international airports, and on the following evening a federal judge in Brooklyn responded by placing a stay on the order.
Come February 7, the national debate on immigration will converge in New York's Times Square when the latest artwork commissioned by Times Square Arts for its annual Valentine Heart Design Competition is expected to be unveiled. This year's work, designed by the Office of Creative Research and titled We Were Strangers Once Too, features census data on the U.S.'s foreign-born residents. The artwork features varying shades of pink and red painted on 33 metal poles, meant to correspond to the diverse national origins and ever-changing population of America's immigrants. Viewers will be able to engage with the sculpture and its information by walking around it, and when viewed from afar its warm hues will combine to form a large heart.
"Now more than ever New Yorkers need to stand up and say we are proud to live in a city of immigrants," said the Office for Creative Research in a statement. "We Were Strangers Once Too is our way to acknowledge and say thank you to the diverse communities of NYC for their many contributions historically, currently and into the future."
Mitchell J. Silver, NYC Parks Commissioner, echoed the artists' sentiment by saying, "This interactive piece brings to Duffy Square a celebration and exploration of migration and multiculturalism at a crucial time in our nation's history."
We Were Strangers Once Too will be on view for about a month at Duffy Square between 46th and 47th Street.