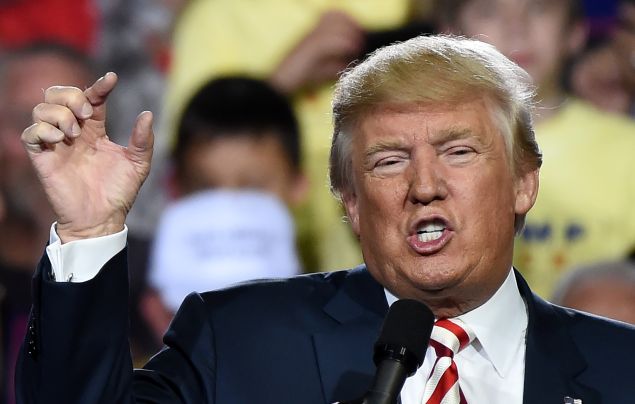 WASHINGTON, D.C.—President-elect Donald Trump used his final speech before assuming the presidency to rehash his campaign promises, and to hawk himself one last time as a populist hero who voiced the pain and outrage of the American masses.
Taking the stage after his Make America Great Again Welcome Concert at the foot of the Lincoln Memorial, Trump avoided the openly divisive tone actor Jon Voight took in his opening address before the show. The speech bore the Queens-born businessman's usual rambling and repetitive style, but without the naked rage and vitriolic rhetoric that characterized his campaign appeal.
"We're going to make America great for all of our people, everybody. Everybody throughout our country. That includes the inner cities, that includes everybody. And we're going to do a special job," he said, assuring the audience again and again that he was merely the instrument of their political will. "You had much more to do with it than I did. I'm the messenger. I'm just a messenger."
He recalled the long odds most pundits and pollsters gave him of winning the GOP nomination, much less the White House, when he launched his bid in June 2015.
"I can only tell you that 18 months ago we never knew—a lot of people didn't know, some people had a feeling. A lot of people didn't give us much of a chance. But we understood what was happening," he said. "We all got tired of what was happening, and we wanted change, but we wanted real change, and I look so forward to tomorrow. We're going to see something that is going to be so amazing."
Trump praised himself for deciding to hold the concert, as asserted that his "movement" was unprecedented anywhere in the planet—seemingly contradicted parallels he himself drew between his campaign the U.K.'s "Brexit" push to leave the European Union. It wasn't the incoming commander-in-chief's only reversal.
He remembered the last weeks of the campaign in a far sunnier way than they transpired for his candidacy. At the time. Trump warned of a "rigged" election process that would unfairly deprive him of the White House.
In October, a 2005 recording surfaced of him casually describing his fondness for committing sexual assault, and numerous women came forward with accusations that he had molested them in the past. His approval rating plummeted, and the presidency seemed all-but lost—until 11 days out from the election, when Federal Bureau of Investigation Director James Comey penned a letter to Congress revealing his agents had uncovered emails "pertinent" to their probe of Hillary Clinton's private server.
The ex-Secretary of State ultimately carried the popular vote by nearly 3 million ballots, even as she fell in the Electoral College.
But, as Trump told it tonight, the last chapter of the race was nothing but positive and reassuring.
"And that last month of the campaign, when I traveled around to every place that you can imagine, state after state after state, speech after speech, and we had 10,000, 20,000, 30,000 people. There was never an empty seat, just like tonight," he said. "We all knew that last month of the campaign—a lot of us knew the first week of the campaign—but that last month of the campaign, we knew that something special was happening. And I can only tell you this: the polls started going up, up, up, but they didn't want to give us credit. Because they forgot about a lot of us."
"On the campaign I called it 'the forgotten man and the forgotten woman.' Well, you're not forgotten any more, that I can tell you. Not forgotten any more," he said.
The president-in-waiting ended by vowing to quickly implement his ultra-patriotic policy ideas.
"I promise you that I will work so hard. We're going to get it turned around. We're going to bring our jobs back. We're not going to let other countries take our jobs any longer. We're going to build up our great military, we're going to build it up. We're going to strengthen our borders. We're going to do things that haven't been done for our country for many, many decades. It's going to change. I promise you, it's going to change," he said. "I'm going to be cheering you on. You're going to cheer me on, but I'm going to be cheering you on. Because what we've done is so special. All over the world they're talking about it, all over the world. And I love you folks, and we're going to work together. And we are going to make America great again—and I'll add, greater than ever before."