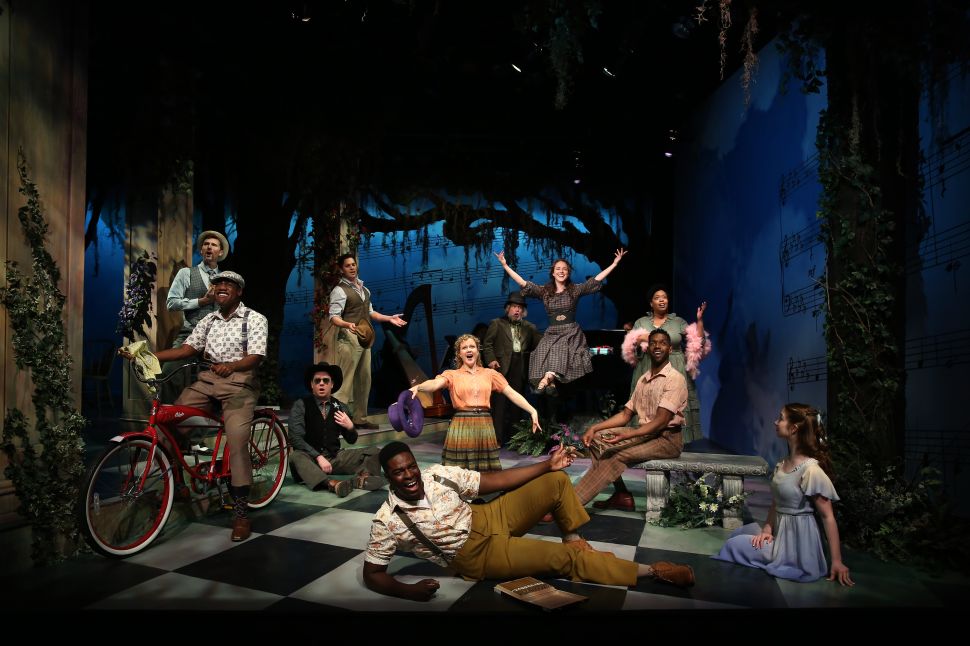 At the end of January after a three-month run, the Irish Repertory Theatre will close its New York revival of Finian's Rainbow. But before the musical closes, it will mark its 70th anniversary. On January 10, 1947, Finian's Rainbow opened to great acclaim on Broadway at the 46th Street Theater and ran there for 725 performances.
Since then Finian's Rainbow has been the most self-consciously political of America's classical musicals. Race and ethnicity are at the center of its score. Composer Burton Lane and lyricist Yip Harburg (the latter best known for the words to "Over the Rainbow" in the Wizard of Oz) created a comic fantasy that in the age of Jim Crow left no doubt about their progressive, political beliefs.
But the passage of time and the formal end of Jim Crow have not turned Finian's Rainbow into a harmless period piece. Today, Finian's Rainbow speaks to the question that has emerged in the wake of the 2016 presidential election: Can identity liberalism, with its focus on race, gender, and ethnicity, be a unifying force in American politics or does identity liberalism now harden the divisions that already exist among natural economic allies?
The issue is one that Lane and Harburg never foresaw taking its present form, but in creating a musical in which poor whites and poor blacks find themselves in the same financial predicament, Lane and Harburg were, it turns out, remarkably prescient.
The plot of Finian's Rainbow revolves around the improbable story of an Irish immigrant, Finian McLonergan, who, along with his daughter, Sharon, comes to America with a pot of gold that allows anyone in its possession to be granted three wishes. The pot of gold does not belong to Finian. He has stolen it from a leprechaun, who, anxious to get the gold back, has followed Finian across the ocean and will play a key role in his life.
Finian's Rainbow put the Jim Crow South in its musical crosshairs.
Finian and Sharon take up residence with a group of black and white tenant farmers in the fictional Jim Crow state of Missitucky (Mississippi and Kentucky), and what follows are a series of adventures that culminate with a racist senator from Missitucky being changed from white to black to white.
The senator, Billboard Rawkins, combined the last names of two of Mississippi's most notorious, segregationist politicians—Senator Theodore Bilbo and Representative John E. Rankin, both proud white supremacists.
Billboard Rawkins becomes the villain in Finian's Rainbow when he tries to evict the black and white tenant farmers whom Finian and his daughter are living with from the land the farmers occupy after two geologists conclude the land is rich with gold. The geologists don't realize that they have conducted their survey near to where Finian has buried the leprechaun's gold.
Rawkins's strategy is to acquire the land without paying for it by relying on a covenant that says blacks can't live there. When Sharon Finian, outraged by the senator's racism, says she wishes he were black and could see life from the perspective of the blacks he treats so badly—presto—she gets her wish. Without realizing it, she has been standing above the leprechaun's pot of gold that her father buried in the ground.  The pot immediately grants Sharon her wish, and Rawkins turns black.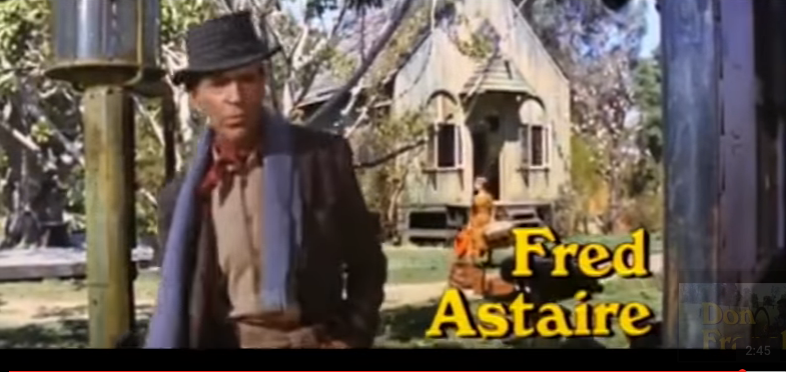 The senator's transformation shocks him. He soon finds out how tough life is for someone forced to live with the Jim Crow laws he has always supported. Rawkins is changed back to white only when Sharon is about to be hanged as a witch for transforming him. The leprechaun, who has now regained control of his pot, opts to save her by using his final wish to return Rawkins to his original color. But the change does not leave Rawkins as he was. Living as a black man for just a short time converts him into a racial progressive.
The implication that such a change of heart could only come about through magic speaks to a deeply pessimistic strain in Finian's Rainbow, but what is hopeful is the play's assertion that empathy can produce change. We just need to find ways to put ourselves in one another's skin.
Two decades later, such thinking led President John Kennedy to observe in his 1963 speech that became the basis for the 1964 Civil Rights Act he never lived to see: "If an American, because his skin is dark, cannot eat lunch in a restaurant open to the public, if he cannot send his children to the best public school available if he cannot vote for the public officials who represent him . . . then who among us would be content to have the color of his skin changed and stand in his place?"
When Finian's Rainbow  opened, the racial climate in America had changed very little from what it was like before World War II. Poll taxes still prevailed in the South. The Armed Forces were segregated, and anti-lynching legislation could not pass in Congress because of the power wielded by Southern senators, who dominated committee chairmanships.  The one racial breakthrough of 1947 was Jackie Robinson's debut as Major League Baseball's first black player.
Finian's Rainbow put the Jim Crow South in its musical crosshairs through its satire, and it encouraged other playwrights to confront racial issues. As Brooks Atkinson, the legendary theater critic of The New York Times, observed in his 1947 review of Finian's Rainbow, "It puts the American musical stage several steps forward for the imagination with which it is written."
There is a direct link between Finian's Rainbow and South Pacific, which debuted in 1949. The link is most visible in the Rogers and Hammerstein song about racial prejudice, "You've be Carefully Taught." The song begins, "You've got to be taught/ To hate and fear/ You've to be taught/ From Year to Year." The song reflects the admiration Hammerstein, a friend of Harburg's, had for him and for the liberal politics of Finian's Rainbow.
By 1968, when the film version of Finian's Rainbow, directed by Francis Ford Coppola and starring Fred Astaire as Finian, appeared, Finian's Rainbow was reaching audiences that were accepting of its views on race.  The Civil Rights Act of 1964 and the Voting Rights Act of 1965 were firmly entrenched in American life by then.
We have moved away from the hopeful civil rights era of the 1960s. The success of Donald Trump, who throughout his presidential campaign demonized immigrants and Muslims and uttered barely a peep about receiving full-throated support from , suggests we have entered a period in which racial empathy is out of favor at the highest level of politics.
In this regard Finian's Rainbow is bucking the current political tide. But what Finian's Rainbow can still do, as it did in 1947, is appeal to our better angels.  We can have both universal and identity liberalism at the same time, Finian's Rainbow, says. That's what its happy ending is all about.
Nicolaus Mills chairs the Literature Department at Sarah Lawrence College. He is author of Like a Holy Crusade: Mississippi 1964—The Turning of the Civil Rights Movement in America.
Disclosure: Donald Trump is the father-in-law of Jared Kushner, the publisher of Observer Media.