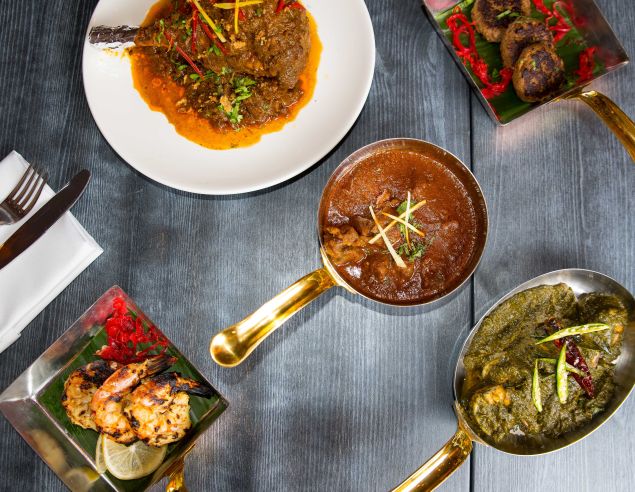 The new year is here, and it's time to embrace some truths. Here's one: Muddled mush is not Indian food. Here's another: If you taste only hot chili, it's not Indian food. You know how there's no chop suey in China? Or, if there ever was, it in no way resembled what emerged in the U.S. Same goes for what we've come to call "Indian," as if the seventh largest country in the world (by geography) with the second largest population and 14 different official languages could be represented by a single cuisine. Chefs from places like Jaipur, Goa, New Dehli, Patna, Melbourne and Houston (yes) are here to educate us, in the most delicious of ways. Goodbye, unrefined chicken tikka masala and dare-you-to-eat phaal (which was created in England, by the way). Hello, Black Spiced Poulet Rouge and Tofu Medu Vadai with Gunpowder.
"We meet a lot of people that think that all Indian food is spicy and hot, or looks like greasy takeout, which is so far from true,"  Jessi Singh told us, of wonderfully bustling Babu Ji (175 Avenue B), recently expanded to San Francisco (280 Valencia Street). Snacks like Batata Vada are transportative here, taking you to a world where deep fried simply adds texture, not heaviness.   "It's not about big bowls of curries and a basket of naan coming at once on your table where the flavors are mixed and you can't enjoy individual flavors," agreed executive chef Manish Mehrotra of Indian Accent (123 W. 56th Street), the lauded outpost of the only restaurant in India to make the 2016 World's 50 Best Restaurants list.
If a single spice dominates a dish, or spices are overpowered by chilies, something is wrong. Distinct flavors and balance is everything. Of course, you know this from, uh, all other food. Now notice it in Indian, because this is Indian food in New York City in 2017. If you've been paying attention lately—because you watched Indian Summers (gorgeous drama about the final years of British rule) or saw Yatra Online listed on the Nasdaq in December (the second Indian online travel agency to do so) or know where Pune is (don't make us say it, not about the Davis Cup)—India is everywhere.
 "As American businesses have expanded to India and more tourists have traveled to India, there has been more exposure and interest in diverse Indian cuisine from the country's many regions," said chef Hemant Mathur of Sahib (104 Lexington Avenue), who has waited more than a decade for this. In 2007 Hemant was at Devi where he received the first Michelin star for an Indian restaurant in the U.S. He's also responsible for the Michelin star at Tulsi (211 E. 46th Street). This means something. You may know Junoon (27 W. 24th Street) has one too. Yet the offerings still eluded most of us.
Let's pause for a moment to note Indian ingredients that do special work, north-versus-south, spice and souring agents. North: garam masala, green chili, kokum, amchoor (dried mango powder). South: huli pudi (sambar powder), cardamom, cinnamon, red chili, tamarind. Worth knowing.
Ask someone old about Dawat Haute Indian Cuisine (210 E. 58th Street), notable because Madhur Jaffrey consulted and because it opened in 1986. We weren't ready then. Executive chef Gaurav Anand says even in 2012, when he opened Moti Mahal Delux (1149 First Avenue) there were customers afraid to order unfamiliar dishes or foods. Now, finally, said Anand, "Indian food has evolved to an unimaginable place." Few things illustrate that more than the proliferation of new Indian restaurants in New York City and their subsequent, lasting popularity. Many credit chef Floyd Cardoz and Union Square Hospitality Group with stoking the Indian eatery evolution via Tabla, which opened in 1998 and received three stars from The New York Times (a big deal in ancient history). Tabla was made possible in no small part because of Cardoz's professional experience at Lespinasse (chefs Andrew Carmellini and Corey Lee are also alum). At that luxurious, old school, four-star (more ancient history), chefs learned classic cooking techniques and the significance of quality ingredients. Applying superior kitchen training elsewhere was unusual two decades ago, especially in the non-European realm. Now, well, everyone spent a week somewhere. And of course some stayed as long as their predecessors and really honed their skills.
"Ethnic chefs today are not like chefs in the 90s or even 2000s," said Cardoz. "They're so talented and trained. If you go to an ethnic restaurant now you may find someone who worked at Per Se or Daniel or one of any of the great restaurants." Like, say, Matt Danzer at Uncle Boon's and Enrique Olvera at Cosme. Not to mention Wylie Dufresne consulting at Soho Tiffin Junction. After Tabla closed (2010), added Singh, "we just had mom-and-pop shops cranking out the same old. The last two years have been tremendous for the growth in regional Indian food and creative, new interpretations of classics." He's right. Babu Ji opened in 2015. Indian Accent, Pondicheri (15 W. 27th; their bake lab will have you searching for besan, chickpea flour, for home), Sahib and Cardoz's Paowalla (195 Spring Street), among others, opened in 2016. And we can't stop talking about them.
"We've been saying Indian food is coming back for years. And now it has," said Cardoz. When Bombay Dreams came to Broadway (2004) and Slumdog Millionaire was in cinemas (2008), there was a surge of interest, he added. "This time the interest will continue. Americans' tastes are changing."
Ideally, said everyone we spoke to, what will also change is customer understanding of the relationship between paying for talent and ingredients (not to mention design and utilities and forks). "The hardest job ethnic cuisine has is that people think it should be cheap," Cardoz lamented. People don't cringe when noting prices in other restaurants (namely French and Italian) using the same ingredients. That's a significant part of what's going on here—these new, outstanding Indian places (and Thai and Mexican) are so good because they are buying and cooking with the best (the not-so-secret to high-end dining).  "Every trip I make back I see a different ingredient I didn't know existed," said Cardoz, excitedly comparing panch phoron (Bengali five spice) to the five spice most of us know (celery seed is the difference; try it in Paowalla's fish curry).
"Indian is a cuisine with so many different layers and applications," he added. "Naan is great, but I never had naan until I was 18. I want to do for Indian what Mario Batali did for Italian: Show the world it's more than one thing. It's 30 states, with different ingredients and techniques."
We can't wait to be part of the journey.