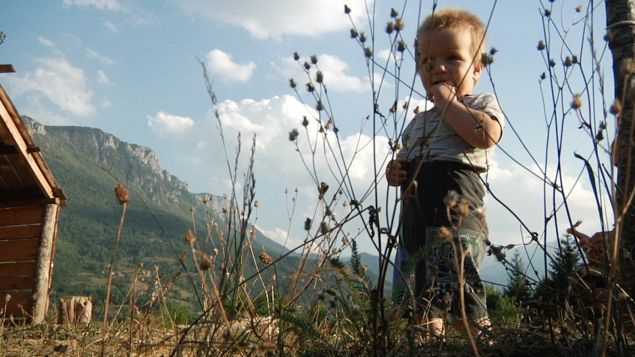 Kirsten Johnson could never get into words the movie she was trying to make. It was an autobiography of sorts but one in which the NYU faculty member would almost never appear. The narrative would be stitched together, without the aid of voiceover or even additional context, from footage she shot of people around the world—some of them complete strangers, some of them family members.
But then it gets more confusing. You see, most of that footage was shot while Johnson—"KJ" as she is known in the documentary community—was doing her day job. For more than twenty years, Johnson has been the cinematographer on some of the most acclaimed and moving modern documentaries. These range from 2002's Derrida, Kirby Dick and Amy Ziering's study of the great French philosopher, to 2007's Darfur Now, Ted Braun's examination of modern genocide, to 2014's Citizenfour, Laura Poitras' Oscar-winning portrait of Edward Snowden and the NSA spying program he exposed.
So basically Johnson's directorial debut would be a documentary personal narrative made of the outtakes shot for other directors' movies. Say what now?
'When people say they can't see it, it's an early version of what they are saying to me now: "We have never seen anything like this before." '
"We could never successfully explain this film to anyone," says Johnson, sitting by the fire in the lobby of the Culver Hotel on a cold and rainy January morning. "Every time that we tried, people would say the same thing: 'I just can't see it.' I am now going to use that term as my watchword. When people say they can't see it, it's an early version of what they are saying to me now: 'We have never seen anything like this before.' "
It is an apt description, and perhaps one of the chief reasons Johnson's finished film, Cameraperson, has become the little engine that could in a remarkable and unprecedented year for documentary and has a chance of winning an Oscar, having been named to the shortlist. Also never seen before on the shortlist? Three films by black directors directly taking on the African-American experience: Ezra Edelman's O.J.: Made in America; Ava DuVernay's 13th; and Raoul Peck's I Am Not Your Negro. 
While Cameraperson may not take on a singular topic with the passion of those remarkable films, part of its awards season success—it took home three awards including the Outstanding Achievement in Nonfiction Feature Filmmaking at the Cinema Eye Honors on Wednesday—is that it grapples with the larger questions brought up by those and other top-flight documentaries. Moreover, the film is a reminder that while the moniker is most often given over to the glut of television on offer across various platforms, in truth we are much closer to living in the Golden Age of nonfiction filmmaking, a truth that has brought new scrutiny to the act of telling the stories of the lives of others.
 "Cameraperson really stands out as a film that on paper should not work in a popular context but does," says David Wilson, a filmmaker and co-founder of True/False Fest, a Columbia, Missouri–based film festival dedicated to the craft of nonfiction filmmaking where Cameraperson screened this past March. "At this point, we've all seen enough documentaries, and enough interesting and well-made documentaries, that we are starting to think about how they are constructed and what it means to go to these places and come back with these stories and what you leave behind when you do. This is a film that directly addresses that. It is at least partially about our shared desire to understand the bigger picture of this kind of filmmaking."
It also speaks to why Cameraperson has been gaining traction in the awards race. The issues that it brings up—of representation and responsibility, of what it means to schlep thousands of dollars of equipment across conflict zones—are the kind of things that the many craftspeople who vote for the Oscars spend their barroom hours contemplating. It is also a rare example of the presence of the people meant to stay invisible coming to the fore, a decision that was especially challenging for Johnson.
'[W]hen you're doing this kind of traveling in the world, and you are in post-conflict zones, in people's context of poverty, it is obscene to be drawing attention to yourself and you own needs.'
"I resisted having me in it at all and I resisted for a long time," says Johnson, who is briefly seen in the movie when her mother, in the throes of Alzheimer's, brushes her hair, but whose presence is nonetheless felt in every frame. "That comes from an ideological and a dispositional point of view. It is a professional necessity for starters. But it is also when you're doing this kind of traveling in the world, and you are in post-conflict zones, in people's context of poverty, it is obscene to be drawing attention to yourself and you own needs. Nobody cares about how things affect you, nor should they. So I really struggled against that. But eventually, we realized that there was a way that I exist in relation to other people and other people exist in relation to me when I am filming them that was worth discussing. I was really interested in owning the complexities and contradictions of my role. It is also possible to speak to all of this visually without having to explain it. You can leave space."
There are less existential questions in play as well in Cameraperson, which in addition to Rwanda, goes to Kosovo, Afghanistan, a secret prison in Yemen, and a courtroom in Texas where the trial of the men who lynched James Byrd Jr. by dragging him by chain from the back of a pickup truck takes palace. For example, when does showing violence desensitize the viewer to true horror, and when is it necessary to communicate the evil of which men are capable?
"I am friends with a lot of Syrian filmmakers and they are really in a strong debate amongst themselves about how much violence to show," says Johnson. "There are some people like Charif Kiwan—who is in the film—who believes that we should not show any violence. Then there are people like Talal Derki and Orwa Nyrabia who made The Return to Homs who say that we must show the violence, that it is crucial. Then there is a whole spectrum of people in between. Personally, I think there are many answers."
Adds Johnson, whose film was released this week on VOD and will shortly be getting the Criterion Collection treatment, "This film is dedicated to Mamie Till, Emmett Till's mother. She made the choice to open her son's casket and show the battered Emmett Till inside and the violence that had been brought against him. She is his mother, so we can say she has the right to do that. But we don't know if Emmett would've wanted that or not."
Permission is one of the many issues floating around in Cameraperson. Can one's mother, so clearly separated from reality by a debilitating illness, provide consent to being filmed, and if she does, does it really mean anything? And what about Johnson's pair of toddlers, who are too swept away by the world of Thomas the Tank Engine to truly comprehend what their mother is doing? Then there's what is perhaps the most powerful footage in the film, taken in a Nigerian maternity ward where a newly born child's life is in the hands of an overworked and under-resourced midwife.
'To this day, I don't know whether I did right by the hospital, right by the family, right by the filmmaker…But I do know that I am marked by that experience and that I wanted to engage with that very real struggle.'
"I filmed that baby in Nigeria over hours and hours and hours, and I am haunted by that experience," says Johnson, who in the title card calls her a memoir. "To this day, I don't know whether I did right by the hospital, right by the family, right by the filmmaker. I don't know that I did wrong by any of those people either. But I do know that I am marked by that experience and that I wanted to engage with that very real struggle. I wanted to look and look and look into the footage and see if I can understand. I don't believe I will ever have an answer to my question. I definitely won't have an answer until I meet with that family again. Even then, I'm going to be left with questions about it."
They are the questions many people who have been in Johnson's position understand well. "All camera people tell me that they have already made a movie like this or that they wanted to make a movie like this or maybe someday they will make a movie like this," says Johnson. "All of us carry these images around with us, these shots that we wish someone had seen. There is a sense of loss that we camera people all carry…"
Adds Johnson, "It is important to understand that I did not make this just to make a movie. I didn't make it just to show it. I made it for one reason, because I was still really struggling with some very profound questions for myself."