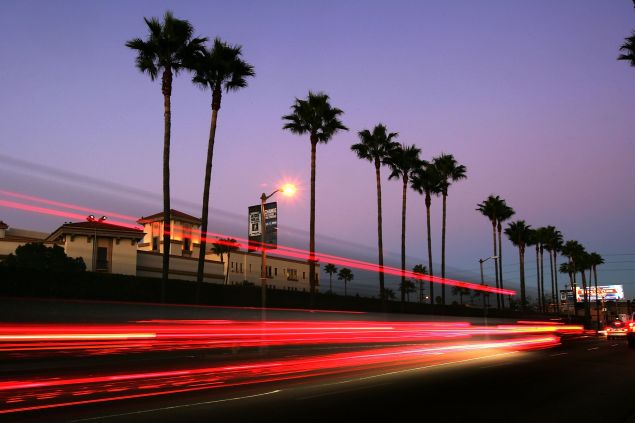 I may be biased. I've had the best of both worlds when it comes to an arts education; I attended an East Coast liberal arts school with a strong art department located just outside of New York City. Then, in the first semester of my senior year, I went west on a domestic exchange program to one of Southern California's premier art schools: the California Institute of the Arts, a.k.a. CalArts. However, for many students coast-swapping isn't an option, and weighing the pros and cons of putting down roots in the East Coast's well-established art world or striking out on the West Coast's rapidly growing scene is a tough decision.
So, when I heard that CalArts had appointed Ravi Rajan as its next president, to succeed the much revered Steven Lavine, I was excited for a chance to speak with the school's new leader about what's been drawing the art world westward.
Some food for thought: New York still has plenty of resources to offer students, such as The Metropolitan Museum of Art, the Brooklyn Museum, Chelsea galleries and two art fair weeks, to name just a few of its many assets. But California is looking pretty good these days too. Museums such as The Getty, San Francisco Museum of Art and Los Angeles County Museum of Art are encyclopedic institutions with a global reach. Last year, SFMOMA opened a massive 10-story expansion to house its growing collection. And in 2018, LACMA plans to begin construction on a new 368,000-square-foot facility. There's also the fact that The Getty's popular state-wide Pacific Standard Time initiative is launching a second edition this year, and of course, the list of galleries and artists moving or opening second locations (Dominique Lévy, Maccarone and Hauser & Wirth) just keeps getting longer.
So, what's the big deal with California, you might ask? We asked Rajan for his thoughts. After all, very soon he'll leaving New York for L.A. himself.
CalArts is a very unique institution. Why?
It's founding energy was one of collaboration and so it was born of a moment where the Chouinard art school and the Los Angeles Conservatory of Music were both struggling. Disney, who had connections to both, came in and said 'Why don't we do this utopian thing and put it all together and see what happens?,' and I think that founding energy really helps define the place.
The school is routinely ranked among U.S. News and World Reports' top schools for art. What else does California, and specifically Los Angeles, offer art students?
Los Angeles is extremely diverse, and I think that helps, but it's a special kind of diversity. Not to say that New York is not, and I know that it is because we live there, but it's different…They celebrate their difference in different ways. The pride of your heritage and being unique manifests very different in California than it does in New York.
The general cost of living in Los Angeles is also cheaper than it is in New York.
I will say on an economic level, really now and at this moment, it's easier to take risks and make a mistake and fail and have it not be a catastrophe for you in Los Angeles than it would be in New York. I just think it's very expensive in New York. So many of the students I see graduate spend so much of their time paying their bills. And I see more and more students graduating and not going to the city and going up, for instance, to Hudson and the Hudson River Valley, and saying 'I'm in striking distance.' They spend some time in the city, they create their contacts, and then they move out.
Is California a good place for artists after graduation? 
There's an openness to experiment and try new things. The rules feel a little bit more intense in New York than they do in L.A., and I think people think of that as a good thing and a bad thing.
As the art world becomes more global, how important is it to be based in an urban center?
One thing I want to stress here, and we've had mainly a domestic conversation, but in fact this moment is really not limited to the United States. I think we're coming into a place that's much more of a global conversation, and in art that's really, really important, and that the United States is really a country of immigrants. It's a place where all of us have these stories, and the stories are very different. Our threads of stories share different things and they diverge and they have a lot to do with cultures of other countries around the world. It's much more of a global conversation right now—especially in the arts.
Why are artists choosing other cities over New York?
It has more to do with the culture of the city that you live in than the economics. I think there's a positive there too, it's not just economics. I think New York has never been a slow way of life, where the Hudson Valley is, and so the people that choose that option were probably not the ones who would choose to go to New York or Berlin—I see a lot of that. All I'm saying is that people may have felt more urgency or necessity to tolerate a big city and I don't know if that's the case [anymore], or if it will be the case moving forward. I think artists are in lots of locations in lots of ways. I think what has happened is the arts have been pocketed a little bit. For the arts to truly remain relevant for everyone we have to make sure that it's present and it's alive in different communities, and when it's there people recognize it as the arts.
So, which coast is the "best coast?"
Frankly, what I'm saying is I don't know if the West Coast or the East Coast are the best coasts. I'm not sure New York or L.A. are the best places in the world. I think it's harder to say there is a best place in the world now…I do still see a lot of young artists leaving, going to Philadelphia, going upstate, coming to the West Coast, going to Berlin. I think it's just diverse, and they're going to all those places. They're not just going to L.A.