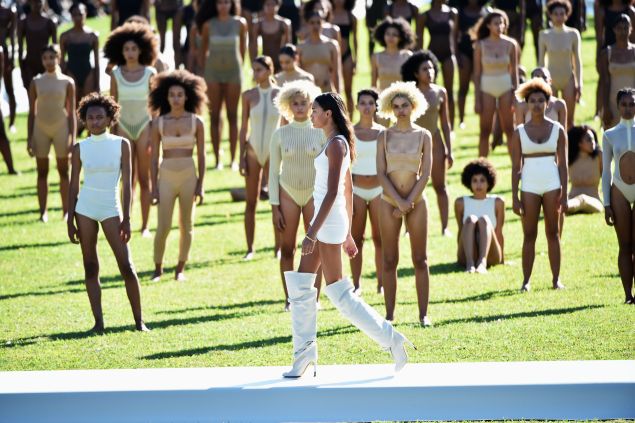 Following a much maligned Season 4, Kanye West is bringing Yeezy back to New York Fashion Week this February. For Season 5, it seems the designer has listened to the industry's grumbling about his over-the-top venues (Madison Square Garden and Roosevelt Island) and has decided to show in a locale the industry is familiar with.
The February 15 show will take place at Pier 59 Studios at Chelsea Piers, a studio-like space that usually hosts a handful of shows during fashion week. It's also within walking distance of Milk Studios, another hub for shows during NYFW. According to Vogue, Kanye's 5 p.m. time slot coincides with that of Marchesa's, and will take place in between the showings of Anna Sui and Thom Browne. Sadly, none of this promises that the rapper-turned-designer's fifth fashion show will begin on time, or at least within an hour of its scheduled start.
No other details about the show have been released, except for the fact that Adidas is still involved in this production. However, we have a feeling that Kanye's forthcoming Calabasas-themed line will also be making an appearance at this fashion show.
For more updates on this news, keep your eyes peeled on the social media accounts of Kanye, as well as Kim Kardashian, for good measure.