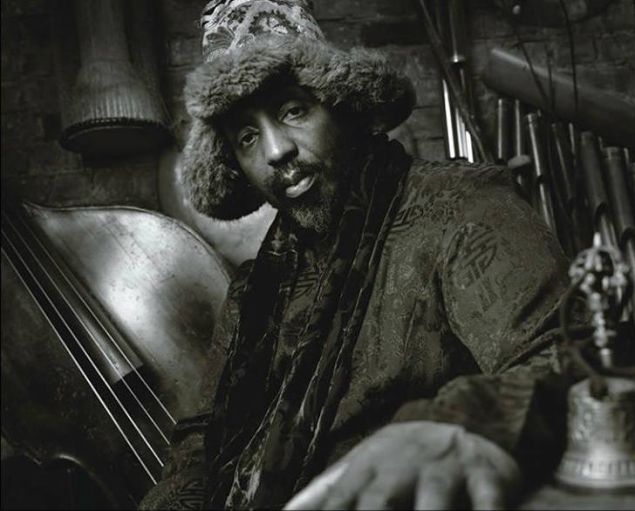 We didn't think 2016 could go much further down the shitter, but with the heart-ripping news last week that John Zorn's artist-friendly, musician-curated avant-garde performance space The Stone is shutting its doors for good in February of 2018, any and all hope was lost.
Thankfully, the panic was short-lived. Zorn is actively looking for a new space plus avant-garde music seekers have got another year and change to celebrate and enjoy The Stone while directly supporting the musicians.
In non-Stone related news, the jaw-dropping Winter Jazz Fest is taking over downtown from January 5 through January 10, so there's no shortage of incredible jazz and free-improv shows citywide.
Get out and channel your inner weird in 2017 with these essential shows.
Justice Is Compassion / Not A Police State: Music / Dance / Poetry / Art / Discourse, Abrazo Interno Gallery at The Clemente from January 2 to January 22
The star-studded Winter Jazz Fest steals many the headlines this month, but this three-week-long festival is second to none even as it flies under the radar.
Akin to the racial and social justice theme that's at the root of this year's edition of the WJF, this Arts for Arts Revolving Series, presented under the Justice Is Compassion / Not A Police State moniker, shares a likeminded bond: the program is a celebration of Martin Luther King, Jr. and a tribute to the sorely-missed trumpeter Roy Campbell, a fixture in New York City's avant-garde jazz scene before his tragic death in 2014.
From January 2 through the 22, a bacchanal starring many of Campbell's trailblazing peers plus pioneers culled from the avant-jazz underground will set up shop at 107 Suffolk Street on the LES.
Can't-miss shows—and there's a mountain of 'em—include:
Mara Rosenbloom / Cooper-Moore Duo and Aruan Ortiz Quartet (with Darius Jones, Marika Hughes and Fay Victor) on Tuesday, January 3.
In Cahoots (Ned Rothenberg, Mark Feldman and Sylvie Courvoisier) on Thursday, January 5, a trio who just released their excellent debut on the Clean Feed label.
Cellist Leila Bordreuil and reeds-man Michael Foster on Friday, January 6.
Pyramid Trumpets 4 Roy (William Parker, Hamid Drake, Nabate Isles and Matt Lavelle), who headline an evening honoring Campbell on Monday, January 9.
Tomeka Reid Sextet and Jaimie Branch Trio on Thursday, January 12.
Cleric at Trans-Pecos on Tuesday, January 3 with Vomit Fist, Bi Tyrant and Ron Anderson Trio
[bandcamp width=350 height=470 album=1303005331 size=large bgcol=ffffff linkcol=0687f5 tracklist=false]
Philadelphia is a hotbed for shredtastic guitar action. Count out-jazz maestro John Zorn as a hardcore believer in the Philly-bred slayage. Some years back, the iconic linchpin for the downtown NYC avant-garde scene released murderous slabs by math-jazz crew Many Arms, led by guitar whiz Nick Millevoi, then Zorn tapped Matt Hollenberg of tech-metal virtuosos Cleric to head up his extreme-music Simulacrum project with organist John Medeski and drummer Kenny Grohowski.
Just in the last couple of months, Hollenberg and Millevoi pooled their fretboard destroying talents for Zorn's Bagatelles marathon at National Sawdust as Hollen-Voi (formerly Matt Hollenberg-Nick Millevoi Quartet) and the Cleric guitarist just completed a three-night run curating The Stone.
His busy stretch continues here as Cleric, the longtime band Hollenberg shares with drummer Larry Kwartowitz, keys/electronics and vocalist Nick Shellenberger and bassist Daniel Kennedy, spread the experi-metal mania found on 2010's overlooked masterpiece, Regressions.
At a brain-frying 78 minutes, its sprawl of prog-metallic mayhem, dense sonic ambience, gory grindcore-isms and maniacal screams recall the heavyweight intricacies of Secret Chiefs 3, Krallice and Dysrhythmia and here's hoping tonight Cleric gives a preview of new material.
The Sediment Club at The Glove on Tuesday, January 3 with The Dreebs and Kate Mohanty
Junkyard-fi, no-wave-inspired thrashers The Sediment Club were Death by Audio regulars whose clang and clatter have oozed and caterwauled on killer wax like 2015's Psychosymplastic and 2014's 30 Seconds Too Late.
Taking their buzzsaw chaos and speak-scream cues from no wavers like DNA, Mars and Teenage Jesus & the Jerks, The Sediment Club have helped lead a first-rate class of the raddest of noise punks who've found a home on the nascent Ramp Local and Wharf Cat record label scenes where the trio contributed a cut to its first excellent comp of upstarts, Eclectic Sessions, Volume 1 (Volume 2 was just released).
After a mini-hiatus, The Sediment Club are back for another round of damaged ape-shittery. Stick around for the weirdo psych-pop of The Dreebs.
Ferus Festival: Revert to Sea featuring Yuka C. Honda with Alex Cline, Nels Cline, Devin Hoff and Zeena Parkins at National Sawdust on Friday, January 6
Yuka Honda, best known as half of bubblegum hip-hop duo Cibo Matto, has long been entrenched in New York City's downtown experimental scene, forming valuable alliances with her fellow improviser luminaries at freethinking hubs like The Stone and long-defunct and still-treasured LES spot, Tonic.
For Honda's newest adventure in mind-melding sound wizardry, she's enlisted an avant hall-of-fame bunch to realize her music-meets-multimedia vision in which she pays homage to famed Japanese scribe Ryu Murakami.
Titled "Revert to Sea," Honda, alongside guitar visionary Nels Cline and his brother/drummer Alex, harpist Zeena Parkins and bassist Devin Hoff with video and animation projection by Brian Close, will perform a half-composed, half-improvised lengthy piece inspired by Murakami's Coin Locker Babies, a novel that was instrumental in her exploring new directions in decoding words and sounds.
Weird World – Brooklyn APAP Showcase 2017 featuring Koltun (members of Les Rhinocéros) at The Knitting Factory on Friday, January 6
Going on its second year, the APAP conference invades The Knitting Factory to present a showcase highlighting a pool of international musicians who are causing a ruckus with world music-inspired experimentation.
Much to our delight, tonight's program is headlined by a noisemaker right from our own backyard: bassist Michael Coltun from Klezmer-punk left-fielders, Les Rhinocéros.
A fave of John Zorn, Les Rhino popped off three LP's-worth of global music-tweaked spazz-jazz for his Tzadik label that plucked mangled bits and pieces of traditional Jewish melodies and electronics skronk for some major pogo-stomping anthemry.
Now, Coltun—on break from manning the door at The Stone—has jumpstarted his new band, Koltun. The bassist has dialed down Les Rhino's moshing freakouts but his band's expertly crafted layering of Eastern European, Klezmer and Jewish music-streaked salvos and surf riffage found on its forthcoming debut is all-instrumental punk-jazz waltzes and marches for the Old World.
Reg Bloor, Mick Barr + Kid Millions, Unnatural Ways and Freak at Muchmore's on Thursday, January 12
[youtube https://www.youtube.com/watch?v=bcSflzNKGe4&w=560&h=315]
Guitar buffs will nerd the fuck out over the tsunami of hell-raising notes that will bury Muchmore's as fret-hopping kingpins from across the experimental spectrum convene.
The guitarist trifecta of Reg Bloor, a veteran of myriad ensembles led by no wave iconoclast and symphonist Glenn Branca, Mick Barr of Krallice and Ava Mendoza have all aced the art of shred on recently released sets.
Bloor's solo debut, Theme from an Imaginary Slasher (via Branca's Systems Neutralizers label), is a sludge-bathed ball of deafening speed metal, no wave, guitar army horror, while Mendoza's Unnatural Ways (with Child Abuse/Lydia Lunch Retrovirus bassist Tim Dahl and drummer Sam Ospovat) just dropped the progressive rock and metal-centric, punk-jazz head-fuck of We Aliens on John Zorn's Tzadik imprint.
Barr, riding high on the surprise pre-Christmas release of Krallice's Prelapsarian, joins forces for a duo set with drums polymath Kid Millions (of Oneida). With Freak (Michael Evans, Elie Dalibert and Shayna Dulberger).
William Parker: Healing Songs From The Tone World at Roulette on Friday, January 13 and William Parker: "Creation of the Tone World (A)" at Roulette on Saturday, January 14
William Parker, bassist/composer and improvisational extraordinaire and New York City avant-garde jazz royalty, is an eclectic maestro whose voluminous catalog is unrivaled and his projects, as bandleader, sideman and writer, continue to mushroom with as he moves into his 60s.
Parker is welcoming in 2017 with two, naturally epic, opuses. First is a night of vocal music he's dubbed "Healing Songs From The Tone World," in which Parker (on percussion and strings) will lead a mammoth 21-piece ensemble that includes, but is certainly not limited to, the dance of Patricia Nicholson, AUM Fidelity label peers and pianists Matthew Shipp and Eri Yamamoto, a trio of Aquasonics (waterphones), a vocal quartet and a didgeridoo.
The following night, as has been his annual tradition of celebrating a new year with brand new large-scale works, Parker and his long-running Little Huey Music Orchestra will give the world premiere treatment to "Creation of the Tone World (A)." For this performance, Parker puts forth an incredible 15-strong lineup starring veteran vanguards (Rob Brown, Steve Swell) and fresh, young talented voices (Jamie Branch, Brandon Lopez).
Landlady (Album Release Party) at House Of Yes on Wednesday, January 25
[bandcamp width=350 height=470 album=2543692462 size=large bgcol=ffffff linkcol=0687f5 tracklist=false track=1496333741]
Protean musician and gig booker Adam Schatz has been a ubiquitous force on the avant and free-improv scene for years. He's been the brains behind the Winter Jazz Fest and Undead Music Festival and counts tons of bands to his name including, Mrs. Adam Schatz and Adam Schatz's Civil Engineering.
But it's in Landlady, Schatz's sprawling art-pop collective where his creative juices gush like a hydrant, as his penchant for quirky and sublime ear candy invoke the Afrobeat rhythms of Talking Heads and the electro-R&B of TV On The Radio. Smack dab in the middle of Landlady's lush, pop-centric stylings is the Farfisa-tickling Schatz, a natural frontman with a helluva unique and soothing voice.
Landlady's purely infectious and communal vibe is perfectly inflected on the band's forthcoming third LP, The World Is A Loud Place (due January 20, 2017), a sparkling set that debuts the first-ever animated cover art on Bandcamp. Tonight, Landlady celebrate the release of The World Is A Loud Place and it promises to be a raucous event as Schatz and his avant star-studded band dip into groovy, soul-jazzy new cuts like "Electric Abdomen" and "Driving In California."
Cellular Chaos at Saint Vitus on Wednesday, January 25 with Horse Torso and Zevious
Cellular Chaos, black sheep of Brooklyn's DIY noise-punk underground, have trudged on through myriad iterations, losing bassists at a furious clip and trading in drummers for drum machines while going label-less for a bulk of their lifespan. Still, these provocateurs have managed to churn out their gnarly and sweaty mishmash of glam raunch, rock histrionics and no wave noise-fuckery with a take-no-prisoners attitude.
Despite the roadblocks, Flying Luttenbachers mastermind Weasel Walter and vocalist Admiral Grey, the two constants of Cellular Chaos since its inception a half decade or so ago, have persevered, shoring up their lineup recently with drummer Rad Chaines and signing on with noise-rock institution Skin Graft Records.
That union has yielded fruit in the form of their Skin Graft debut, Diamond Teeth Clenched, a scorched-earth statement propelled by animalistic wailing, neck-snapping guitar blowouts and a rhythm section (the since-departed bass/drums combo of Shayna Dulberger and Marc Edwards) to die for. With Horse Torso and notes-heavy math-jazz trio Zevious (who also play Trans-Pecos on Saturday, January 14).
Walter also will show off his insane free-improv jazz chops on the drums at The Flat's BkSpeed Coffee (308 Hooper St, Brooklyn) on Tuesday, January 10 with firebrand saxists Chris Pitsiokos and Matt Nelson and double bassist Damon Smith, newly relocated from the Bay Area to the East coast.
Chaser, Rodenticide, Old Maybe and Prima at Silent Barn on Thursday, January 26
Like Cellular Chaos, Brooklyn DIY art-punk freak upstarts Chaser and Rodenticide are both carrying the no wave skronk torch Lydia Lunch still swings to this very day.
A supergroup of sorts, Chaser (Nebadon's Dominika Michalowska, Ava Mendoza, Shayna Dulberger and Child Abuse drummer Oran Canfield) specialize in menacing and fractured noise-rock barks while Rodenticide—with the "verbal assault" of Samantha Riott at the center of the fray—spew out a sax-shrieking punk-jazz splatter. Both bands just hit the studio so a pair of debut records are in the cards.
Don't miss lo-fi slop-punk trio Old Maybe playing cuts off their gloriously messy 2016 LP, Oblio released by the always-great Ramp Local label. With Prima.
Honorable mentions: 
David Grubbs, Anastasia Clarke, Alper/Padgitt-Coles and Julia Santoli at The Knockdown Center on Friday, January 6
In 2016, David Grubbs released Prismrose, one of our picks for Best Experimental Records of 2016. Tonight, the forward thinking guitar experimenter hits Queens's Knockdown Center.
Facelessness Plays "Unlikelihoods" at Roulette on Wednesday, January 11th with American Academy of Achievement and JOBS
Matt Mehlan, the creative brains behind avant-pop and psych noodlers and jammers SKELETON$ (their LP Am I Home? is a 2016 gem) premieres his new outfit, Facelessness, who count Battle Trance's Matt Nelson, violist Jessica Pavone and JOBS drummer Max Jaffe as just a few of its members.
Prototype Presents: Funeral Doom Spiritual featuring M. Lamar and Hunter Hunt-Hendrix (Liturgy) at National Sawdust on Friday, January 13 and Saturday, January 14
Composer and librettist M. Lamar teams with Liturgy's Hunter Hunt-Hendrix (on electronics), for two nights of what they call Funeral Doom Spiritual accompanied by two basses, two contrabasses, electronics and a multimedia show. This new monodrama (composed by Lamar and Hunt-Hendrix) "draws on themes of apocalypse, end times, and rapture found in Negro Spirituals."
The Dean Ween Group at Brooklyn Bowl on Thursday, January 19
Late last year, Ween's Dean Ween released his first-ever solo album called The Deaner Album and it's a beautifully weird mess of classic rock and P-Funk funkified hooks and easily one of 2016's best records. It also features one of our best songs and videos of the year. The Dean Ween Group hits Brooklyn Bowl for a rare appearance in what will surely be an epically sloshed night of bar-band fist pumpers and guitar godhead solo galore.
Adam Schneit Band Album Release Celebration w/ Jeremy Udden's Plainville at Threes Brewing on Thursday, January 19
Brooklyn-based tenor saxophonist Adam Schneit recently served up his first album as leader, Light Shines In, for the Fresh Sound New Talent. This evening, Schneit convenes the avant-garde jazz band of heavyweights (guitarist Sean Moran, bassist Eivind Opsvik and drummer Kenny Wollesen) who helped make Light Shines In such a powerhouse set of smoky jazzscapes.