When I first stumbled upon Susan Krawitz' column in the tiny community newspaper published near my Catskills cabin, I thought to myself, "What's a writer like you doing in a place like this." In a half page or so, whether she recounted tales about picking berries, her eccentric neighbors or her temperamental chickens, Krawitz entertained and educated readers about her community. "I write about the smallest of things," Krawitz told the Observer from her home in Stone Ridge NY, "seasons in the garden, the struggles of winter. But basically, I end up discussing huge-picture issues: life, death, despair, loss, hope, renewal."
Krawitz, a perpetually sunny woman who chortles with ease, is now poised for her own professional renewal. After a dozen years massaging and polishing a manuscript for a debut novel geared to middle school students, Krawitz won the prestigious Sydney Taylor Manuscript Award from the Association of Jewish Libraries in 2015, subsequently landed a powerful literary agent, Janklow and Nesbit's Emmy Parry, and signed a deal with Holiday House, which will publish Viva Rose! in March.
The book fictionalizes the hard-to-believe yet largely true story of some of Krawitz' relatives, including 14-year-old Rose, a Russian-Jewish immigrant who lived in San Antonio TX at the turn of the 20th Century. The young girl is bereft and angry to find out that her beloved older brother Abraham has run off to join the famed Mexican revolutionary Pancho Villa.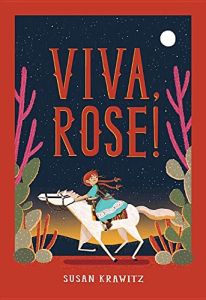 The brave—some might say foolhardy—Rose then embarks on a quest to coax (more like blackmail) her brother to return home to their controlling parents. But Villa's gang kidnaps the girl, and Viva Rose! details her frequent attempts to escape from the so-called "Robin Hood of Mexico," who was both celebrated for his belief in social justice and feared for his brutality. As historian Ronald Atkin wrote in Revolution! Mexico 1910-1920, Villa "has been described as 'a twentieth-century compound of Attila, Robin Hood and Jesse James, with a flavoring of red-hot chili sauce.'"
"Diversity is a huge theme in this book," said Krawitz, "and the prejudice white Texans have for Mexicans and Jews. And in Villa's camp, the prejudice Mexicans have for Anglos. This storyline came naturally as part of the main character's coming-of-age story arc, but Wow, what a time for a book like this."
A visit to Krawitz' elderly great aunt Edie's house long ago sparked the idea for the novel. In a bedroom, Krawitz noticed a serape and a sombrero that belonged to Abraham, who became a gun for hire after his stint riding with Villa.
Krawitz researched her historic novel by riding horses and mountaineering in Texas, studying the writings of John Reed, the socialist journalist (and the subject of the film Reds), who covered Villa's uprising for Metropolitan magazine and hunting down genealogical records. She also read books about Jewish settlement in the Old West, including Zayda Was a Cowboy, a previous winner of Sydney Taylor Award. When Krawitz learned that book won an award, it prompted her to enter her oft-rejected manuscript into the contest, a fortuitous decision for the author and her readers alike.
READ MORE ABOUT THE COMING YEAR…
The Next Big Anthony Bourdain: Michael Twitty
The Next Big Protest: The New Sanctuary Movement
The Next Big Consumer Trend: Imperfection
The Next Big Career Hack: Equine Therapy
The Next Big Change to Office Culture: Virtual Reality Meetings
The Next Big Workout: VR in the Gym
The Next Big Disrupted Industry: The Music Business
The Next Big Cologne: Hawthorne for Men
The Next Big Cocktail Ingredient: Activated Charcoal
The Next Big Democratic Governor: Phil Murphy
The Next Big Marijuana Marketing Ploy: Appellations
The Next Big Guru: Light Watkins