Meeting Kate Nash at Julius', one of Manhattan's oldest gay bars, was fitting—the musician recently came out as sexually fluid on Twitter. While Nash is usually quite private about her personal life, she's been using social media since she first emerged a decade ago on MySpace.
"I don't talk much about my feelings in a romantic or sexual way, but I don't want anyone to feel like that's wrong," Nash told the Observer. While she grew up in a liberal household, she has road tripped through America since moving from London to Los Angeles three years ago, where she saw how the rest of the country lives. "I think about the towns I've been to where there's a chicken factory and that's it. Who are the kids in that community that don't fit into a cookie cutter?" she asked. "I want to be very clear that my music, my shows, everything I do and make, are a safe place. I'm honest about exactly who I am and my feelings because there's nothing wrong with it." 
Nash has always felt embraced by the gay community. "It's so vibrant and passionate and beautiful. I've always felt myself there just as a person, not anything to do with my sexuality," she said. "I looked up identities and related to being fluid the most. I just can love a person. I've fallen in love with a woman."
The musician is extremely busy this year, and not just on social media. She has been filming G.L.O.W., Jenji Kohan's new Netflix show about a women's wrestling league in the '80s. She's about to embark on a UK tour and she's releasing her fourth album this summer, independently. One more thing: She'll be celebrating the 10 year anniversary of her debut album, Made of Bricks.
Nash's rise to fame has been documented over the years, and it reads as an indie Cinderella story. After breaking her foot, she started playing music while she was recovering, which led to her first few gigs. Her fame grew during MySpace's earliest days, after Lily Allen listed her in her "Top 8." Now, teen girls are still becoming famous on social media, but the landscape has certainly changed since Facebook's Tom was relevant.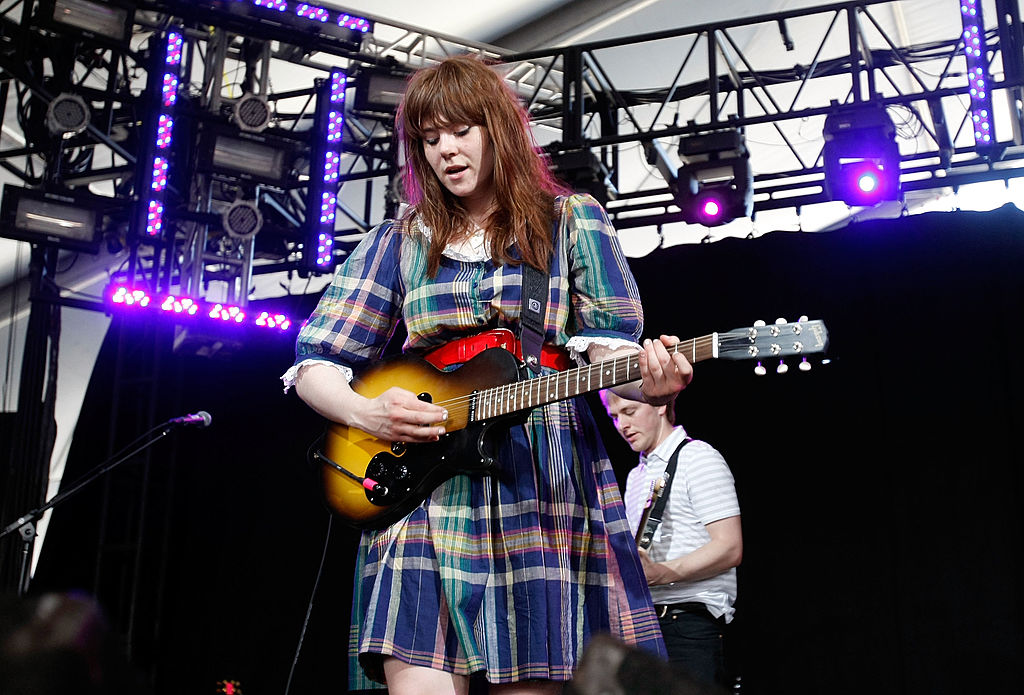 "It's like the wild west, a mix of the good, bad and the ugly. I wouldn't have had a handle of that stuff," she admitted, praising teens who are authentic on the platform, without letting an obsession with likes get to them. "The most important thing to me is being honest, being open and true. The second thing I can do is use my voice and platform to create art, because we need fun and escapism that's supportive more than ever," Nash declared. 
Her approach to creating escapist concerts is obvious onstage, where she wears artistic coats of many colors and silver glittered jumpsuits. "Why not make every part of your show as fun as it can be?" is her attitude. 
When Nash isn't onstage, or filming a television show, or recording an album, she's marching and posting information about rallies on social media. She grew up marching with her mom and aunt, and describes herself as "political from day one" after attending the BRIT School. She advised anyone thinking about joining the Women's March in Washington to wear comfortable shoes, use the buddy system, bring a map and trust their instincts.
Her next album is going to continue spreading social justice, specifically focusing on de-stigmatizing mental health. "We're all crazy, we all have our problems. Once I started to understand mine, I was able to get a handle on them and it makes me able to work and leave the house," she admitted. The songs will also return to her roots, with influences from the artists she loved as a kid, ranging from P!nk's M!ssundaztood to Blink 182. 
Her lyrics were once described as "like being forced to read a teenager's diary," but now cool teens are embraced and encouraged. "Now there's a much bigger ownership of the teenage girl diary, with stuff like Rookie, Petra Collins and artists online like Molly Soda. It's not something that can be ridiculed," Nash said. She would know—she's been reclaiming and rewriting narratives since she emerged on MySpace, and now the conversation continues.