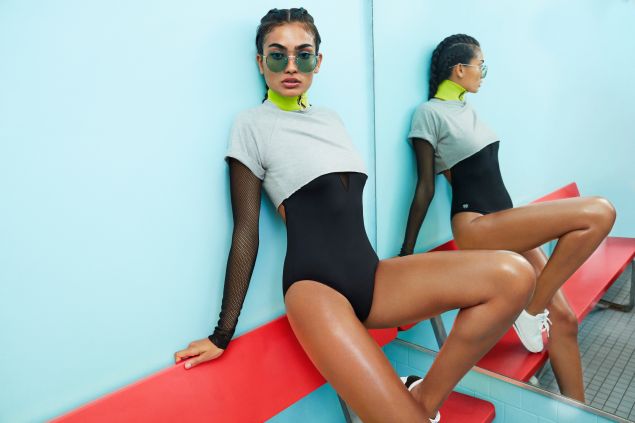 With over half a million Instagram followers, model Kelly Gale isn't entirely new to the fashion scene. In fact, she's walked the Victoria's Secret Fashion Show not once, but twice. She's also modeled for the likes of Chanel, Ralph Lauren and Tommy Hilfiger. But still, she feels a bit unknown, as her face isn't splashed across the tabloids and her sartorial choices aren't obsessed over—at least not yet.
The 21 year old was just tapped as the face of Forever 21 Active, a role that has been previously held by Ashley Graham and Shanina Shaik. In honor of this new gig, we've highlighted five facts to know about the very toned model, before she hits it big as the next Gigi Hadid.
1. She's a total fitness fanatic
Some days, Gale hits up a boxing class at Aerospace in the morning and goes for an 8 kilometer run in the evening. She's also been known to combat winter's chilliness with a hot yoga class. Gale has professed her love for jumping rope, too. "I can bring it anywhere I go and do a million different things with it. It never gets boring," she gushed to Vogue. 
If you need proof that she's committed to her fitness, just check out her Instagram account, which is loaded with pictures of her chiseled abs and the delicious-but-healthy meals she's often eating.
2. She very international
Gale is a Swedish and Australian citizen, but she currently resides in New York City. She grew up in Gothenburg, Sweden, but as a child she lived in Ghana for four years and Australia for one. Her gorgeous looks can be attributed to her heritage; her mother is Indian and her father is from Australia.
3. She started young
Much like Hadid, Gale was a child model. She was discovered at the ripe age of 12, but her parents didn't let her get started in the business until the following year. One of her earliest gigs was with H&M, who cast Gale in a campaign when she was only 13.
According to Vogue, Gale thought her modeling career would be a self-confidence booster, as she was often bullied in school. "I really wanted to try it, because I was picked on a lot. I looked different. I was used to being the 'ugly girl' in school. I thought that maybe modeling would make my confidence better," she told the website.
4. She's flaunted her curves in Playboy
Though she was crowned as Miss September by the glossy, and appeared on the cover of their September 2016 issue, the publication chose to highlight her smarts, alongside her cleavage.
"Women in Sweden are treated with a revolutionary level of respect that is unsurpassed in history," she explained to Playboy. "Still, the biggest obstacle is appreciating—and incorporating—each gender's uniqueness into society. We shouldn't shy away from the fact that women develop differently from men. We shouldn't listen to a female leader only when she has masculine characteristics. Instead of moving toward one 'omnisex,' which sometimes seems like what we're trying to do, we need to learn to benefit from men's, women's and transgender people's individual voices."
5. She's not afraid of a little social media PDA
Also similar to Hadid, Gale is a fan of showing off her relationship with boyfriend Johannes Jarl on Instagram. She often posts images of her smooching her love or brunching with her blond beau. In fact, we kind of think he looks a bit like one of Hadid's ex's, Cody Simpson.