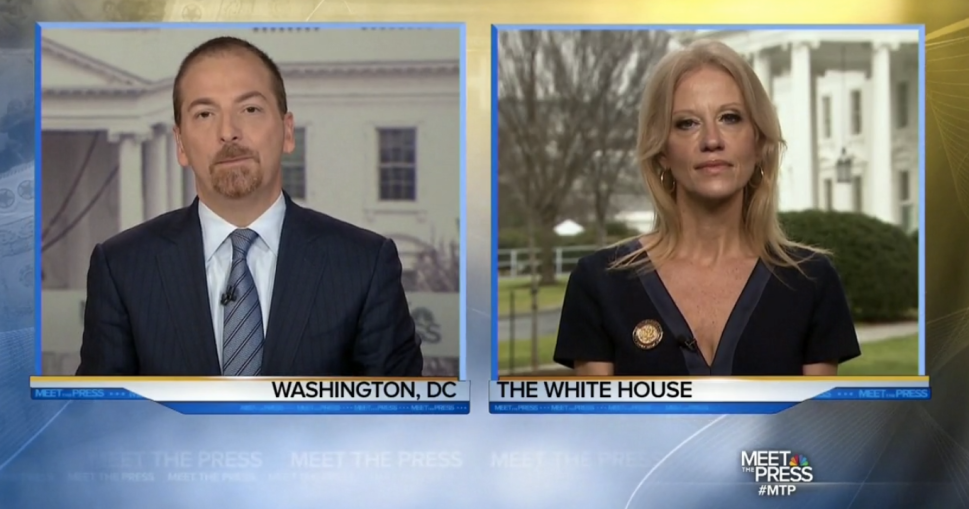 The streets of the capital and dozens of other cities in the nation and the world were filled with women—and some men and children, too.
They marched and chanted and waved signs to protest against President Donald Trump on his first full day in office on Saturday.
The cable news stations—except for Fox News Channel, of course—were covering it like the dramatic and powerful event it was.
So what could the White House do to divert the media's attention?
First, Trump went to the Central Intelligence Agency for a rambling speech that sounded like the drunk uncle giving a toast at the wedding reception.
He talked about how often he has been on the cover of Time and how his uncle was a brilliant MIT professor and how there might be another war in Iraq so we can steal their oil.
Trump also said—falsely—that the news media lied about his feud with the intelligence community and about the size of the relatively small crowd at his inauguration on Friday.
"Among the most dishonest human beings on Earth," The Great Leader said.
A couple hours later, White House press secretary Sean Spicer amplified Trump's paranoid screed.
"This was the largest audience to ever witness an inauguration—period!" Spicer lied. "That is what you guys should be writing and covering."
So it seemed almost comical Sunday morning on NBC's Meet the Press—almost like a skit from Saturday Night Live—when Trump mouthpiece Kellyanne Conway lectured host Chuck Todd about truth in reporting and Todd's journalistic obligations.
Spicer, she said, was merely presenting "alternative facts" to the accurate ones reported by the media.
"Wait a minute, 'alternative facts?'" Todd asked. "Alternative facts? Four of the five facts he uttered were just not true. Look, alternative facts are not facts. They're falsehoods . . . You did not answer the question. You sent the press secretary out there to utter a falsehood . . ."
'If they're willing to lie about something as trivial as crowd size at the inaugural, think of what they might be willing to lie about in matters of war and peace.'
The discussion's surreal quality grew.
TODD: "What was the motive to have this ridiculous litigation of crowd size?"
CONWAY: "Your job is not to give your opinion, Chuck. Your job is not to call things ridiculous . . . You're supposed to be a news person."
Earlier, Conway warned Todd "If we're going to keep referring to our press secretary in those types of terms, we're going to have to rethink our relationship here."
In this, she made a threat: Say what we want, or we'll boycott your show. Conway's crew did this Sunday by refusing to send a representative to Jake Tapper's State of the Union on CNN, the only major weekly show they shunned.
Perhaps the Trumpists were offended that CNN chose not to cover Spicer's tantrum live the day before. Or they might have been hurt because CNN, in Saturday's 10 p.m. hour, had a nine-person panel discussion that repeatedly included the words "lie" and "lying" about Trump and Spicer.
"The President went to the CIA and lied—I suppose I can use that word—or he told a narrative contrary to the facts about who created this dispute with his own intelligence agencies," Jim Sciutto said.
(For those just tuning in, Trump last week compared the intelligence services to Nazis for leaking, Trump said, those false reports about Trump being given the summation of a longer Russian dossier about Trump and the alleged prostitutes and their alleged urination games in the alleged bed in the alleged hotel room in the alleged Moscow).
Perhaps, in time reserved for the White House, Tapper could have replayed a brilliant SNL skit that ran less than 12 hours before in which Beck Bennett played the role of "Tapper" and Kate McKinnon played "Conway" on a sendup of his weekday show The Lead.
It began as a spoof of an interview and "Conway's" ability to deflect questions into obfuscation. The first was about Trump's possible meeting with Russian President Vladimir Putin.
"The thing to remember about Russia," "Conway" said, "is we won and I don't know why you keep bringing up the election."
Next, the scene broke into a production number spoofing the musical Chicago with "Conway"—wearing a short, glittery dress—singing and dancing about her own fame amidst a chorus line of tuxedo-clad men.
"And when the world goes up in flames, at least they'll know they knew my name: Kellyanne Conway!" she sang. "Who says lyin's not an art?"
Hand me the remote . . .
THIS WEEK ABC host George Stephanopoulos opened by saying Trump "used his bully pulpit to deny reality, declare war on the press . . . Why did he choose to not tell the truth?" when he spoke to the CIA.
Stephanopoulos next presented a written statement from John Brennan, who retired last week as CIA director, about Trump's "despicable display of self-aggrandizement" at what was supposed to be a serious visit to a sacred place.
Compared to Todd, Conway gave Stephanopoulos only a mild scolding.
"It is completely irresponsible—if not worse—for members of the media to be calling our press secretary a liar and worse," Conway said. " . . . we have not been treated very well."
Conway also said Trump would not release his tax returns, a change from the campaign, when he said he would after they are audited.
"People don't care," Conway said. "They voted for him."
There was no discussion about how taxes can reveal who business leaders owe money to; they can reveal potential conflicts of interests; they can reveal inconvenient things that reflect poorly on billionaires who brag about their success.
Democratic Sen. Chuck Schumer of New York and Republican Sen. John McCain of Arizona were the heavy hitters among the guests. Schumer—the minority leader—said Trump is "trying to use populist rhetoric to cover up a right-wing agenda."
Of Trump's cabinet picks not yet approved by the Senate, Schumer said "Advise and consent doesn't mean 'Ram it through.'" He noted the way Republicans are squirming about their promise to "repeal and replace" President Obama's Affordable Care Act.
"They don't know what to do," he said. "They're like the dog that caught the bus."
McCain called Trump buddy Putin "a war criminal." McCain said he liked and trusted the three generals Trump has named to assist him. But when asked whether he trusted Trump, McCain said "I do not know because he has made so many comments that are contradictory."
FACE THE NATION CBS host John Dickerson is a subtle interviewer, especially when in the same room with a guest. But with Conway on a remote camera in front of the White House Sunday, Dickerson had trouble asking questions when he tried to interrupt her filibusters.
A better segment featured Republican Sen. Lindsey Graham of South Carolina, who spoke of Trump's bromance with the Russian leader and the speculation that Trump may drop sanctions against Russia that were imposed by former President Obama for Russia's interference in the presidential election.
"If you forgive Putin and forget about what he did, that screams weakness to Putin," Graham said. "Beware of the teddy bear, President Trump."
Pollster Frank Luntz, now in full beard, dominated Dickerson's pundit panel with comments like "This is the beginning of the most awful conflict between left and right, between men and women, between young and old . . . I really think the country's in trouble . . . Where are we headed from here?"
Less hysterical but no less concerned was Jeffrey Goldberg of The Atlantic who worried about Trump's speech to the spies.
"It reminded one of a discourse that you hear in places like Turkey or sometimes in Egypt where the strongman is trying to undermine the institutions of civil society, the institutions of democracy," Goldberg said.
FOX (FOXA) NEWS SUNDAY Reince Priebus, Trump's chief of staff, told host Chris Wallace what's bothering him.
"There is an obsession by the media to delegitimize this president," Priebus said. "We are going to fight back tooth and nail, every day—and twice on Sunday."
Pundit Juan Williams reflected on Trump's use of "carnage" in his inauguration address to describe the bleak American landscape. Williams said it had racial connotations.
"That's alarmist," Williams said. "It's an exaggeration. It's not reality . . . You are demeaning a whole group of people in order to present yourself as a savior."
Mo Elleithee added that Trump "looked at the American people and he lied. He lied more than once . . . This should be of concern to everybody . . . This is Nixonian politics in the Twitter era."
MEET THE PRESS Hugh Hewitt, a radio talk show host and conservative, did not approve of the Trump/Spicer offensive the day before.
"It is not good to begin your presidency at war with the media," Hewitt said. "That's how bad presidencies end."
Chris Matthews, a liberal and MSNBC regular, said of Trump's inaugural address "There was no charm or outreach to the speech. It was all 'Screw my enemies, I'll get 'em, we're gonna get even now' . . . It was so unpleasant."
STATE OF THE UNION Republican Rep. Devin Nunes of California told Tapper on CNN the difference between Democrats and Republicans on health care.
"The Democrats want your health care to be run right here in Washington," he said. "We want the individual to have health care and we want every American to have access to health care and we want that health care to be delivered locally, not by big government."
David Axelrod, referring to Trump, said: "There is a sort of Dr. Jekyll-and-Mr. Twitter quality to this guy."
RELIABLE SOURCES On CNN, Michael Oreskes of NPR discussed with host Brian Stelter the concept of "alternative facts" as provided by the Trump Administration to the reality-based media.
"Society would lose profoundly if we abandon our belief that there is, actually, reality," he said. "That there are actually facts."
Brian Fallon—press secretary to Hillary Clinton during her campaign against Trump—was critical of Spicer's lies and said a man in that situation might resign rather than lie on orders of his boss.
"If they're willing to lie about something as trivial as crowd size at the inaugural, think of what they might be willing to lie about in matters of war and peace and other things that are far more serious," Fallon said.
MEDIA BUZZ On Fox News Channel, host Howard Kurtz seemed vaguely aware that his network failed to cover Saturday's massive demonstrations in any significant way.
"We probably should've done more," he said.