Fashion favorite Lauren Santo Domingo can't seem to find a buyer for this apartment.
Douglas Elliman
The Flatiron loft is impeccably decorated.
Douglas Elliman
The 'Vogue' editor commissioned the Legos replica of her pup.
Douglas Elliman
The home is listed for $1 million less than last year.
Douglas Elliman
One of the bathrooms.
Douglas Elliman
Patterned wallpaper in a child's room.
Douglas Elliman
Four Warhols in the living room.
Douglas Elliman
Alphabet Inc. executive chairman Eric Schmidt owns the penthouse in the building.
Douglas Elliman
Lauren Santo Domingo used to have a Vogue column called "APT With LSD," where she offered readers a peek into the impeccable homes of stylish New Yorkers.
And a few years back, the Moda Operandi co-founder and Vogue contributing editor finally showed off her own Flatiron loft, and as expected, it inspired a surge of serious interior design envy.
Then, last February, the socialite and her billionaire husband, Andres Santo Domingo, decided it was time they part ways with the 4,713-square-foot condo at 31 West 21st Street, and put the apartment on the market for $7.25 million.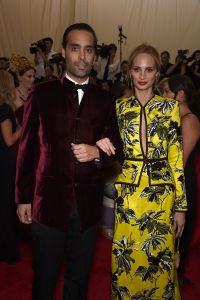 The interior photos are, of course, incredible. The loft is accessed by a private elevator, which opens into the enormous living room, complete with 11-foot ceilings, oversized windows and hardwood floors throughout. The master suite has a big walk-in closet and dressing room (obviously), and there are closets with custom shelving throughout the entire home.
Alas, we're confused as to why the three-bedroom, 3.5-bath full-floor abode is still lingering on the market. Indeed, the apartment, listed with Douglas Elliman broker Jared Seligman, is now priced at a discounted $6.25 million—a full $1 million less than the original asking price.
Perhaps the now on-sale pad will attract some more attention. Or maybe Santo Domingo will provide an updated tour of the space, which is filled with furniture by designers including Jonathan Adler and Kelly Wearstler. Four Warhols line one side of the living room, though one of our personal favorite touches is the Legos replica of Santo Domingo's pup, commissioned by artist Nathan Sawaya.
The socialite's husband purchased the home back in 2002, for $2.95 million, but the couple also owns a townhouse at 23 Gramercy Park South, which they purchased for $18.5 million in 2009. The Santo Domingos also own a charming Paris apartment, which has been featured in, you guessed it, Vogue.
Less fashion-focused buyers may be enticed by a different resident of the Flatiron condominium—Alphabet, Inc. executive chairman Eric Schmidt owns the duplex penthouse.