"When we hear public utterance today, like the language of the politician or the leader, whenever I hear a guy speaking, it's like: "Hasn't he heard the bad news?" You don't feel that anybody's heard the bad news, that they know how people are feeling. I think everybody's experiencing their daily life now as it looks like freedom but it feels like death. Closing time. The landmarks are down. The lights are out. The catastrophe has taken place…So, what is the proper behavior, what is the appropriate behavior in a catastrophe when you're holding on to your orange crate and the other guy's floating by and you're holding on to this broken flag staff?…Something's gone down. You ignore it at the peril of your self-respect or of your possible rescue."—Leonard Cohen, 1992
Leonard Cohen's words boomed out of The Music Hall of Williamsburg's speakers last night in the master's unmistakable baritone, washing over fans as a reminder that their fallen monk always had a distinct knack for unpacking the world's unsettling dualities.
Leonard Cohen died one day before the presidential election, but we didn't find out until days after. Last night, after the inauguration had passed and the rain that began when our president took the podium was finally pushed out by the invading cold front, New York finally gave the Poet Prince of Montréal his due.
"Sincerely, L. Cohen: A Celebration of Leonard Cohen" could have been a somber affair. But all performers took the "celebration" part to heart, infusing even Cohen's most somber truths with equal parts reverence and reverie. Co-produced by two big Cohen fans, music producer Jesse Lauter and City Winery's head talent booker Hannah Gold, the evening found a mix of New York icons and esteemed singer-songwriters alongside cult performers and up and comers for a night of Cohen standards, stories and deep cuts.
"I felt like putting on this show was a moral obligation to my Hebrew School teachers and my childhood rabbis," Lauter told me with a laugh. "There's a deep tribal sense. So Hannah and I felt like we wanted to take it on, we felt like it was owed to people. We wanted to make sure we did it at an appropriate time. We saw people throw together things shortly afterward, which was great, but we wanted to pay a lot of care and attention to the booking of it."
That care and attention were evident in the evening's programming from the outset. Entrance music, "Birtkhat Ha'Kohanim" pumped the Priestly Blessing through the room, as recited by generations of Cohens before our man. That the Cohen name was traditionally associated with high priests of the old temple always felt significant to those willing to go deeper into the singer's scriptural inspirations; prefacing the night with this blessing provided the room with a fitting prayer for peace, protection and light. And all ticket sales went to the Preemptive Love Coalition, which performs life-saving surgeries on kids in Middle East war zones like Aleppo. It's a cause you imagine Cohen would have supported.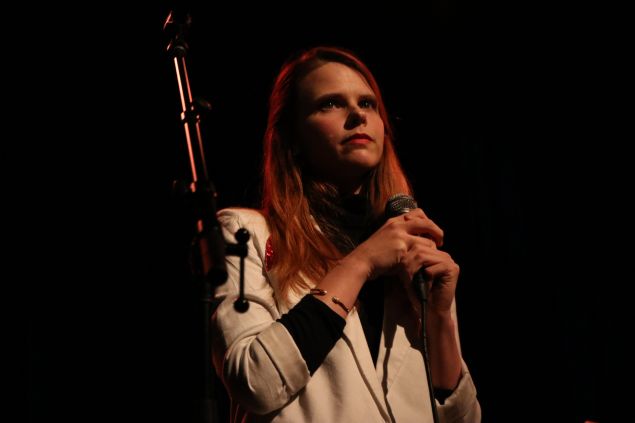 Then they got "Hallelujah" out early, slowly bringing the house band onstage while guest guitarist Delicate Steve telegraphed Cohen's melody through a fuzzy guitar lead. Led by musical director Josh Kaufman, who recently produced Bob Weir's lauded solo record Blue Mountain, the band featured several key personnel from those sessions, including Walt Martin, Annie Nero and Ray Rizzo. They held it down with a chorus of back-up singers that Cohen would have been proud of—Jocie Adams, Cassandra Jenkins and Leslie Mendelson—who would eventually step up to center stage for stirring renditions of "Lover, Lover, Lover," "In My Secret Life" and "Sisters of Mercy," respectively.
"With a concert like this you want people to show up and feel like they didn't have to do any homework, to be themselves there and come with the songs that are in them," Kaufman told me of his approach to the song selection.
"And you also want to shine a light on this incredible career, there's so much. A good way of showcasing the well known songs is with less-known, underground artists. I think it helps people kind of hear that stuff again, which is really special, too."
Film score composer Ossi Essed brought this to life early on with a groovy, borderline reggae rendition of Cohen's "Diamonds in the Mine," one of his angriest and most politically pointed tunes. Taken in context of the day's big news—the current administration's freezing of EPA grants—"The river is swollen up with rusty cans/And the trees are burning in your promised land" gained added resonance. Ditto for musician Steve Salett's deadpan rendition of "First We Take Manhattan," a laugh about conquest over fascist entities from a freed man, imprisoned for "trying to change the system from within."
Musician Adam Weiner came to the piano for a rollicking, sing-along version of "Everybody Knows" after the audio clip that prefaced this piece played, and the song's message of disconnect between what the official state of the world acknowledges and what the mind acknowledges as universal truth became startlingly timely, too. Then singer/songwriter Alana Amram silenced the room with a paralyzingly beautiful version of "Suzanne."
Much was said of Cohen's dual understanding of love and lust, spirit and sexuality, mind and meat upon his passing. But lost to the tributes is just how funny Cohen could be when he wanted to, playing the role of vulgar, self-deprecating misanthrope with such self-awareness that you couldn't help but laugh. When New York's own Lenny Kaye took the stage to read from Cohen's 1966 novel Beautiful Losers, the eloquence and vulgarity of the prose was illuminated through Kaye's voice.
"Lou Reed told me that it was one of his favorite novels of all time," Kaye told the crowd.
The funniest record of Cohen's is also his most-maligned, however, 1977's Phil Spector-produced Death of a Ladies' Man. Kaye followed the reading by playing what he called Cohen's most radical number from the record, "Don't Go Home With Your Hard On," a klezmer-tinged big band number liberated from Spector's sterile "wall of sound" production by the evening's thoughtful arrangement. Flailing his arms and wiggling his feet as he moved across the stage, Patti Smith's longtime guitarist didn't look anywhere near 70, paying homage to the silly schmaltz by having a ball.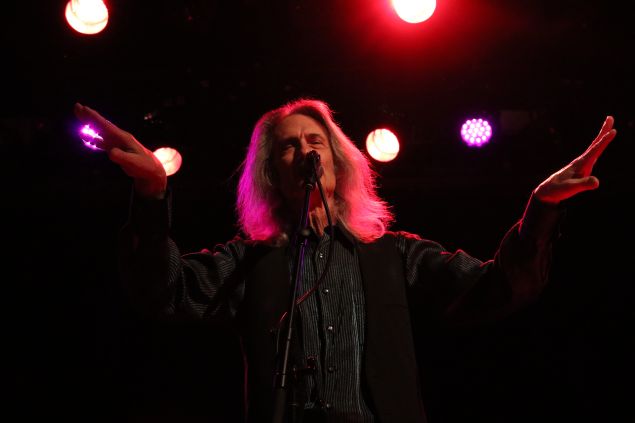 Ian O'Neill from Deer Tick soon expertly tackled the only other Ladies' Man cut of the night, "Memories," with its big-band arrangement reminiscent of a high-school dance in the '40s as Cohen imagines coming of age under Nazi rule, pinning an iron cross to his lapel and dancing with the "tallest, blondest girl."
Teddy Thompson played sparse and effective, acoustic renditions of "Tower of Song" and "Ballad of the Absent Mare." Thompson's father Richard Thompson, best known for his role in seminal English folk-rock band The Fairport Convention, was part of the evening's celebration, too. Father Thompson came out for the first two cuts from Songs From a Room, "Bird on a Wire" and "Story of Isaac," lending a near-classical sense of monastic attention to these songs as he conjured archaic images of a beast with his horns and the most infamous sacrifice in the Old Testament.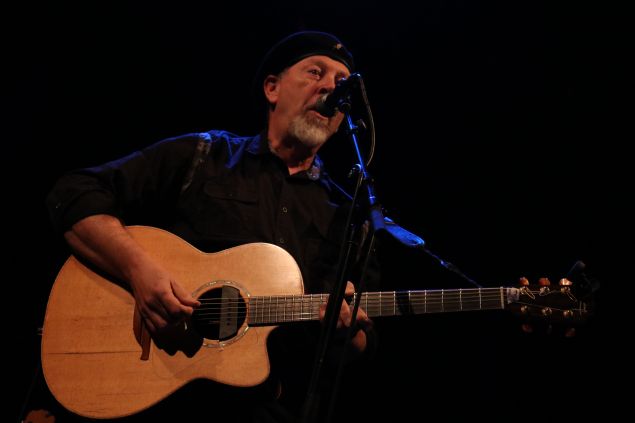 The logic behind the evening's tasteful arrangements and low-key theatrics was soon explained by the spirit of Cohen himself, again over the PA:
"Do not act out words," he said in "How to Speak Poetry."
"Never act out words. Never try to leave the floor when you talk about flying. Never close your eyes and jerk your head to one side when you talk about death. Do not fix your burning eyes on me when you speak about love. If you want to impress me when you speak about love put your hand in your pocket or under your dress and play with yourself. If ambition and the hunger for applause have driven you to speak about love you should learn how to do it without disgracing yourself or the material."
Josh Ritter, who's covered Cohen before and worked with Josh Kaufman before when he wrote those songs for Bob Weir's Blue Mountain, came out for a "Chelsea Hotel No. 2" that induced many tears. That he'd worked with musical director Kaufman before, and that Elvis Perkins (who expertly executed "Is This What You Wanted?") had worked with Jesse Lauter, only added to the tribal vibe between guests and backing band.
Lee Ranaldo reminded us that the rain battering us for days was apropos before going into a faithful, swelling "Famous Blue Raincoat," delivered in the style of a letter from which the evening took its name. Then Will Sheff of Okkervil River came on to close out the evening with a wrenchingly emotional "Take This Waltz" and a group singalong of "So Long, Marianne" that brought all the performers onstage, joining together in chorus.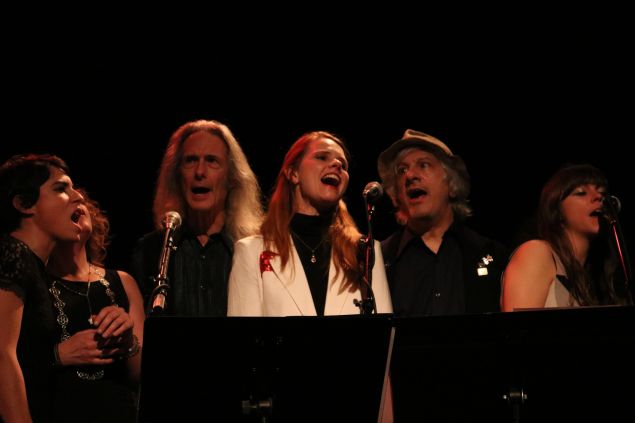 "When Leonard did the last round of shows I went with my family, and my dad made bootleg shirts," Lauter told me. "The bottom of it said 'Mein Rebbi,' so we affectionately call Leonard our rabbi."
Closing out the event, the PA played "Save the Last Dance For Me," Cohen's closing number at his final shows, as friends and lovers stayed to dance. Equal parts sentimental and scholarly, full of tearful singalongs and heartfelt remembrance, it was an evening Cohen would have appreciated.