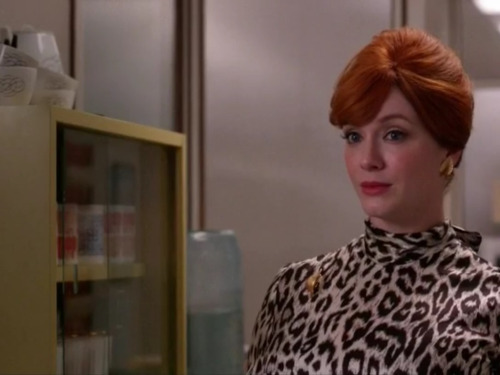 Welcome to our TV Fashion column, where TV Ate My Wardrobe's Emma Fraser discusses the trends in television apparel. This week: Contemporary and period shows love leopard print wardrobes.  
Polka dots and stripes are two pattern staples that my closet is bursting with, but it is a bold print of another kind that has been having a resurgence recently and it is not just down to Kendall Jenner featuring it on her app. Leopard print is making a statement once again; perceptions have changed over the decades and this now classic staple has oozed glamour and sexuality, given off tacky vibes and revealed a rebellious side depending on what decade you're looking at. The great thing about this trend is how many different ways it can be worn and recent costume and public appearances point to how relevant and fun this style choice can be.
Fashion is cyclical with trends coming in and out of favor and then back in again so quickly that you maybe didn't even noticed it had even gone away or taken on a new reputation. Or the same styles from twenty years ago might be everywhere and you could be forgiven for thinking some kind of time warp had taken place, which is pretty much how I feel whenever I see a choker.
When it comes to leopard print the glamour of movie stars and Old Hollywood is not the first thing that pops into my mind. Instead images of Kate Moss and everything '90s flash before my eyes; it is as synonymous to the Kate Moss brand as revealing slip dresses, that Calvin Klein campaign and a cigarette in her hand. My first experience of wearing leopard was at Glastonbury festival in 1999 and that sounds as cliché as pairing Hunter wellies with denim shorts a la Kate at this music event (I have not done the latter). Instead of embracing this pattern choice I semi-dismissed it and have in recent years toyed with getting it in both coat and shoe form.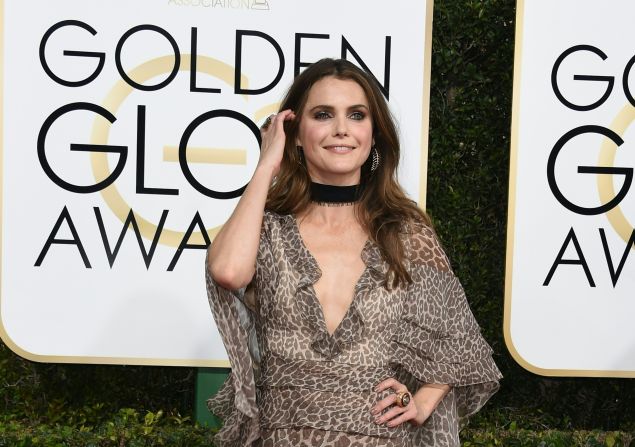 Over recent weeks leopard has appeared on the red carpet at the Golden Globes with Keri Russell going full '70 Stevie Nicks inspiration wearing J. Mendel complete with sleeve wings and a super carefree vibe. Also delivering on some A+ sex hair for that added sexual confidence that often comes with this print. Yes I still have Mouse Rat stuck in my head. In the same week Ruth Negga wrapped up in a Sonia Rykiel coat as she headed into Jimmy Kimmel Live! showing why this has been a go to outerwear staple for decades. And at the Scandal TCA panel Bellamy Young paired a long leopard print skirt with a red short sleeved sweater giving yet another different and super feminine spin on this style.
Fall/Winter 2016 collections were awash with this sartorial choice including Givenchy, Prada, Dolce & Gabbana and Dries Van Noten which is why we are seeing it trickle down now and new arrivals at Coach include leopard print that also reads as heart shaped. This dress and the even more blatant animal print mohair sweater would not look out of place on brightly dressed comedy such as New Girl, The Mindy Project or on my number TV sweater queen, Brooklyn Nine-Nine's Gina Linetti.
Which brings me to the kinds of shows that embrace the bold. Comedy tends to be the place where these kind of costume choices occur. It isn't just women who get dressed in leopard; on a recent episode of Black-ish Andre wore an Ovadia &e Sons sweatshirt in this pattern and crushed this look.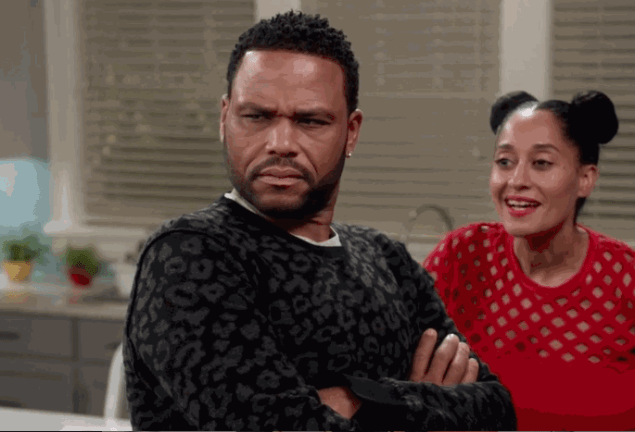 One character who used to be decked out in head to toe animal prints is Empire's Cookie Lyon and costume designer Paolo Nieddu explained to Vanity Fair why Cookie was going to evolve and move away from this style of dressing after season 1 "I took into consideration the amount of money she has, how long she's been out of jail, and the fact that she's working so hard and is back in the business. [Animal prints and furs] were her strong suit before she went to jail. Now, though, she's honing her [fashion] skills." It wasn't about getting rid of this influence completely and in this recent season leopard has reappeared; instead of it being an entire outfits worth a classic Givenchy blouse in this style nods to her past and present.
In fact animal print of another kind was worn by Cookie Lyon kicking off the many appearances of Stella McCartney's 'wild cat' collection from pre-fall 2015 and it is easy to see why so many have been drawn to this design. First of all it comes in both black and white and in a number of garment types. Plus the colorful big cat imagery is visually striking. For Cookie it came in a T-shirt adjacent style with a high collarless neckline and it was paired with a bold yellow skirt from Topshop; this is a Cookie outfit favorite of mine and it appeared back in season 2 in the episode "A High Hope for a Low Heaven."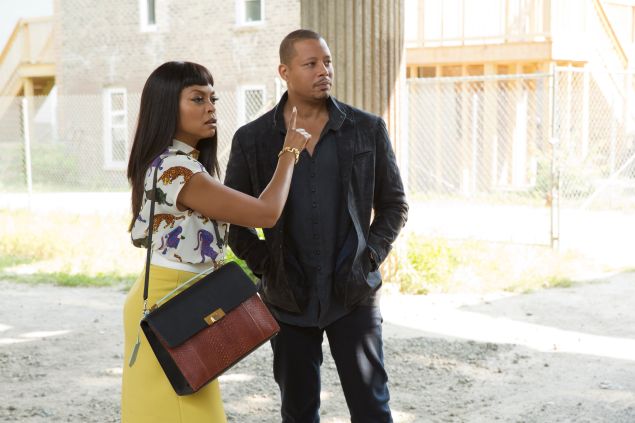 A few months later at the start of 2016, the blouse was worn by Joan Watson on Elementary in "Down Where the Dead Delight" and if Joan isn't wearing some kind of tie then bold print is her next go to signature. Like Cookie, Joan also wore it in white and for the black version look no further than "Winter" and the Gilmore Girls revival with Lorelai sporting the dress covered in cats.
Lorelai is more than partial to wearing animals on her outfits and this made a nice change from her penchant for bedazzled or extremely kitsch versions. Also opting for the black design was Issa Rae in the pilot of Insecure pairing the silk jogging pants with a denim shirt and mustard blazer that instantly reveal Issa's funky cool take on fashion. The whole dress/shirt/pants spectrum of this collection is covered over four shows and characters with varying looks. Like actual leopard print this is a style that can be worn in a number of ways/garments/occasions.
Back to traditional leopard print and period pieces such as Mad Men reveal a whole lot about the perception and status of this garment from fifty years ago. The one character who probably wears the most leopard is Joan and this shouldn't come as a surprise. In season 1 when she is meeting with Roger at the hotel she's decked out in the glamour garment; a leopard print coat and even though she is the mistress she's not shrinking into the shadows even if they are meeting in secret. In season 2 Bobbie Barrett wears a leopard print robe oozing sexuality and a certain level of power; that is until Don exerts his revenge on her for discussing their hook-ups with others. In the series finale it is Joan wearing the leopard print robe as she makes a decision and takes control of her life transforming her home into her workplace.
When Rachel Menken gives Don Draper a tour of her department store she wears a leopard print top which reveals her fiery side beneath her businesswoman exterior. You wouldn't see Betty sporting a look like this as it would be considered provocative and showy. This is not the style game Betty plays.
It is also worth noting that Banana Republic's Mad Men collection included a number of leopard print items such as a trench coat, scarf, bag and cardigan. Plus Christina Hendricks wore this pattern for fashion shoots, in a client from Mad Men meets real life London Fog campaign and on late night talk shows; giving a modern twist to the kind of outfits you might expect to see her wear on an episode of Mad Men.
While there are no photos available yet from Ryan Murphy's forthcoming and highly anticipated FX mini-series Feud which debuts March 5 and will portray the rivalry between Joan Crawford and Bette Davis, I'll make an educated guess in that we will be seeing some leopard print among the furs and high drama. Long time Ryan Murphy collaborator and award winning costume designer Lou Eyrich will be taking on the two big movie divas and from her incredible work on American Horror Story I am practically jumping with joy about what she will bring to the screen here.
Another on the most anticipated list is The Good Fight, which with every new trailer and bit of information sounds even more exciting and begins next month (February 19) on CBS All Access. Costume designer Daniel Lawson who worked on The Good Wife and one of my favorites from 2016, BrainDead has shown his flair for this fabric choice in both shows and the most recent trailer shows style crush Lucca Quinn rocking a dress in this print.
Maybe 2017 will be when I finally take the leopard print plunge beyond that muddy field in Glastonbury all those years ago.
Emma Fraser is the creator of TV Ate My Wardrobe and spends most of her time writing about TV, fashion and costuming; Abbi and Ilana's Broad City style, the wigs on The Americans and Mindy Lahiri's pajamas are just as vital as talking about '90s, '00s teen shows. Emma has a MA in film and television, and she probably holds Angela Chase responsible for this path. You can find her on Twitter @frazbelina.