Bill Chait, the man who developed destination restaurants including Bestia, Republique, Broken Spanish and Otium, shocked the Los Angeles hospitality world when he separated himself from the Sprout restaurant group in late 2015. It was already clear back then, though, that Chait wasn't done as an L.A. restaurant player. It was already clear that his comeback was going to be massive.
His latest project, Chait told us last week, is going to be "almost the size of Eataly."
Chait has plans to open Tartine Manufactory downtown this fall. His chef-partners are Chad Robertson and Elisabeth Prueitt (of San Francisco's legendary Tartine) and Chris Bianco (a Phoenix culinary force some critics consider the country's best pizza maker). The space will be about 40,000 square feet on two levels and eventually include a craft bakery and mill, two restaurants (Bianco is moving to Los Angeles to run them with the Tartine team), a coffee roastery and lab (a collaboration with plant-based and almond milk producer Califia Farms), and a market with a coffee/donuts/ice cream kiosk.
Tartine Manufactory will be part of Row DTLA, the new complex that's already home to the Sunday Smorgasburg food market.
"I really wouldn't say I walked away from it," Chait says when asked why he departed Sprout. "Like everything else, there's sort of the growth process. In some ways, I was the prisoner of sort of the structure that I created. Those were partnerships with chefs, and [Tartine Manufactory] is really a partnership of chefs. And when you look at this project in particular, this is something I could have never accomplished with the Sprout structure because it just didn't allow for this level of collaboration.
"It doesn't underestimate the impact of Republique, for example, which I think is still arguably one of the best restaurants in the city. Or Bestia or Otium or Redbird, they're fantastic restaurants. But they're separate restaurants that stand alone."
The point Chait is making is that Sprout's restaurants largely operated independently of one another. Sprout often didn't have controlling interest in them.
"They're certainly not owned entirely by Sprout," he says. "In fact, in many instances, the chef owned more than Sprout owned. [The deals] were all different. [The restaurants] do share some resources, but none of them ever really signed up to be, arguably, sort of in a restaurant company."
'Everybody uses bread, everybody uses buns.'
And now with Tartine Manufactory, Chait has created a structure that gives him more skin in the game and a more cohesive vision for expansion. Robertson has been approaching other out-of-town chefs about coming to Los Angeles. And Chait says there's a major hotel deal on the horizon with a property owner who might separately be bringing another of the country's most high-profile chefs to L.A. That's just some of what Chait has on the burner, so don't be at all surprised when you find out that he's part of many big-deal restaurant openings in the near future.  
"There's a whole bunch of projects," Chait says. "They're all built sort of around the Tartine ecosystem. Chad is one of the great, I would say, collaborators of chefs in the world because he creates what amounts to being a support product. Everybody uses bread, everybody uses buns. Chad is very open: You can read a book of his and figure out how to make bread, there's no secret recipe. And in a lot of ways, he's probably the most connected chef I've ever met in terms of knowing other chefs."
There was originally another idea for the Row DTLA space that is becoming Tartine Manufactory.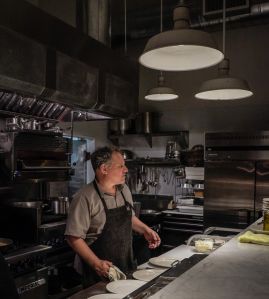 "Chad and I started working together around December/January, almost simultaneous with the Sprout separation," Chait says. "I'd been looking at [the space] when I was at Sprout. [Developer] Jeffrey [Goldberger of Atlas Capital] had proposed a food hall. He wanted us to do a food hall, and we didn't want to do a food hall. But I said this would be interesting to do a really major infrastructure project."
Row DTLA, which has also signed tenants like Boston sneaker shop Bodega, has a 4,000-space parking garage in a downtown where Chait sees pure potential as he looks around and notices new construction everywhere.
"I think it's honestly limitless," Chait says. "We're talking about a downtown that's got 50,000 residents. There's an idea in my mind that at some point not that far away, there might be 250,000 residents. Imagine what's that like."
You might wonder what drives Chait, who instituted a 3 percent healthcare fee on checks at Sprout restaurants to pay for employees' insurance and who has been vocal about his concerns with the rising minimum wage. Why dive back and deeper into a low-margin business that's only getting more difficult? Chait laughs when we ask why he doesn't just go do something else like be a real estate developer.
"I like the creative process," he says. "There's nothing equivalent to developing a restaurant."
But it's never been trickier, especially because new-economy gigs like being an Uber driver are making it harder for restaurants to find employees.
"You gotta have good jobs," Chait says. "There's nothing wrong with being an Uber driver, but if you're passionate about being in the food business and you like this business, there's no better place to be than to work with guys like Chad Robertson and Chris Bianco. They're very open about sharing what they know. By the way, it's not any different than working for [Republique's] Walter Manzke or [Bestia's] Ori [Menashe]. These are people that really are generous with what they know."
Chait really does believe in the pie being greater than all of its individual slices.
"My whole business model if you want to call it that is having a collaboration with a chef and even a property owner," he says. "There's a lot of pieces, including beverage programs. It's really everything. There's no part of a film that's not important. You have to have a great writer, you have to have a great director, and you obviously have to have great distribution and great marketing. In the end, it's sort of very similar."
In the case of Row DTLA, Chait is working with both Atlas Capital and Runyon Group, the real estate firm that is part of shaping the development's vision and bringing in tenants.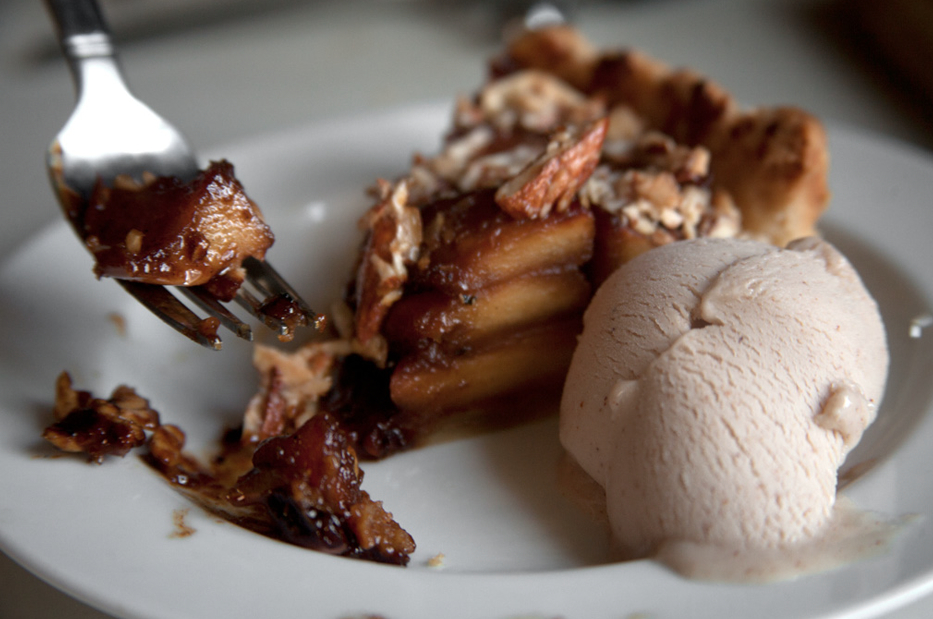 "To us, kind of what the beauty of this site was is you have 32 acres under one cohesive vision and control, where we can really protect the merchandising mix and make sure it stays really special and unique for decades to come vs. selling out to the next big tenant that wants to come in," says Runyon Group principal David Fishbein.
And having Tartine Manufactory here will set the tone for what's next.
"Chad had an opportunity to go anywhere he wanted in the world for a second Tartine location," Fishbein says. "Every chef will have their eyes on the fact that he's chosen this as his first site out of San Francisco and want to understand why. And when they come and experience it, it will hopefully lead to other great like-minded chefs wanting to be part of the neighborhood as well."
Row DTLA is about a mile from Bestia, which has become one of the city's buzziest dining destinations since opening in 2012.
"One thing about Bestia, a big part of it, Ori was really a singular driver of confidence," Chait says. "Because in the end, you knew that, no matter how busy that this restaurant was, that this guy was going to carry it on his back if he had to. Part of it is that you have to have confidence in your partnerships, to know that you're going to be able to sort of carry something in the event it takes time. Obviously, here [at Tartine Manufactory], I don't think it's going to take time. I think it's more about executing at a scale that's very big."