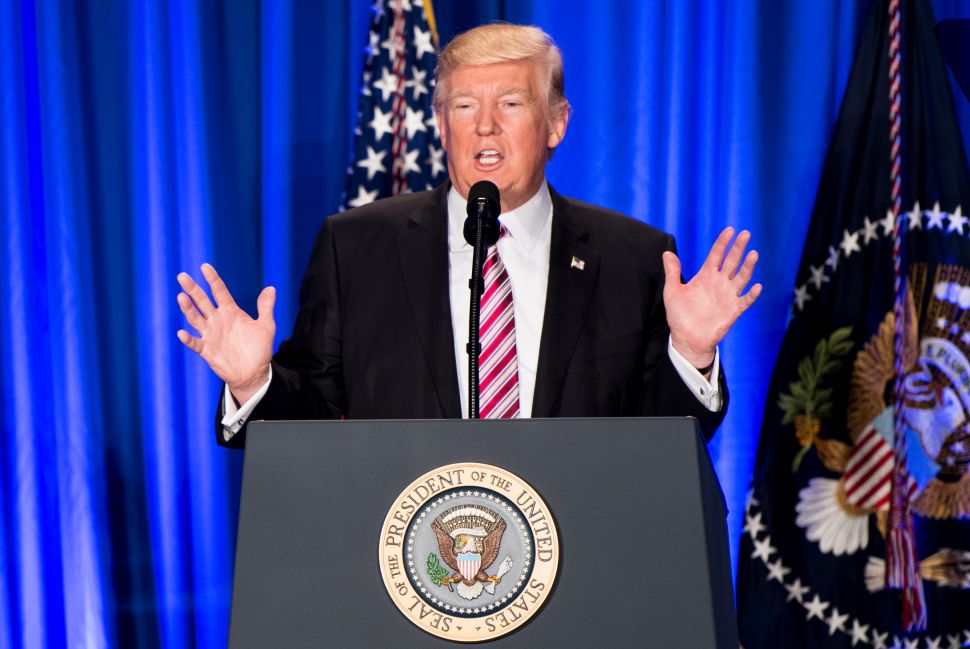 On January 26, The Washington Post published an article claiming that several State Department officials had resigned, signaling a rebellion against President Donald Trump and his nominee for Secretary of State, Rex Tillerson. However, actual reporting uncovered that the officials leaving was either part of routine procedure during a presidential transition or they were formally asked to leave by the Trump administration. Regardless, the Post's claims went viral.
Shortly after Donald Trump assumed the presidency, several mainstream media outlets reported that Trump issued a gag order to the EPA, USDA and several other government organizations. Outrage and calls crying fascism stemmed from stories that were manipulated to fit a fear mongering narrative but whose claims were, yet again, the result of routine procedures during a presidential transition.
On Twitter, a claim that the White House photoshopped a picture of Trump to increase his hand size went viral. Several mainstream media outlets either touted this claim as fact or perpetuated it by reporting on the investigation into the photo before the story was formally debunked.
On January 27, Fox News played a joke on air by broadcasting a live feed of the White House and asking Donald Trump to flick the lights on and off if he was listening. The lights flicked, but the Fox News broadcaster was quick to point out it was a video effect. The video clip of the joke, with the clarifying post-remarks edited out, went viral and several mainstream media journalists fanned the flames of the fake story.
During the outrage over alleged Russian election interference, several stories that claimed to have discovered a link connecting Trump, Putin and Wikileaks were debunked and retracted. Newsweek's claim that connected Trump to the media outlet Sputnik that was widely debunked. Slate published a similar article citing a bank server was linked to Trump and Russia. This article was also debunked, but the Clinton campaign perpetuated both of these false stories. Several mainstream media outlets propagated fake news, alleging Russian propaganda interfered in the elections in tandem with the DNC and Clinton Campaign Manager John Podesta's emails. The Washington Post published a viral story about fake news propaganda featuring an interview with PropOrNot, a outlet which was later debunked as fake news itself. Claims that a Vermont Utility Grid was hacked turned out to be nothing of the sort, but The Washington Post and two Democratic politicians touted the claim as fact before it was debunked. In response to this recurring trend, The Intercept's Glenn Greenwald tweeted, "The problem w/instantly converting every ripple into outrage scandal with no facts is Boy-Cry-Wolf Syndrome: inures people to real outrages." Lies will not counter Trump's lies; it will make them more acceptable on both sides, while millions of Americans are further repelled to apathy or emboldened as blindly loyal partisans.
Aside from false reporting, in their haste to manufacture outrage against Trump, mainstream media outlets have allowed controversial political figures to rehabilitate their past records by praising them when they publicly oppose Trump. For example, Talking Points Memo resurrected a 2015 interview with former Vice President Dick Cheney, who opposes Trump's ban on Muslims entering the United States, and ignored the anti-Muslim rhetoric and policies propagated throughout Cheney's service as vice president. Former Independent Presidential Candidate Evan McMullin frequently criticizes Trump and is still provided a platform by mainstream media outlets for doing so, despite the fact that his policies and beliefs are as bad—or worse—than Trump's. During the 2016 election, mainstream media journalists used this strategy of elevating Republicans who oppose Trump in an attempt to convey the image of a fractured Republican Party. This obviously backfired miserably; it only fueled more resentment toward the political establishment and strengthened Trump's image as an unwelcome outsider.
Successfully opposing Donald Trump and the Republican-dominated Congress won't come from elevating Democrats' opponents who abandon their vocal opposition when sincere action is demanded—as demonstrated by Sen. John McCain, Sen. Lindsey Graham, and Sen. Marco Rubio. Successful opposition will come from mobilizing around key issues, in the form of protests and advocacy efforts. The Democratic Party and mainstream media have contributed to the toxic environment that enabled Trump's ascendance to the presidency, and the antidote is going to come from the moral clarity Trump's presidency will induce. If Americans ignore the culpability of the political establishment and the mainstream media—who provided Trump with nearly $2 billion in free media coverage during the election—Trump's presidency will continue along this destructive path rather than be the warning sign that incites a deviation toward something better.