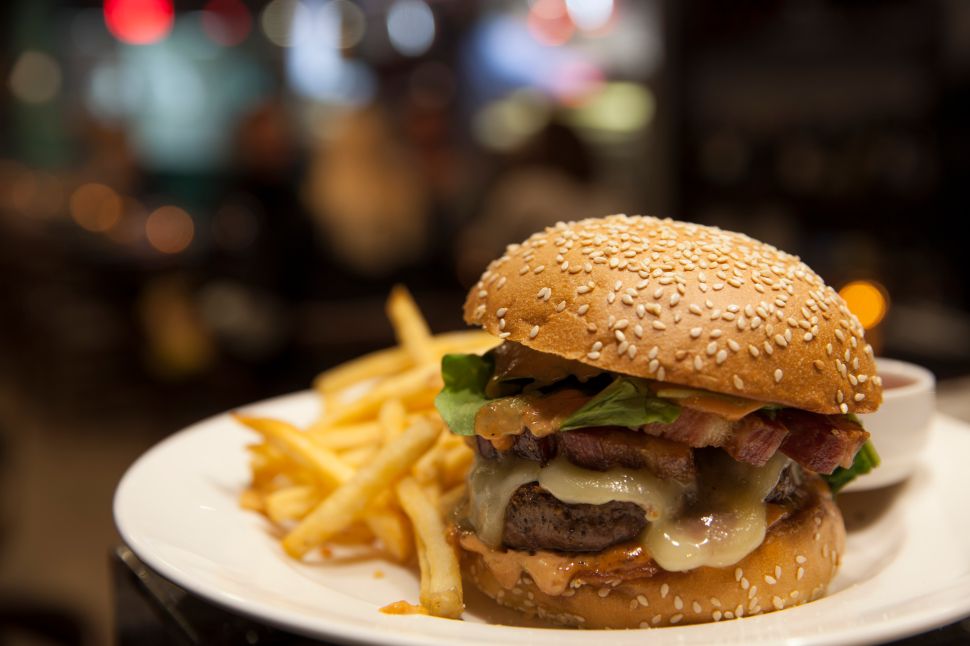 With arugula salad, steak, salmon, fried chicken and burgers on the menu, the new Margo's in Santa Monica is the type of crowd-pleasing neighborhood restaurant designed to entice regulars to visit multiple times a week.
That burger, with its wonderful dry-aged funk, cooked perfectly medium rare, oozing with melted jack cheese, topped with slab bacon and arugula and chef Greg Daniels' own special sauce, accompanied by snappy garlic herb fries, is indeed something that you might want to eat again and again. Another popular dish at Margo's, which opened in November, is Daniels' lamb loin with navy beans, maitake mushrooms and caramelized onions. With its herb crust and deep lamb flavor, this dish, also served perfectly medium rare, could be similarly habit-forming for aggressive carnivores.
Daniels, who was formerly executive chef at Salt Air in Venice and previously worked in New York as sous chef of Jean-Georges Vongerichten's Perry Street, cooks American food that colors outside the lines a bit. His day-boat scallops at Margo's get earthiness from both rye and truffle emulsion while a surprising shot of heat is provided by Thai chiles. It's a winning dish.
Instead of serving a cheese plate, Daniels puts manchego, mahon, gruyere and brie on a soft roll and bakes it. This was first listed on the menu as just "cheese," but Daniels renamed it "baked cheese bread" to avoid confusion. It's the type of thing that you can imagine José Andrés making if he was cooking at a college dorm. It's a lot of fun and an over-the-top appetizer you'll want to share.
My meal at Margo's made me think of a recent meal I had in New York, at the new Loring Place. That's not because any dishes were that similar but because Loring Place chef Dan Kluger (who, of course, used to run the show at Vongerichten's ABC Kitchen) also playfully reimagines American food. Loring Place has become one of the hottest spots in New York with dishes including crispy chicken that tastes like a glorious riff on General Tso's. It serves tuna tartare with sunchokes, tarragon and ginger. A brussels sprouts pizza is adorned with aged cheddar, jalapenos and garlic.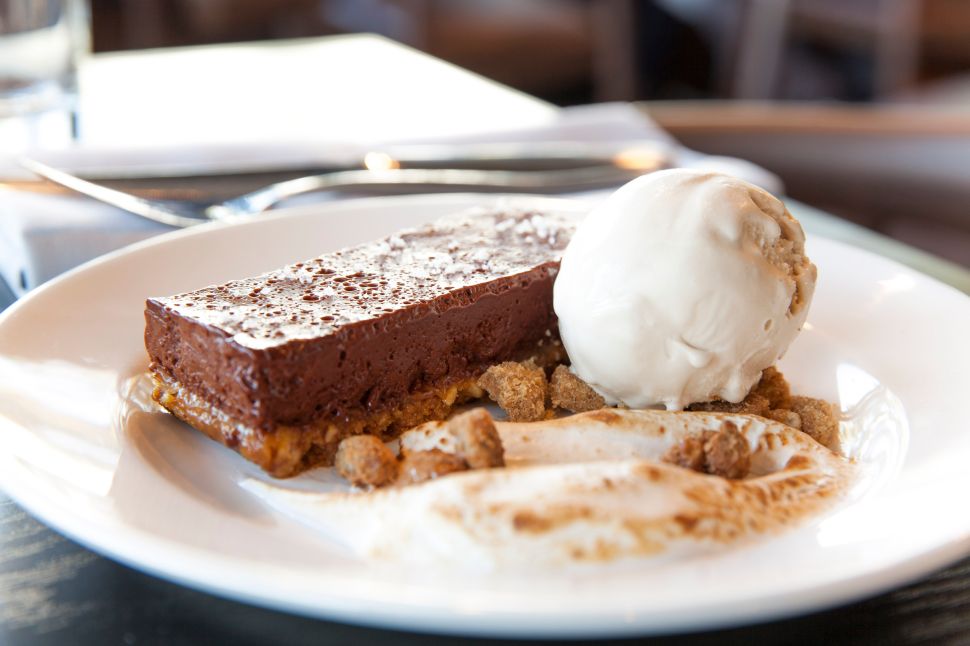 Both Daniels and Kluger cook seasonally and embrace unlikely combinations. At Margo's, the fried chicken comes with butternut squash, honey-glazed baby vegetables and apple-and-celery-root slaw. Brussel sprouts are prepared with quince mustard, pepitas and sage. The tuna crudo is a delicate composition with Cara Cara orange, ginger, sprouted lentils, avocado and puffed wild rice. And instead of ubiquitous-in-L.A. avocado toast, Daniels makes calamari toast with squid ribbons, garlic, roasted eggplant, scallions and Thai basil. For dessert, there's a housemade chocolate bar that's salty-sweet bliss with a pretzel crust, candied pistachios, toasted marshmallow and salted caramel ice cream.
Another thing that makes Margo's a welcoming neighborhood restaurant for the Westside of L.A. is how the menu labels dishes as vegetarian or gluten-free. (Five of the eight entrees, including the lamb, steak and salmon, are gluten-free.) This is still a city where modifications to dishes are "politely declined" at popular restaurants like Animal, and where even a restaurant that has its own butcher shop will stress that it can't accommodate gluten-free or dairy-free requests. I bring this up because my friend Mary Shenouda, the Instagram star known as the Paleo Chef, reminded me that I should check out Margo's when she posted about a great meal she had there recently. Shenouda loves to go out to eat and drink, but she can't consume gluten or dairy for health reasons. She's always on the lookout for places with exciting food that won't make her ill, and she lives on the Westside—so Margo's is a dream for her.
Margo's is an American restaurant from a chef who cooks with local ingredients, celebrates global flavors and understands his audience. The restaurant, whose playlist included two Passion Pit songs, M83, Vampire Weekend, Bon Iver and Empire of the Sun on the evening we visited, knows what it wants to be and who lives in its neighborhood. It's a nice balancing act.